Understanding the complex world of taxation may be a daunting endeavour for individuals and organisations alike. In Caulfield, Melbourne, a suburb renowned for its vibrant community and economic activity, the need for expert tax accountants is paramount. The top 10 tax accountants in Caulfield stand out for their unparalleled expertise, commitment to client success, and deep understanding of Australian tax law. 
These professionals are not just number crunchers; they are strategic advisors who can transform your tax experience and ensure you are positioned for optimal financial health.
Add a header to begin generating the table of contents
EWM Accountants And Business Advisors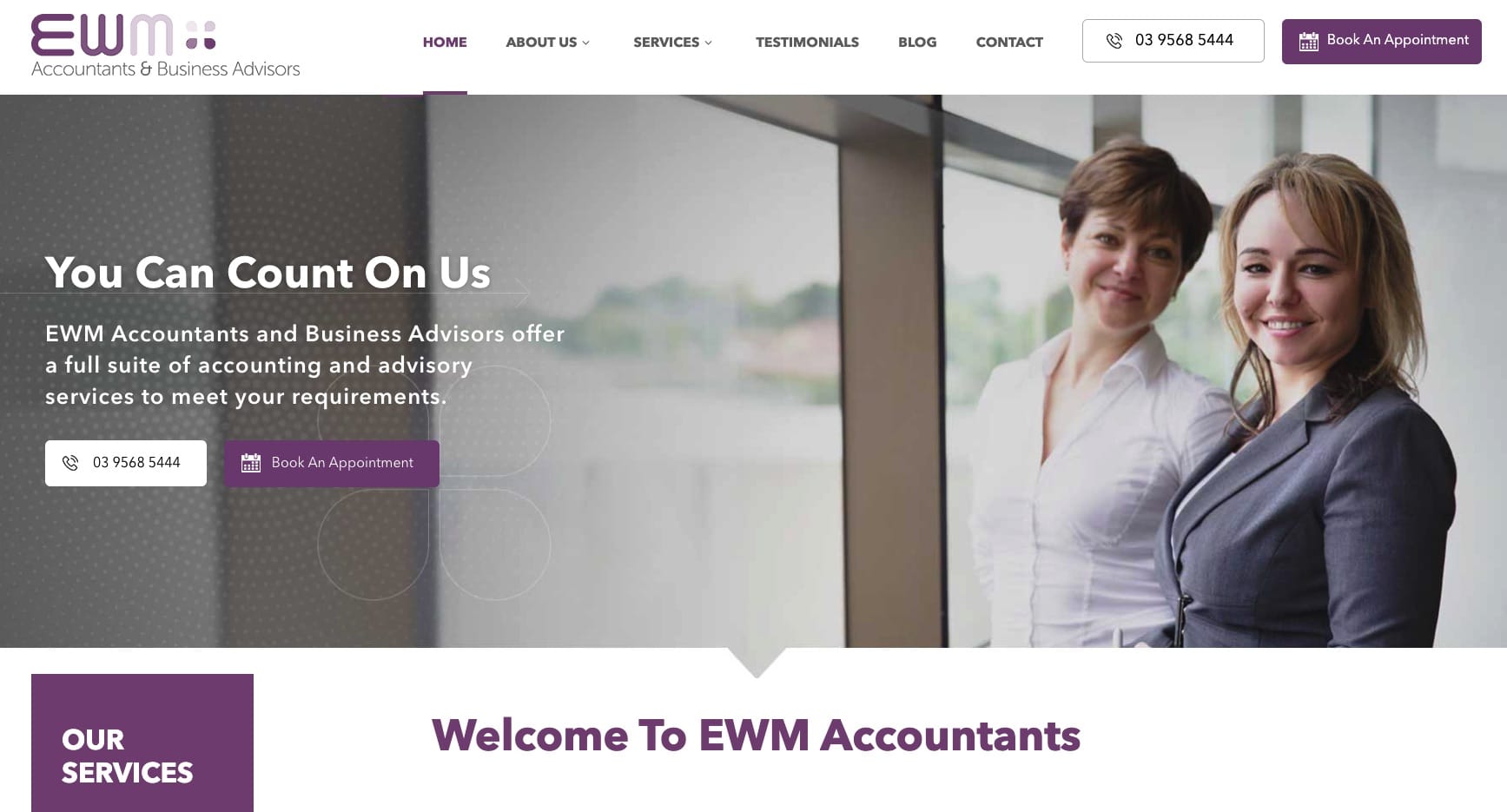 EWM Accountants delivers expert tax services that offer pertinent and beneficial tax guidance, simplifying tax complexities for individuals and companies. They take great pride in their ability to grasp the distinct needs of their clients, crafting customised tax strategies that provide adaptability, cost-effectiveness, and sophisticated tax planning to boost cash flow and address particular requirements. 
Their strategy is centred on assisting clients to minimise tax liabilities, enhance their quality of life, and leverage tax strategies to expand their wealth and investment prospects.
Services Offered:
Consultation on Income Tax

Structuring of Salary Packages

Management of Payroll Tax

Strategies for Capital Gains Tax

Administration of GST

Tax Risk Mitigation

Strategic Tax Planning

Designing Structures for Tax Minimization

Expertise in Fringe Benefits Tax and Compliance
Phone: 03 9568 5444
Website: https://www.ewmaccountants.com.au/
Hillyer Riches Tax Accountants & Business Advisors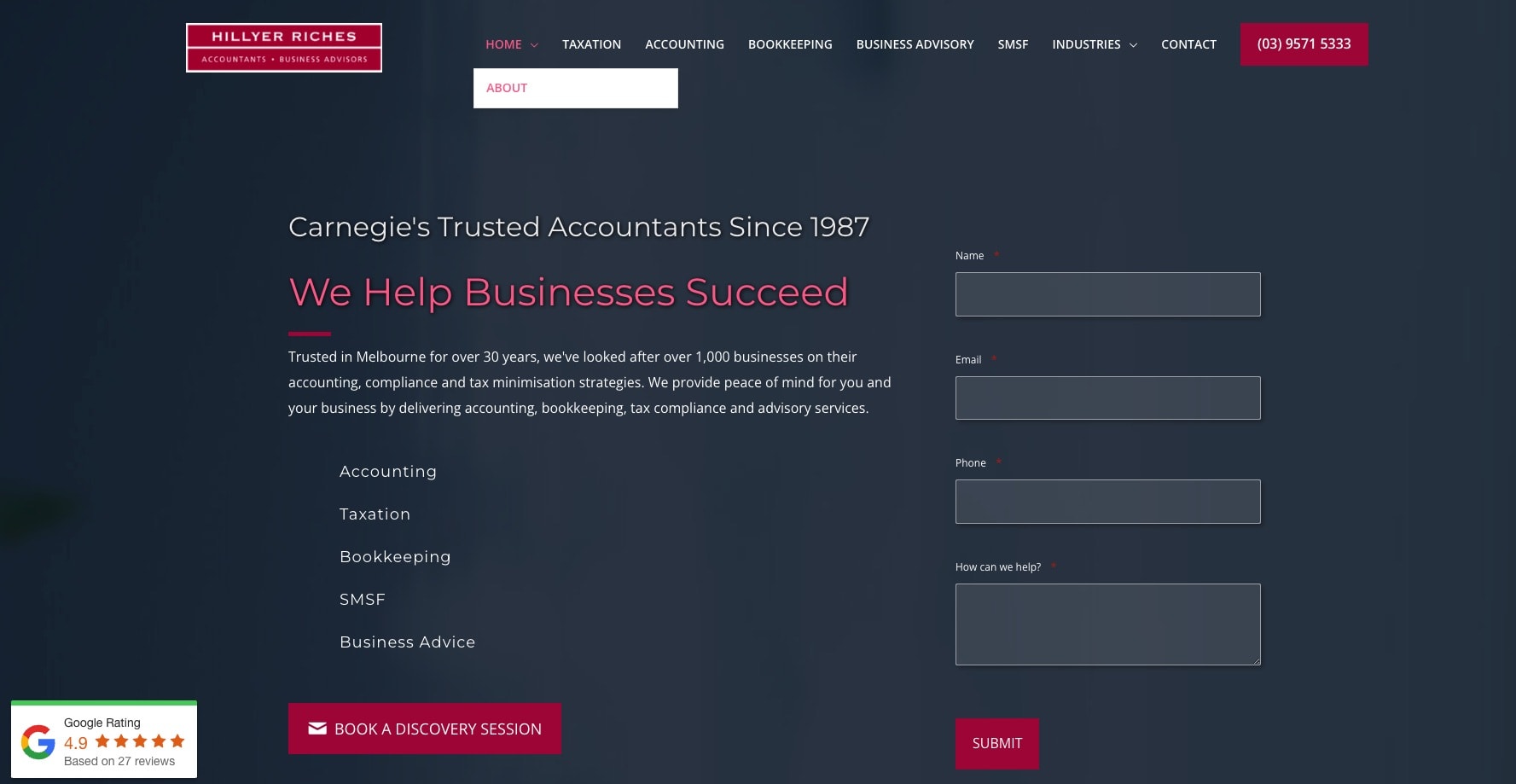 Hillyer Riches is a reputable tax accounting and business consultancy located in Carnegie, Victoria, delivering extensive offerings to private individuals, companies, and self-managed super funds. Boasting over three decades of expertise, this firm has earned a notable reputation in Melbourne for its strategic counsel in navigating risks, fostering expansion, and adhering to the mandates of the Australian Taxation Office.
Their forte lies in cloud-based accounting and the automation of bookkeeping processes, aiming to reduce the hassle of financial management and tax obligations through automation, ensuring regulatory compliance, and diminishing tax expenditures. They pride themselves on a customer-focused methodology dedicated to providing bespoke services that address each client's distinct requirements.
Services Offered:
Accounting and Taxation: Customized accounting solutions for individuals and businesses, advanced tax planning, and regulatory compliance.

Financial Advisory: Support with personal insurance, superannuation, company appraisals, and planning for financial independence.

Business Advisory: Expert guidance for business development, risk control, and support in making informed decisions.

Bookkeeping and BAS Services: Comprehensive bookkeeping assistance, including digital platforms like MYOB, Xero, and QuickBooks.

SMSF: Expertise and organisational aid for self-managed superannuation funds.
Phone: 03 9571 5333
Email: info@hillyerriches.com.au
Website: https://hillyerriches.com.au/
Tax Window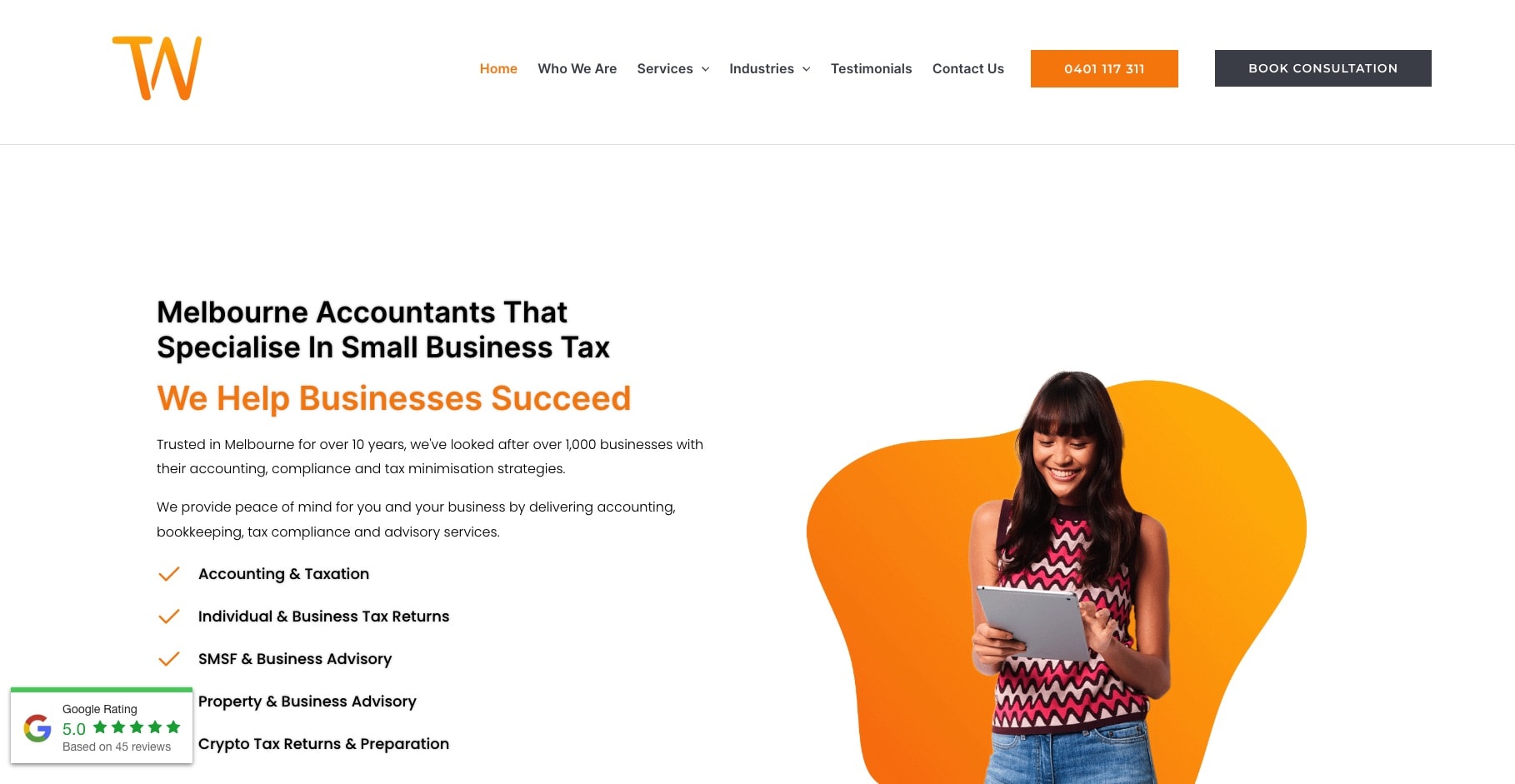 Tax Window, nestled in Melbourne, is recognised as a distinguished tax advisory establishment, unwavering in its dedication to propelling businesses and individuals to their fiscal zeniths. Their brigade, populated with veteran tax maestros, proffers an array of tax and financial solutions, each chiselled to mirror the individualistic needs of their beneficiaries. 
They underscore the imperative of delving deep into each client's backdrop, ensuring clarity at every juncture. With an assurance of senior accountant allocation for every client, Tax Window stands as a beacon of precision in tax dealings. Their mantra hinges on candidness, eschewing the deployment of remote communication outlets or greenhorn accountants, guaranteeing one-on-one, bespoke guidance.
Services Offered:
Entrepreneurial Accounting Solutions

Tax Advocacy

Enterprise Mentorship

Wisdom on SMSF

Investment Roadmapping

Property Tax Counselling
Phone: 03 9999 8538
Email: info@taxwindow.com.au
Website: https://www.taxwindow.com.au/
Bookkept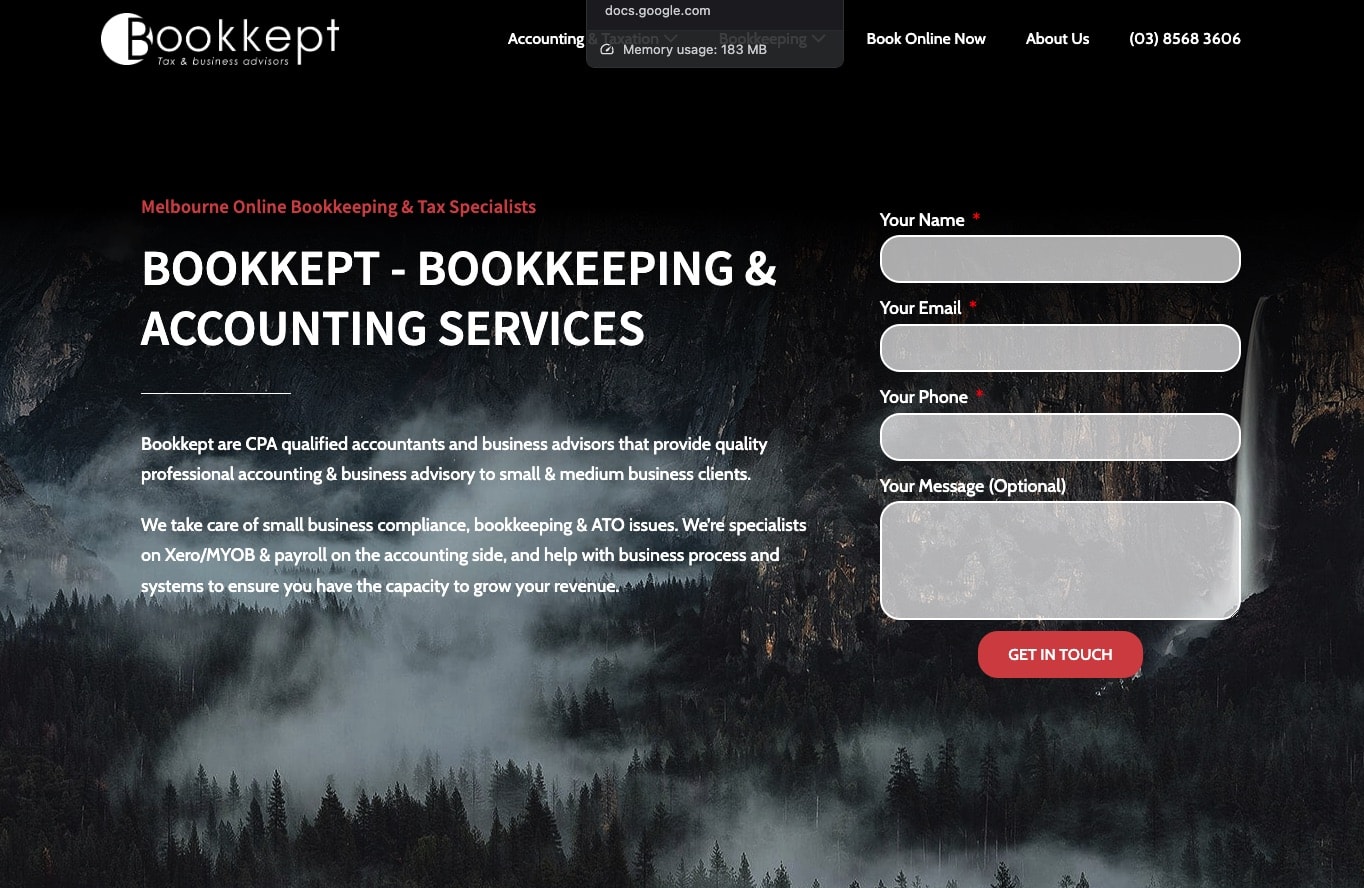 Bookkept is an accounting firm rooted in Melbourne that caters specifically to the bookkeeping and financial management needs of small to medium enterprises. Their CPA-certified accountants and business consultants are adept at resolving ATO complications, managing Xero payroll, and enhancing business systems and processes to help companies increase their income. 
The firm is committed to a tailored service, recognising the distinct demands and hurdles each business faces. Bookkept strives to be more than a number-crunching entity; they seek to be a pivotal partner in their clients' triumphs, offering insightful strategies and proficient solutions via cloud accounting platforms such as Xero and MYOB.
Services Offered:
Tax and Business Accounting Services: Commitment to timely and accurate financials, focusing on bookkeeping for assured tranquillity.

Personal Tax Returns: Proficient in handling tax matters for individuals and entrepreneurs, with an emphasis on optimising deductions.

Bookkeeping and BAS Services: Skilled in Xero and MYOB, providing either educational support or comprehensive bookkeeping services, inclusive of payroll and BAS.

Cloud Accounting: Experts in cloud-based accounting systems, delivering transparent cash flow assessments and simplified business financials.
Phone: 03 8568 3606
Email: info@bookkept.com.au
Website: https://www.bookkept.com.au/
DDPartners Taxation Services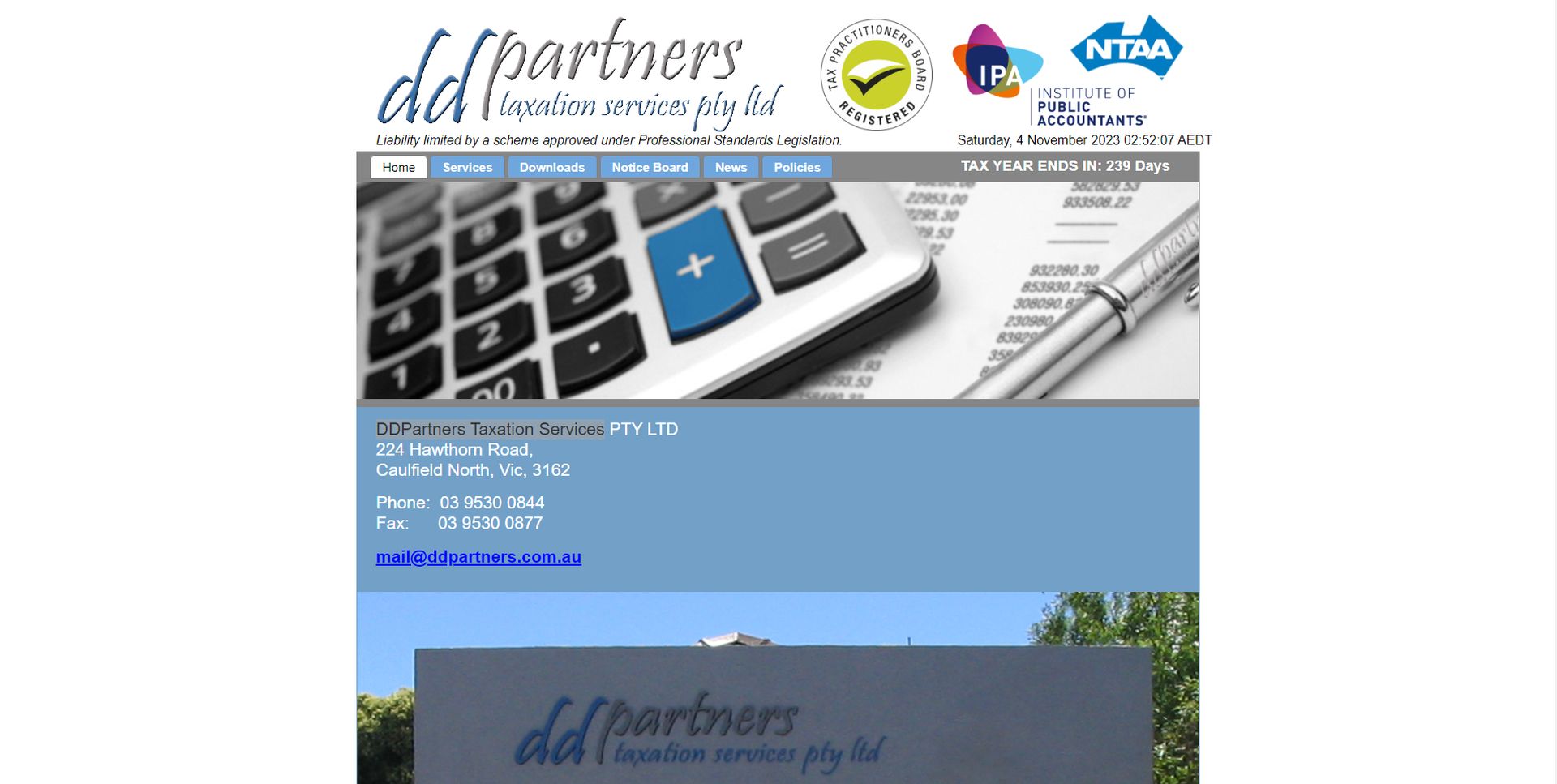 DDPartners Taxation Services PTY LTD is a professional tax service provider located at 224 Hawthorn Road, Caulfield North, Vic, 3162. While the website content provided does not include an extensive summary or a detailed list of services, it does indicate that the company offers a range of taxation services. 
The website also features sections for downloads, a notice board, news, and policies, which suggests that they provide resources and updates related to tax services and legislation.
Services Offered:
Taxation services and advice

Access to tax-related resources and downloads

Updates and information via a notice board and news section

Policies related to tax services
Phone: 03 9530 0844
Email: mail@ddpartners.com.au
Website: http://ddpartners.com.au/
Tax Insights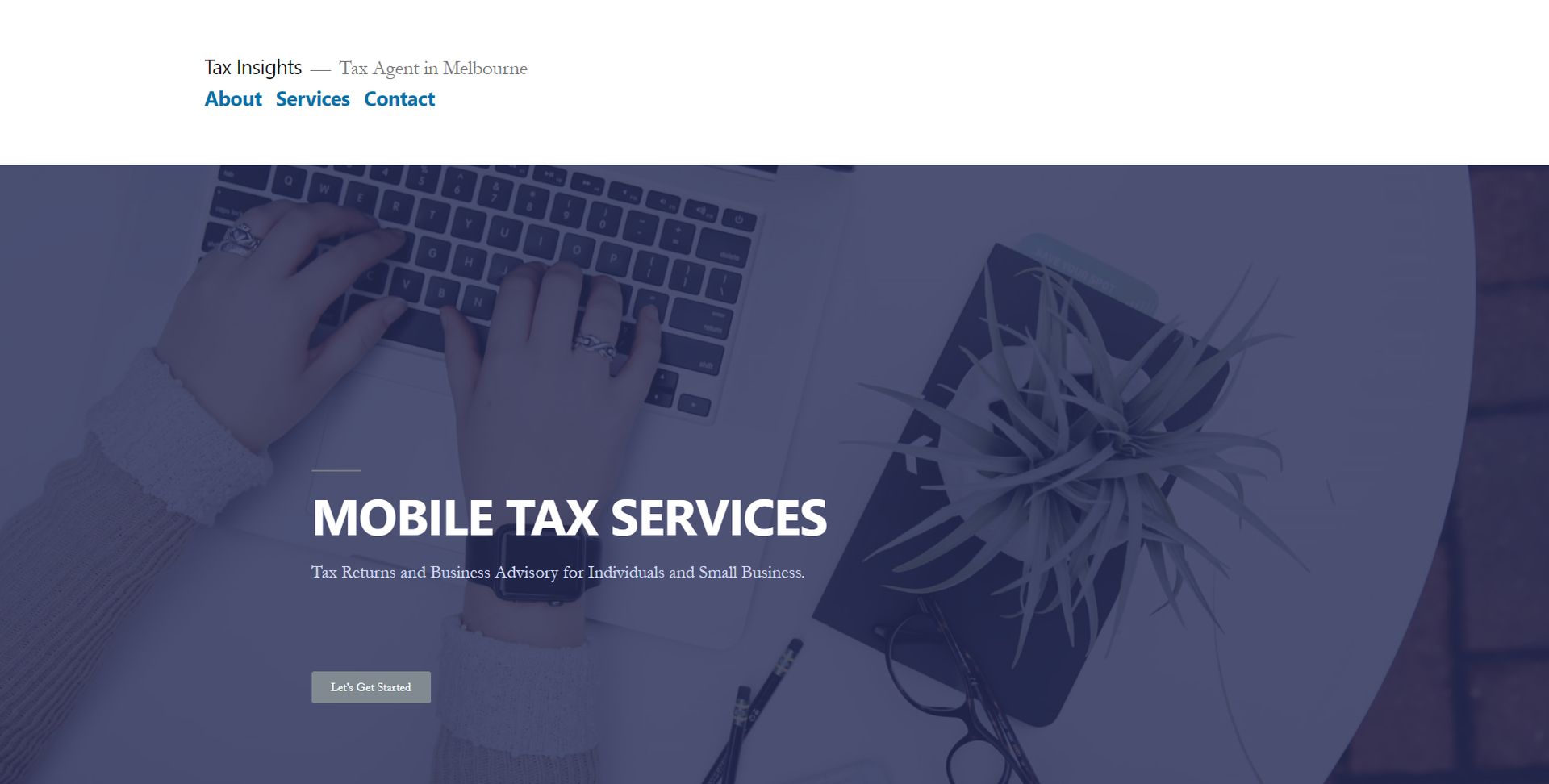 Tax Insights is a Melbourne-based tax agency specialising in providing mobile tax services for individuals and small businesses. They emphasise convenience by offering to come to clients for tax return lodgment, aiming to save time and money for their customers. 
Tax Insights prides itself on fast, no-fuss individual tax returns, support for sole traders, company tax returns, assistance with prior year returns, small business registration, and general business support. Their approach is client-centric, offering fixed-price returns, quick refund processing, and after-hours service without additional charges.
Services Offered:
Individual Tax Returns: Quick service with a flat fee, including all deductions.

Sole Trader Tax Returns: Expert advice for start-ups and existing small businesses.

Company Tax Returns: Assistance for small companies to manage their tax returns efficiently.

Prior Year Returns: Help with late or outstanding returns, even without paperwork.

Small Business Registration: Support with GST and BAS compliance obligations.

General Business Support: Break complex tax law into simple language with low hourly rates.
Phone: 0422 605 962
Email: tax@taxinsights.com.au
Website: https://www.taxinsights.com.au/
Nexia Australia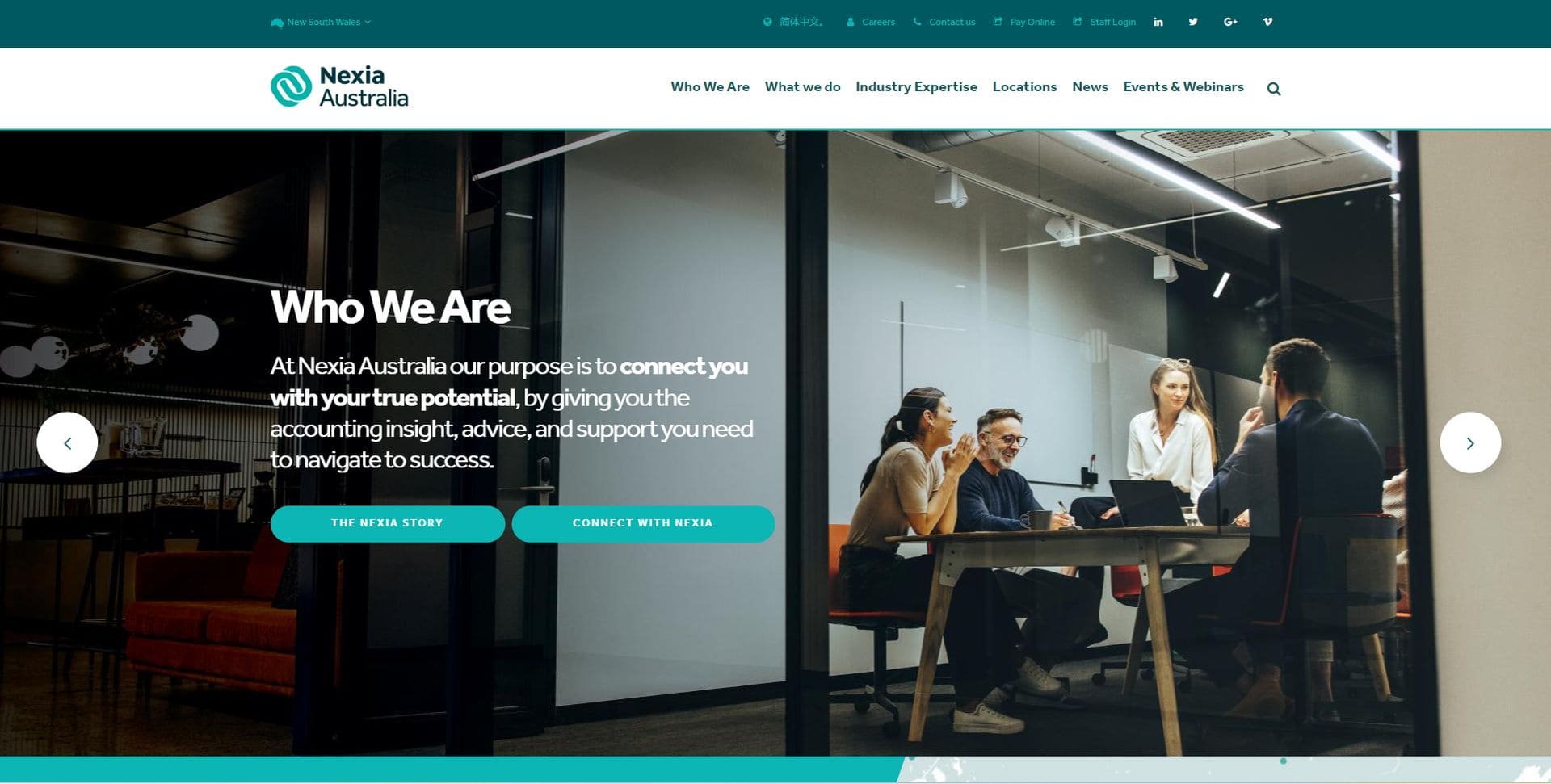 Nexia Australia is a comprehensive accounting and advisory firm of Nexia International, recognised as the Network of the Year at the Digital Accountancy Awards 2021. The firm is dedicated to connecting clients with their true potential by providing insightful accounting advice and support. 
Nexia Australia offers personalised, partner-led services worldwide, focusing on responsiveness and a personal touch. They cater to a diverse range of sectors with core specialties in property and construction, healthcare, professional services, and many others, indicating a broad industry expertise.
Services Offered:
Accounting & Tax: Including audit and assurance, business advisory, corporate advisory, forensic accounting, lease accounting solutions, litigation support, and taxation consulting.

Business Strategy: Offering business concession review, business mechanics, simulations, CFO solutions, commercial lending, family office, international solutions, investor readiness, management consulting, Nexia Live, NEXT Registries, payroll audit, risk management, and more.

Personal Wealth: Providing finance & lending services, financial services, superannuation solutions, UK and Australian expat advice, and wealth connection.
Phone: 03 8613 8888 or 03 9523 5888
Email: info@nexiasydney.com.au
Website: https://nexia.com.au/
Singer Ruben Partners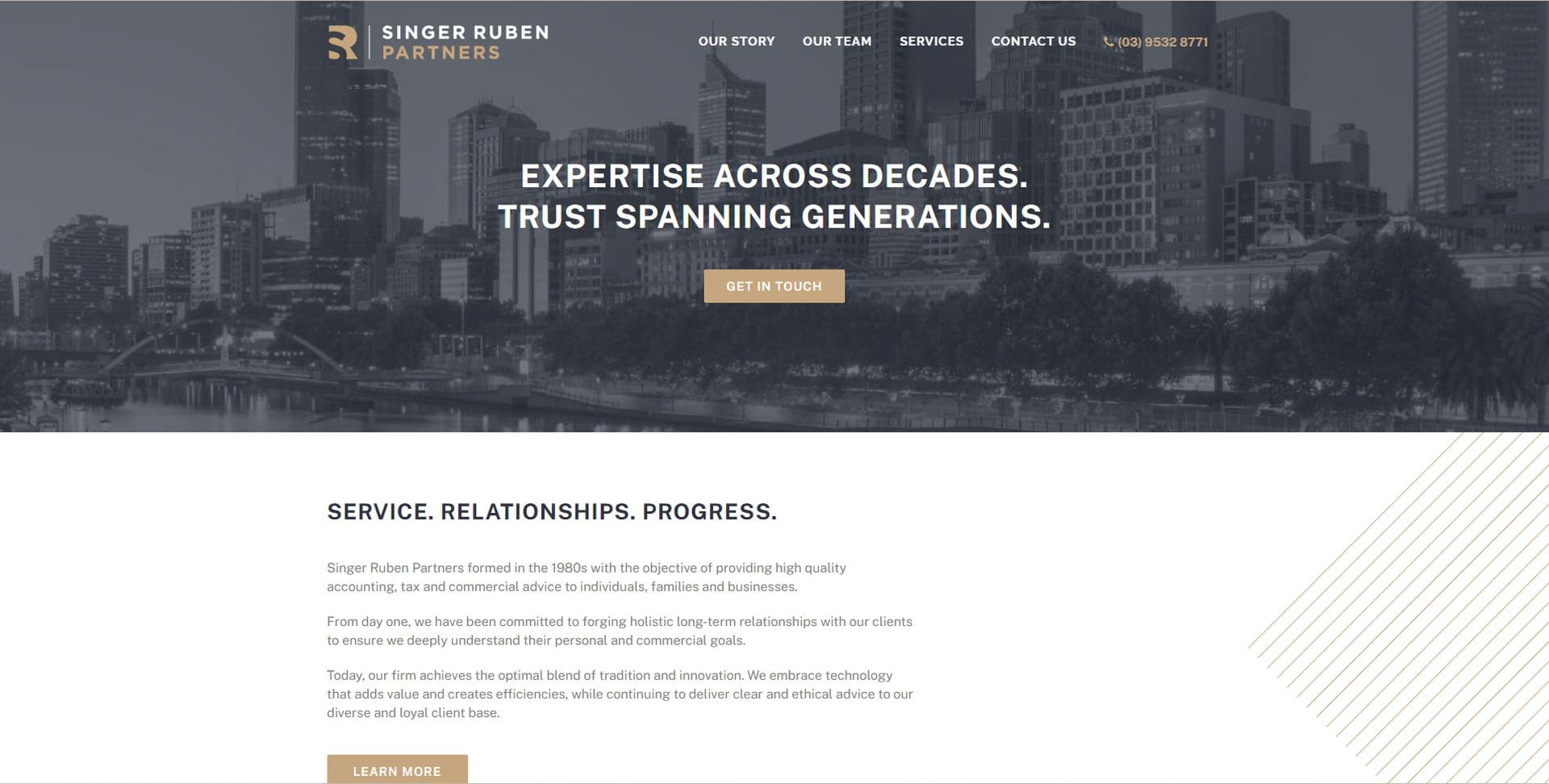 Singer Ruben Partners is an accounting firm providing high-quality accounting, tax, and commercial advice since the 1980s. Their focus is on building long-term, holistic relationships with their clients, which include individuals, families, and businesses. 
The firm prides itself on blending tradition with innovation, utilising technology to add value and create efficiencies while maintaining clear and ethical advice. Their commitment to understanding their client's personal and commercial goals has been a cornerstone of their service since their inception.
Services Offered:
Financial Accounting & Income Tax Compliance

Business Advisory

General Taxation Consulting

CFO Support and Management Reporting

Family Office Maintenance

Company Secretarial Services
Phone: 03 9532 8771
Website: https://www.srpartners.com.au/
LS Accounting Pty Ltd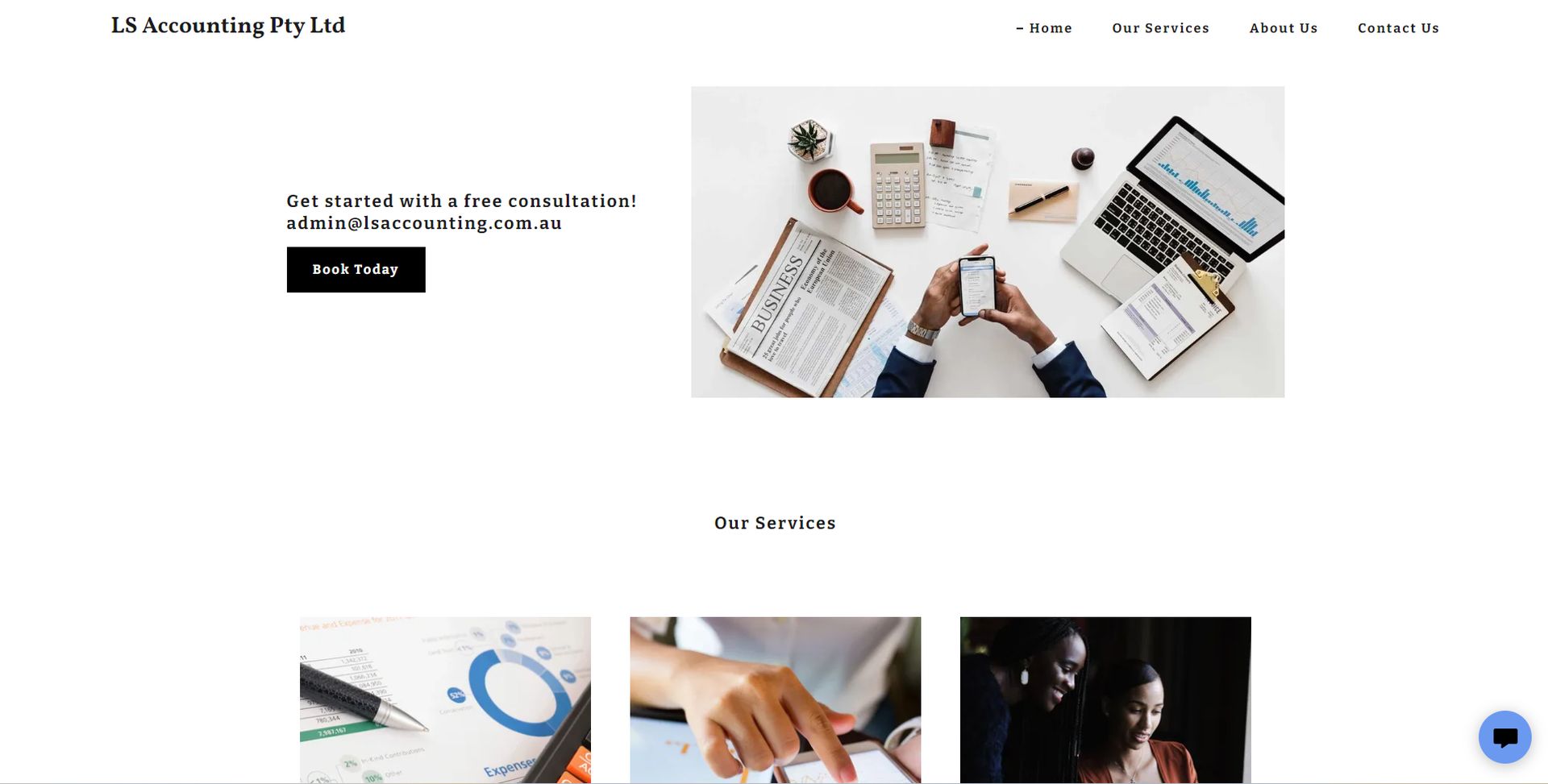 LS Accounting Pty Ltd is a local boutique CPA practice that offers a range of accounting services focusing on tax compliance and maintaining financial visibility for the future. Managed by a Certified Practising Accountant and Registered Tax Agent, the firm is enthusiastic about catering to a diversified client base. 
They emphasise the uniqueness of each industry and provide tailored services to meet the specific needs of their clients, ensuring that businesses are built around well-managed financial records.
Services Offered:
Bookkeeping & Financial Record Management: Including payroll and cloud accounting services.

Business & Personal Accounting: Accounting and tax compliance solutions for individuals and various entities.

Business Structure Setup & Advisory: Tailored services with advice on the most suitable business structure depending on client needs.
Email: admin@lsaccounting.com.au
Website: https://lsaccounting.com.au/
Diamond Singer Partners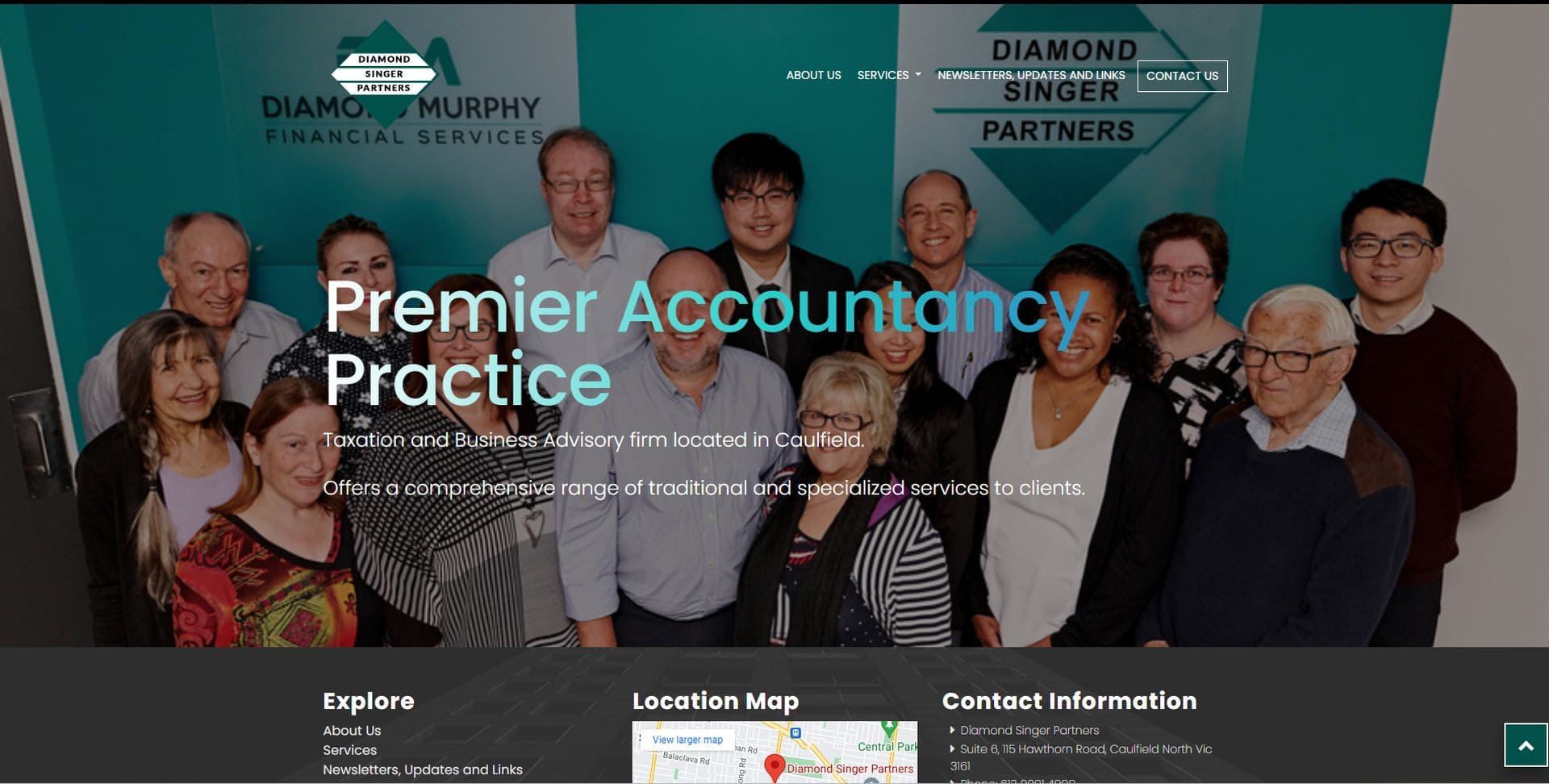 Diamond Singer Partners is a premier accountancy practice and taxation and business advisory firm located in Caulfield, Victoria. The firm offers a comprehensive range of both traditional and specialised services to its clients. With a focus on providing quality service and advice, Diamond Singer Partners positions itself as a firm that can handle a variety of client needs, from standard accounting tasks to more complex financial matters.
Services Offered:
Taxation advisory and compliance

Business advisory services

Financial planning and analysis

Traditional accounting services
Phone: 613 9091 4999
Email: admin@diamondsinger.com.au
Website: https://diamondsinger.com.au/
A good tax accountant is one who is not only knowledgeable about tax laws but also communicative, attentive to detail, and proactive in their approach to tax planning. They should have a strong track record of helping clients achieve favourable outcomes and be committed to maintaining the highest standards of professional ethics.
A skilled tax accountant can identify deductions and credits that clients may not know, ensuring they pay only what they owe. By staying up-to-date with the latest tax laws and leveraging strategic tax planning, accountants can help minimise tax liabilities and maximise potential returns.
The frequency of meetings with your tax accountant can vary based on your personal or business needs. An annual review is typically recommended, but more frequent consultations may be necessary for complex financial situations or significant life events that could impact your taxes.
Tax accountants may charge on an hourly basis, a fixed fee per service, or a retainer for ongoing services. It's important to discuss fees upfront to understand how you will be billed for their services.
Yes. Small businesses can greatly benefit from the expertise of a tax accountant to ensure they are taking advantage of all tax-saving opportunities, maintaining proper records, and meeting all compliance requirements. This can save time and resources in the long run.