Wooden furniture is the best when decorating a home or office because it looks great for a long time and is strong. Melbourne is famous for its mix of modern and classic Victorian buildings. The wooden furniture there is both very different and very beautiful. Here, we look at the top 10 wooden timber furniture pieces that show Melbourne's design aesthetic and how skilled and environmentally friendly the city's makers and artists are. 
Each piece on this list was chosen for its beauty, functionality, and ability to change a space. They range from simple, Scandinavian-inspired designs to intricate, handcrafted pieces that reflect the city's rich cultural history. Melbourne's wooden furniture scene has something for everyone if you're looking for statement pieces or classics that draw little attention to themselves.
Add a header to begin generating the table of contents
Designer Timber Furniture
Designer Timber Furniture is a premier retail outlet in Melbourne that offers a vast range of high-quality hardwood timber furniture. They stand out for providing exceptional customer service and delivering on their "Affordable Luxury" promise at the most competitive prices. The store specialises in modern and traditional furniture, ensuring a broad selection for diverse customer tastes and design schemes.
Services offered by Designer Timber Furniture include:
A wide range of hardwood timber furniture covering living, dining, bedroom, and outdoor spaces.

Australian-made bespoke furniture tailored to customer specifications.

Stock availability for a smooth and efficient sales process.
For further inquiries or to view their collection, you can contact Designer Timber Furniture at:
Phone: (03) 9415 1404
Email: designertimberfurniture@gmail.com
Website: https://designertimberfurniture.com.au/
Lifestyle Furniture Timber Specialists
Lifestyle Furniture is an Australian retailer specialising in custom-made, solid timber furniture. With over 31 years of experience, they pride themselves on offering premium quality, craftsman-built, and hand-finished solid timber products. Their focus is on allowing customers to make a considered purchase based on quality and craftsmanship, not just price. The website showcases a variety of furniture pieces, including exclusive online offers for items such as TV units, dining chairs, shelving units, and dining tables. They also engage with their customers through social media, as seen with their active Instagram presence.
The services offered by Lifestyle Furniture include:
A range of exceptionally premium quality, solid timber furniture

Custom-made furniture tailored to individual requirements

A variety of furniture pieces for different home sections, including living room, dining room, and more

Online exclusives with special pricing

A trade program for business customers
Contact details for Lifestyle Furniture are as follows:
Phone: (03) 9894 2446
Email: sales@lifestylefurniture.com.au
Website: https://lifestylefurniture.com.au/
Natural Timber Decor
Natural Timber Decor is an Australian furniture company dedicated to using Australian hardwoods for their products. They are strongly committed to environmental sustainability, ensuring that the timber they use is either reclaimed, recycled, or harvested under controlled conditions, supporting sustainable forestry practices. They have a policy against using imported timbers, particularly those from rainforests. The company offers a variety of Australian timber species for their furniture, each with unique characteristics and aesthetic appeal. These species include American Oak, Messmate, Victorian Ash, Wormy Chestnut, Tasmanian Oak, and several others, each described with distinct colours, grain patterns, and suitability for different types of furniture.
The services offered by Natural Timber Decor include:
Sustainable Timber Furniture: Using only Australian hardwoods, with a preference for reclaimed or recycled wood.

Variety of Timber Species: Offering a range of timber species, each with unique characteristics for custom furniture.

Custom Furniture: Crafting furniture pieces tailored to customer preferences.

Environmental Responsibility: Commitment to sustainable forestry practices.
Contact Details:
Phone: 03 9432 0988
Email: info@naturaltimberdecor.com.au
Website: https://ntdfurniture.com.au/
Living Elements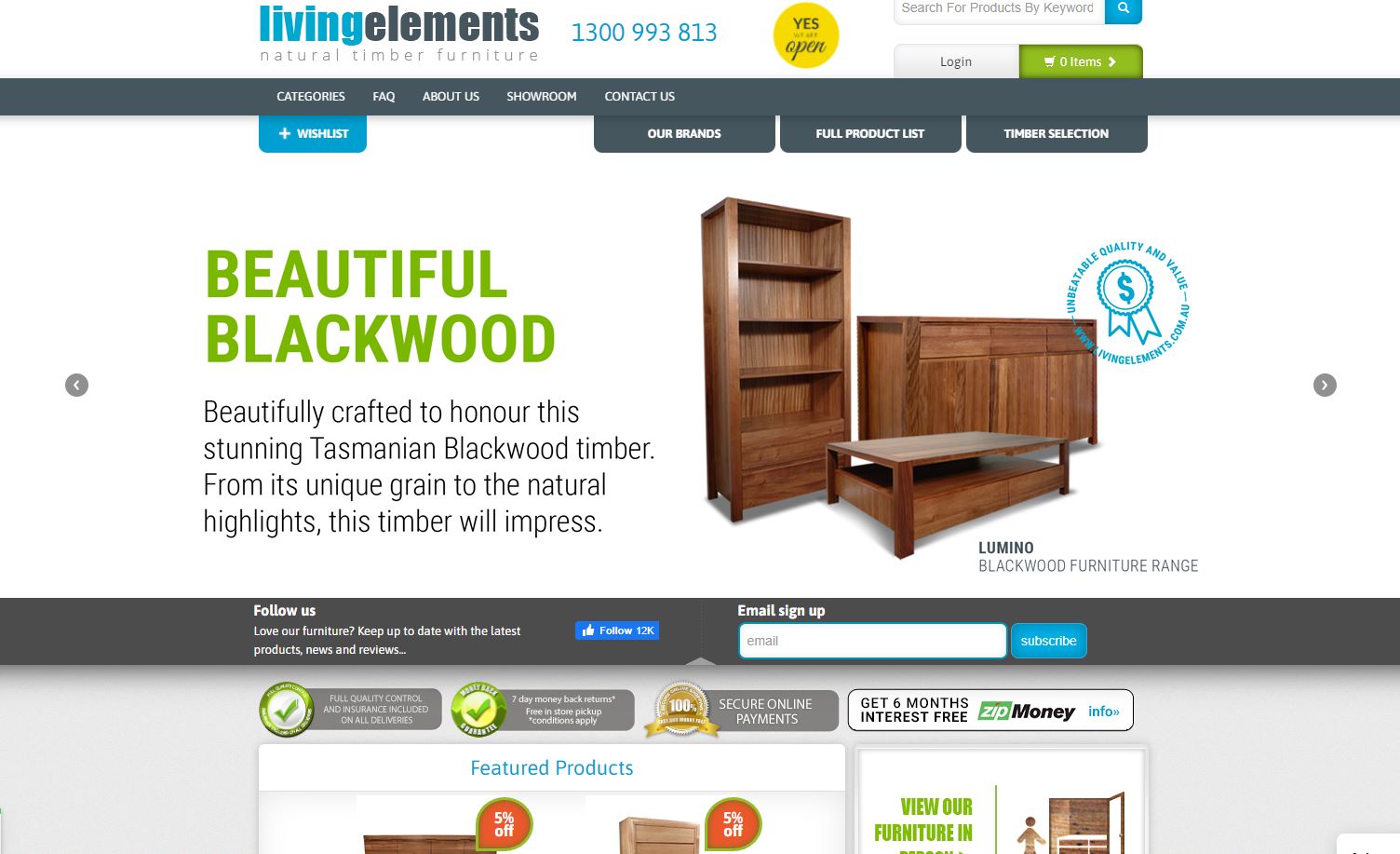 Living Elements is an Australian online furniture retailer that offers a wide range of timber furniture delivered across Australia. They take pride in their work, emphasising furniture that combines style with the natural beauty of wood. Their online presence originated from eBay, and they have since grown to compete in the online furniture retail space. Living Elements offers an extensive selection of furniture, including TV units, bedroom packages, dining sets, buffets, and hall tables, all crafted from natural, rustic, reclaimed, and recycled hardwoods. They boast a selection that includes Tasmanian blackwood, oak timbers, and more, operating from their warehouse in Melbourne.
Services offered by Living Elements include:
Wide Range of Timber Furniture: From living room to bedroom and home office furniture.

Natural and Reclaimed Timbers: Made from natural, wooden, rustic, reclaimed, and recycled hardwood.

Online Retail: A comprehensive online shopping experience with various furniture selections.

Australia-Wide Delivery: Offering delivery services across the country.

Interest-Free Plans: Providing payment plans for purchases.
Contact Details:
Phone: 1300 381 007
Website: www.livingelements.com.au
Kithe - Handmade Timber Furniture
Kithe is a Melbourne-based custom furniture maker specialising in crafting unique timber pieces. Their product range is designed to reflect individual style and personality, focusing on creating signature pieces that stand out. The website showcases a variety of furniture items, including the Groove Liquor Cabinet, Yarra Sling Chair, and the Long Player for vinyl collection storage. Each piece is presented as a blend of functionality and art, allowing customers to customise items to their specific size constraints and preferences. Kithe emphasises using quality materials such as American Oak and Tasmanian timber, ensuring that each piece is aesthetically pleasing but also durable and sustainable.
Services offered by Kithe include:
Custom Furniture Design: Tailoring furniture to customers' specific size and style preferences.

Diverse Product Range: Offering a variety of furniture, including tables, chairs, desks, and storage units.

Quality Timber Selection: Utilizing high-quality materials like American Oak and Tasmanian timber.

Handmade Craftsmanship: Each piece is handcrafted with attention to detail and design.
Contact Details:
Phone: 0418374627
Email: hello@kithe.com.au
Website: https://kithe.com.au/
Yard Furniture
Yard Furniture is a Melbourne-based furniture designer and maker specialising in creating handcrafted timber furniture from reclaimed wood. Their commitment to sustainability is evident in their use of locally salvaged, recycled Victorian timbers, which gives their furniture a unique character and reduces environmental impact. The range of furniture Yard makes includes items for residential and commercial spaces, such as dining tables, entertainment units, sofas, coffee tables, lounge furniture, and bedroom furniture. Each piece is designed to last a lifetime, with the company taking pride in the history and story behind the recycled timbers they use.
Services offered by Yard Furniture include:
Custom Handcrafted Furniture: Tailored furniture pieces made to order.

Sustainable Practices: Use of recycled and reclaimed timber materials.

Residential and Commercial Range: A variety of furniture for different settings.

Showroom in Melbourne: A physical location where customers can view their work.
Contact Details:
Phone: (03) 9480 6171
Email: enquiries@yardfurniture.com.au
Website: https://www.yardfurniture.com.au/
Melbourne Grown Timber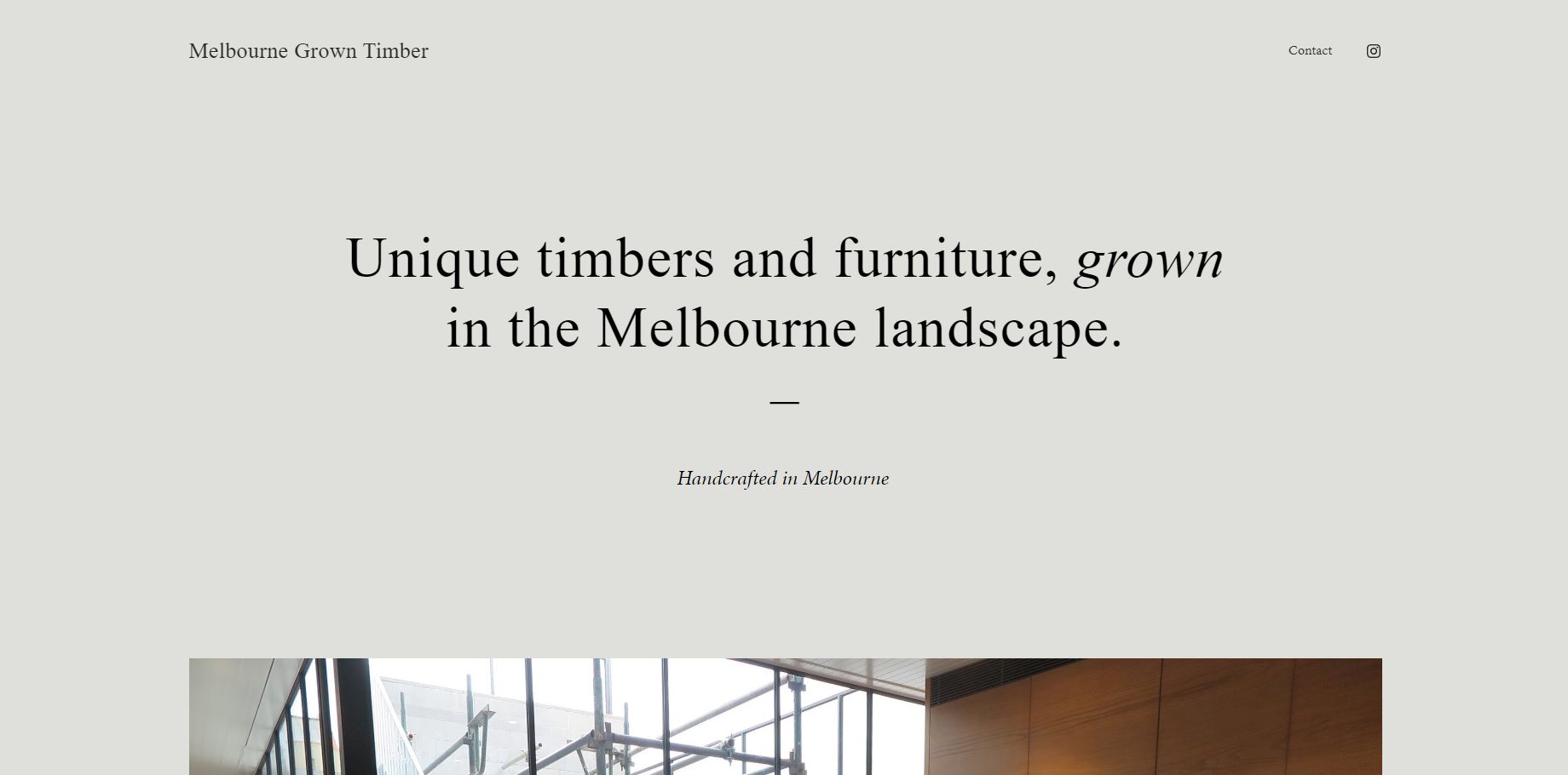 Melbourne Grown Timber offers an extensive suite of services that encompass the entire process of creating bespoke timber furniture. Their expertise includes milling and drying timber, ensuring the wood is prepared to the highest standards before transforming it into furniture. They are not only adept at crafting and installing unique furniture pieces that cater to the individual tastes and requirements of their clients but also excel in the restoration and repair of furniture, including precious antiques. 
The team at Melbourne Grown Timber is dedicated to bringing their client's visions to life and encourages prospective customers to reach out and discuss their specific project needs. With a commitment to quality and a passion for woodcraft, Melbourne Grown Timber stands ready to handle projects of any scale, from the initial concept to the final installation.
Services offered by Melbourne Grown Timber include:
Design – Customized solutions crafted for your requirements

Timber – Locally sourced from Melbourne's arboreal offerings

Repairs – If it's damaged, they will restore it discreetly

Construction – Expert craftsmanship with an emphasis on quality
Contact Details:
Phone: 0413 552 771
Website: https://www.melbournegrowntimber.com.au/
Luke David Designs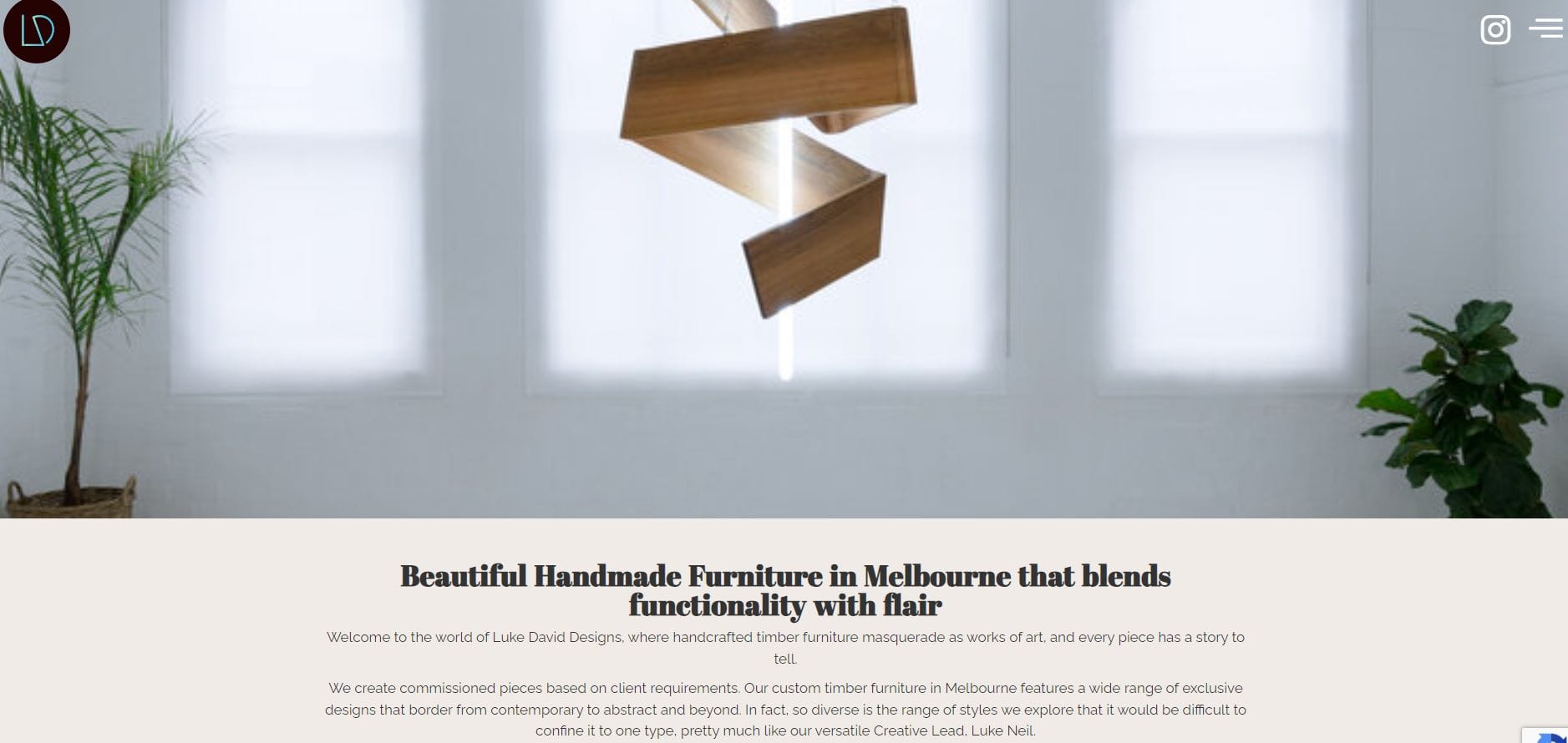 Luke David Designs is a Melbourne-based workshop specialising in transforming reclaimed and recycled timber into exquisite pieces of furniture, each with its own story and character. The company celebrates the beauty of aged timber, which adds a unique charm and personality to their creations. Their approach is environmentally friendly, repurposing timber that has been discarded and giving it a new lease on life. This sustainable practice has made their furniture increasingly popular across Melbourne and beyond. The creative lead, Luke Neil, is renowned for his innovative work with form and structure, crafting unconventional and one-of-a-kind, functional, and aesthetically pleasing pieces.
The services offered by Luke David Designs include:
Custom Furniture Creation: Tailoring unique pieces of furniture to meet clients' specific needs and tastes.

Sustainable Practices: Utilizing reclaimed timber to create environmentally friendly furniture.

Artisanal Woodworking: Each piece showcases the signature style of unpredictable and artisanal woodworking.

Residential and Commercial Furniture: Offering bespoke furniture solutions for both home and commercial spaces.
Contact Details:
Phone: 0477 073 717
Email: info@lukedaviddesigns.com
Website: https://lukedaviddesigns.com/
Christian Cole Furniture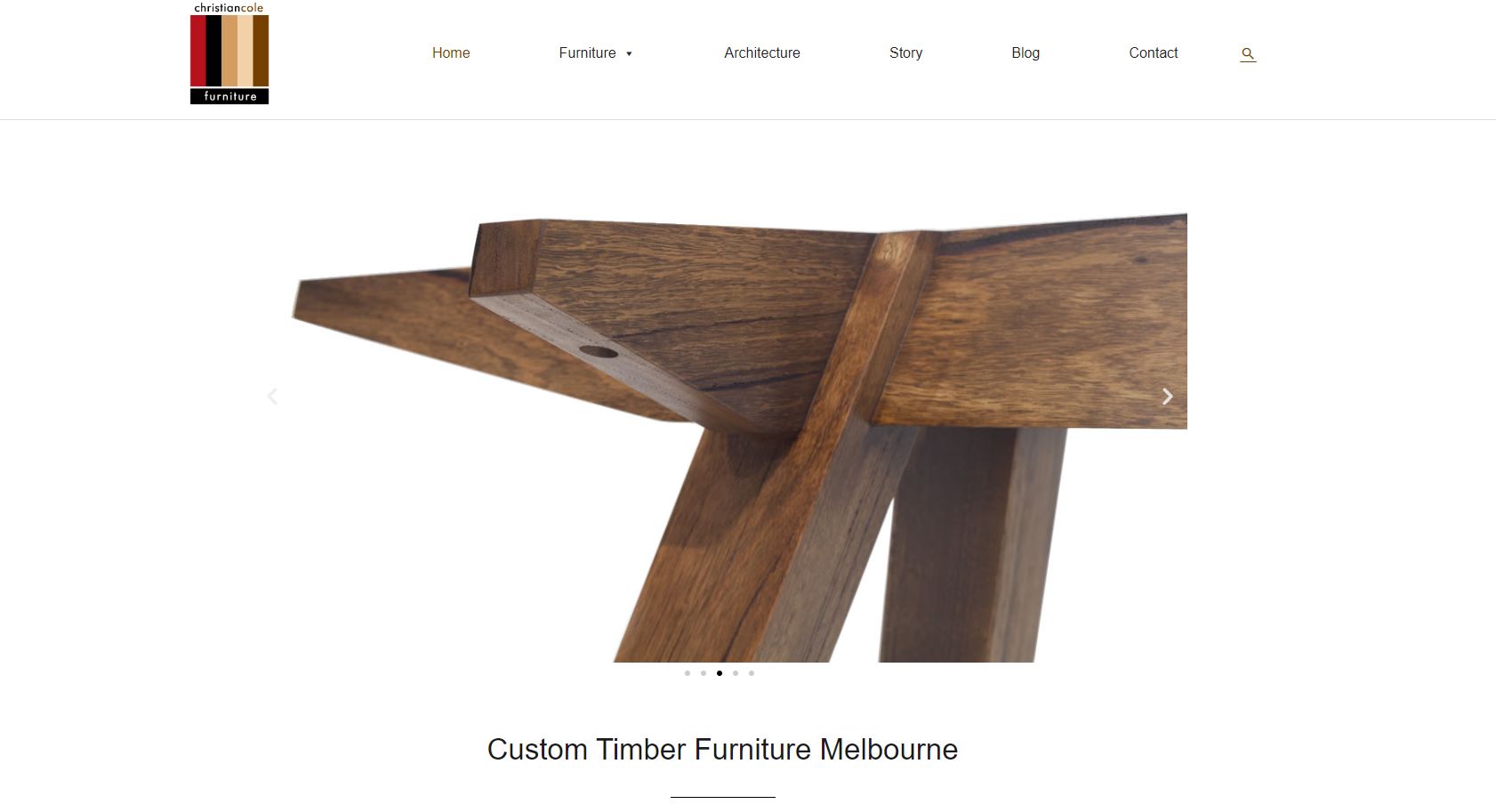 Christian Cole Furniture is a distinguished Melbourne-based company specialising in designing and handcrafting custom solid timber furniture and architectural joinery. They are committed to environmental sustainability, utilising either 100% recycled timber or timber sourced from sustainable commercial plantations. Customers can purchase ready-made furniture directly from the stock available at their Coburg factory/showroom or opt for a custom-made piece. The company prides itself on working closely with clients to create one-of-a-kind furniture items that meet their specific design, size, and colour preferences. All furniture pieces are meticulously handcrafted in their Melbourne factory, ensuring each item is of the highest quality.
Services offered by Christian Cole Furniture include:
Custom Timber Furniture: Tailored furniture pieces designed and made to client specifications.

Architectural Joinery: Bespoke joinery for both residential and commercial projects.

Sustainable Practices: Use of recycled timber or sustainably sourced materials.

Factory/Showroom: A space where clients can view and purchase existing furniture.
Contact Details:
Phone: (03) 9350 3372
Email: christichristian@christiancolefurniture.com.au
Website: https://christiancolefurniture.com.au/
TK Tables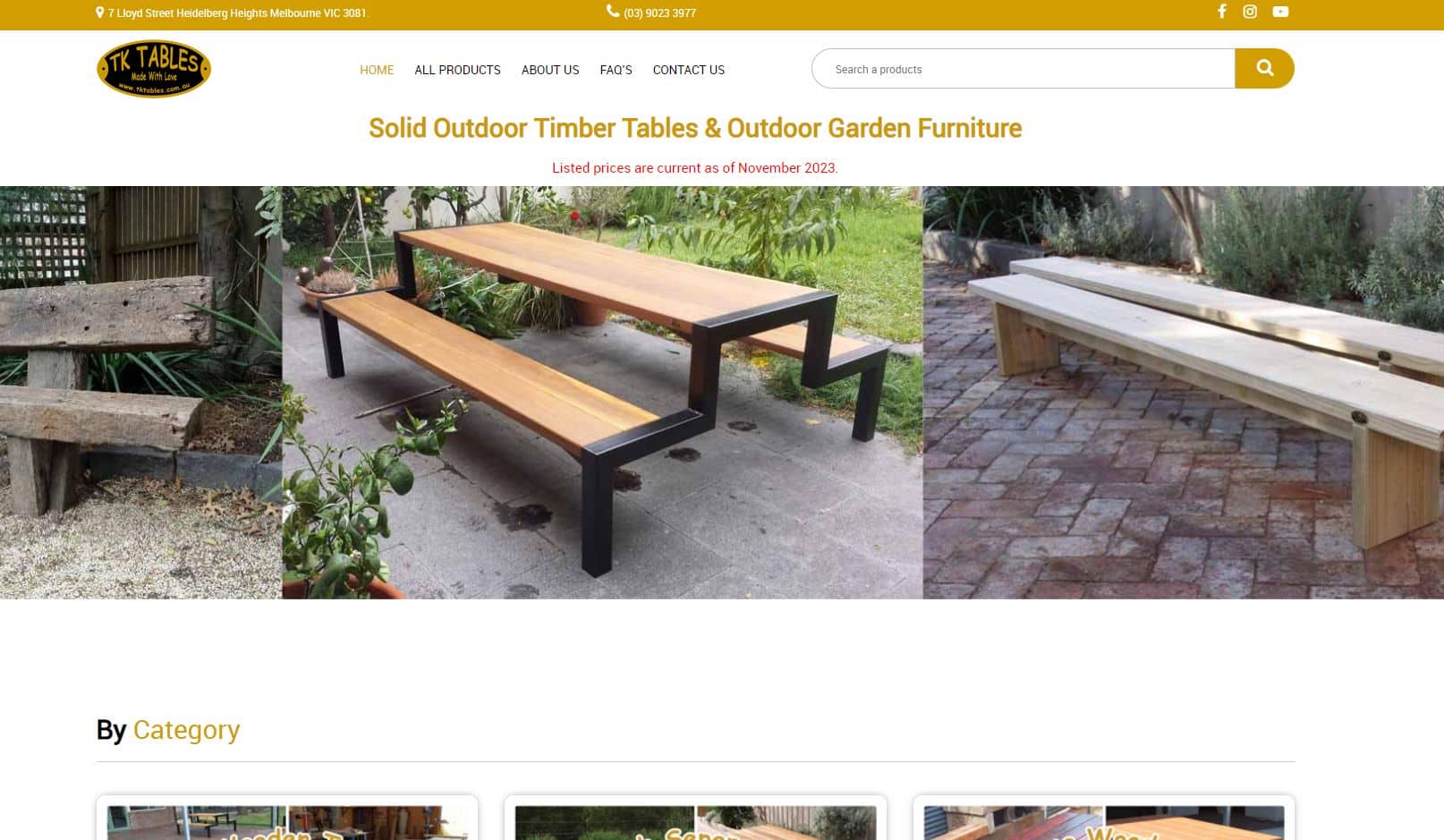 TK Tables specialises in commercial outdoor timber furniture, offering a range of robust and durable products designed to meet the needs of various outdoor settings. Their offerings include extra-large tables that can exceed 2.4 meters in length, suitable for communal spaces, and smaller café tables perfect for outdoor dining areas. They also provide unique communal outdoor table sets ideal for public areas, featuring double-width wooden bench seats and generous tabletops. Additionally, TK Tables offers scooped Merbau wooden bench seats, designed for comfort with their curved seating area, and wooden planter box screen dividers that serve the dual purpose of plant housing and attractive timber screening.
Services offered by TK Tables include:
Custom-designed large Outdoor Tables: Tailored for communal spaces and public areas.

Outdoor Café Furniture: A variety of tables suited for outdoor dining.

Comfortable Bench Seating: Ergonomically designed wooden bench seats.

Planter Box Screen Dividers: Functional and decorative timber screen dividers.
Contact Details:
Phone: (03) 9023 3977
Email: sales@tktables.com.au
Website: https://www.tktables.com.au/
In Melbourne, popular timbers for furniture include Tasmanian Oak, Victorian Ash, Jarrah, and Blackwood. These woods are locally sourced, ensuring sustainability, and offer durability and a natural aesthetic that suits various design preferences.
Wooden furniture can be eco-friendly and sustainable, especially from certified forests that harvest responsibly. Reclaimed wood is also an excellent sustainable option, reducing the need for new resources and adding character to the furniture.
High-quality wooden furniture often features sturdy construction with joints like dovetails or mortise-and-tenon rather than glue or nails alone. The finish should be smooth, without splinters or rough patches, and the grain of the wood should be consistent and well-aligned. Additionally, the furniture should be stable and not wobble, indicating good craftsmanship.
While not all timber furniture is suitable for outdoor use, certain types of wood, like Teak, Merbau, and Treated Pine, are more resistant to Melbourne's variable weather. For outdoor use, it's important to choose furniture made from these timbers and to provide proper care, including regular sealing and protection from extreme elements.
To maintain wooden furniture, dust regularly with a soft, dry cloth. Avoid excessive moisture and direct sunlight, which can cause warping or fading. Use coasters to prevent rings and apply natural oils or waxes annually to nourish the wood and prevent drying out.