Music lovers from all over the world are drawn to the city of Melbourne because it is not just famous for its well-known landmarks and its lively alleyways but also because it is a beacon for music lovers. Some of the most famous artists and composers have called this city home throughout its long and illustrious history as a centre of musical excellence.
This history is carried forward by the city's most prestigious music studios, which provide education and training unequalled to the upcoming generation of musical geniuses. If you go deeper into this ranking of the best 10 music studios in Melbourne, you'll find educational establishments that have withstood the test of time and are still helping to mould the musical landscape of the future.
Add a header to begin generating the table of contents
Alla's Music Studio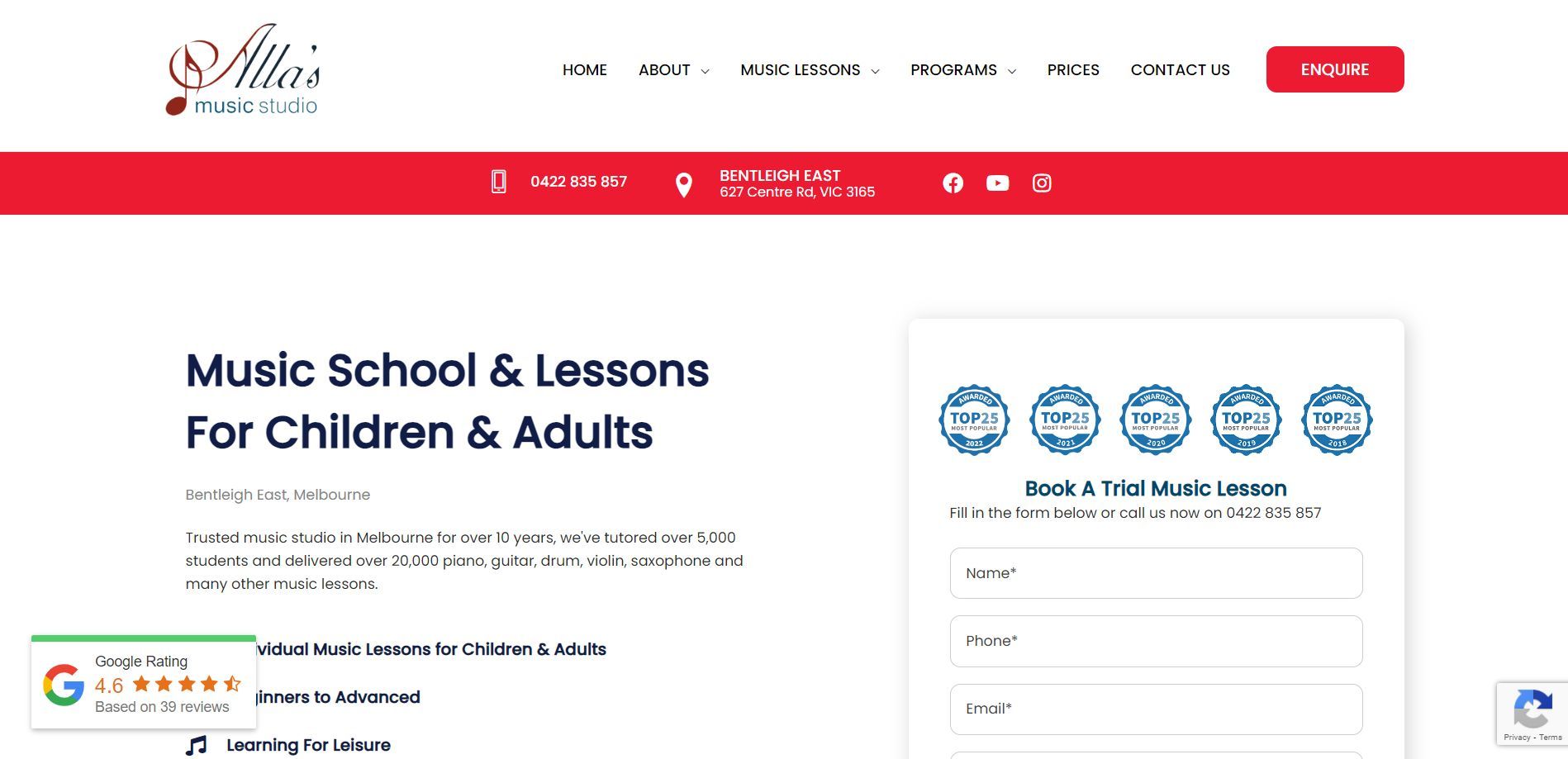 Alla's Music Studio, which has been operating in the Melbourne neighbourhood of Bentleigh East for more than a decade, has garnered a reputation as a reliable music establishment. The studio is committed to provide students of all ages and ability levels with music classes that are within their financial means. 
They have taught more than 20,000 lessons across a variety of instruments over the course of their long and illustrious history of instructing over 5,000 students. The goal of the music school is to foster an innate appreciation for music in each and every student so that they can perform to the best of their abilities. Alla's Music Studio's goal is to foster a profound love of music in each of its students by providing them with individualised instruction from some of Melbourne's most esteemed music instructors.
Services Offered:
Individual music lessons for both children and adults, catering to beginners through to advanced levels.

Music lessons for leisure as well as preparation for VCE, AMEB, and ABRSM exams.

Organised student concerts to showcase their talents.

Provision of same day/time slots for families with multiple children.

Music instrument hire service and sale of music books.

Instruments taught include Piano, Violin, Viola, Cello, Double Bass, Guitar, Bass guitar, Ukulele, Drums, Voice, Saxophone, Clarinet, Flute, Recorder, and Trumpet.
Phone: 0422 835 857
Website: https://allasmusicstudio.com.au/
Manhattan Music
Manhattan Music, situated in Melbourne's Northern Suburbs, is a well-established music school that has been serving the community since 2011. The academy boasts a team of passionate and qualified music teachers who provide comprehensive music theory and practise to students ranging from 5 to 105 years old. 
Whether you're a budding musician or someone looking to refine their skills, Manhattan Music offers tailored lessons to help you achieve your musical aspirations. The school is not just limited to teaching; it also offers performance opportunities, ensuring students get a holistic musical experience. Located in Eltham, the academy serves various areas, including Greensborough, Montmorency, and Templestowe.
Services Offered:
Tailored music lessons for students of all ages.

Comprehensive training in various instruments, including guitar, drums, bass guitar, piano, violin, flute, and vocals.

Opportunities to perform in their annual Rock Show.

Regular updates, news, and tips shared on their blog.

A dedicated student portal for easy access to educational resources.
Phone: 03 9439 4800
Email: manhattanmusic@bigpond.com
Website: https://www.manhattanmusic.com.au/
Vox Singing Academy
Vox Singing Academy, established in 1993, has cemented its reputation as Australia's leading singing academy, offering top-tier vocal training to students of all ages and skill levels. Located in Melbourne, VSA is driven by a team of highly trained, experienced, and professional singing teachers who are dedicated to unlocking the full potential of every student. 
The academy's approach is results-oriented, ensuring that students see tangible improvements in their vocal abilities. Whether you're a beginner or a professional, VSA offers a range of services, from in-studio lessons to online courses, all designed to provide the best possible singing tuition.
Services Offered:
Customised singing lessons for all skill levels and ages, covering various modern styles.

Online singing lessons available globally, with guaranteed results in 3 weeks when following the teacher's instructions.

The Ultimate Online Singing Course for self-paced learning.

Gift vouchers for singing lessons, perfect for any occasion.

Opportunities for students to perform and showcase their talents.

Testimonials from renowned artists and bands, highlighting the academy's impact on their vocal journey.
Phone: 1300 183 732
Website: https://voxsingingacademy.com.au/
Rhythm Tree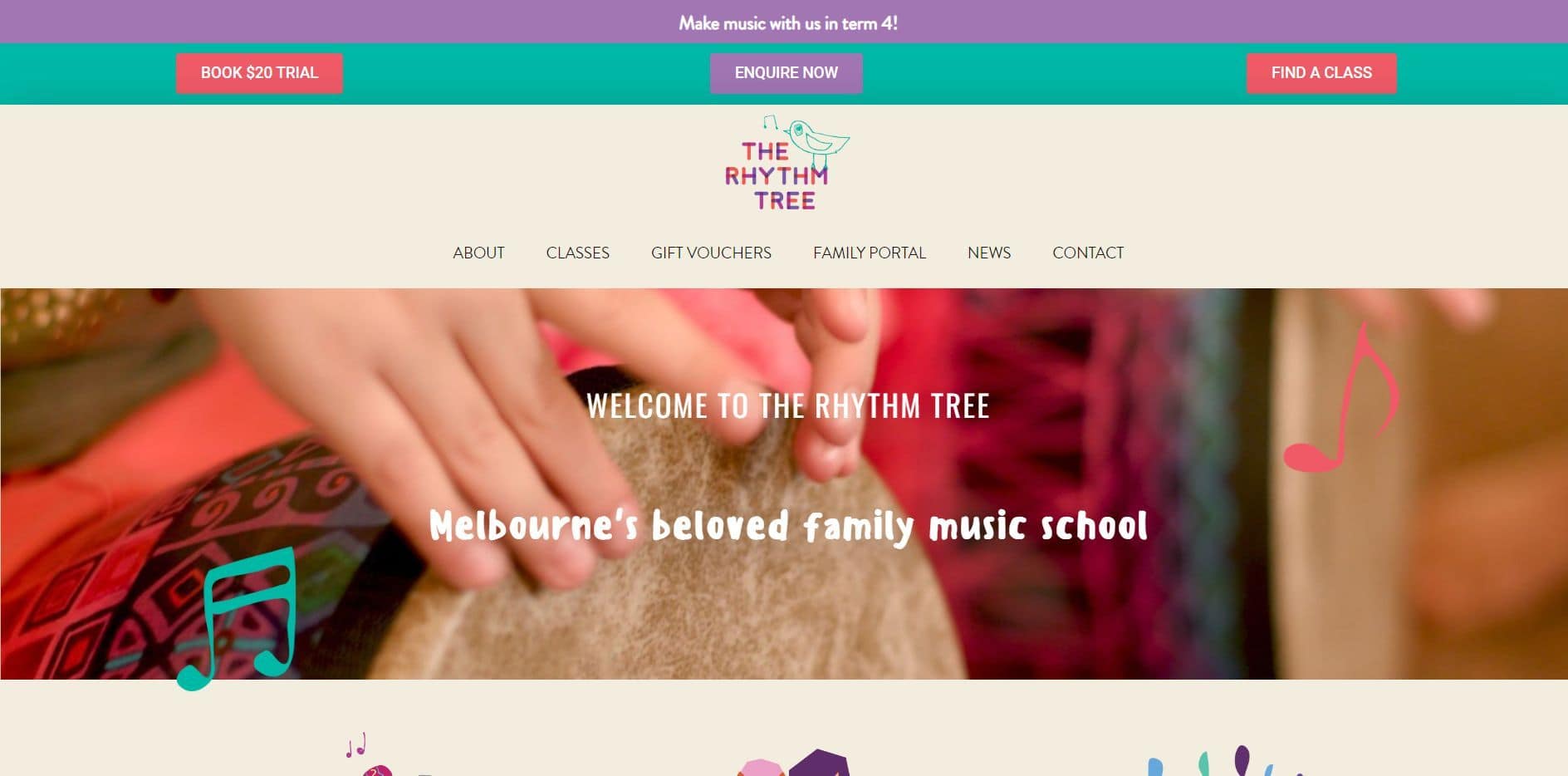 The Rhythm Tree, located in Melbourne, Australia, is a cherished family music school that offers a range of music programs tailored for children and their families. With a focus on fostering family and community music, the academy provides a nurturing and inclusive environment where families can connect, grow musically, and infuse creativity and harmony into their daily lives. 
The Rhythm Tree's programs are research-based and musically rich, delivered by skilled and compassionate teachers who understand the nuances of how young children learn. From babies to young kids, the academy offers classes that cater to various age groups, ensuring a comprehensive musical journey for all.
Services Offered:
Babies Classes: Tailored for newborns to 8 months, fostering bonding and musical growth in a calm environment.

Family Classes: For 0-6 year olds, a joyful and inclusive session where families can sing, dance, and play.

Rhythm Kids: A dynamic program for 4-8 year olds focusing on drumming, singing, and movement.

Online Classes: Offering the joy of music to families worldwide.

Weekly Classes: Fun, pressure-free sessions that create lasting musical memories for families.

Venue at CERES Environmental Park: A beautiful location in Brunswick East, facilitating joyful music experiences.
Phone: 0423 466 339
Website: https://www.therhythmtree.com.au/
World of Music Academy
World of Music Academy, situated in Point Cook, Victoria, is a distinguished institution dedicated to imparting musical knowledge to both children and adults. The academy offers one-on-one lessons, catering to those who wish to pursue music as a career through Trinity & ANZCA exams, as well as those who seek to learn for pleasure. 
With a team of experienced professionals, including Rebecca Moses for Piano, Keyboard, Singing & Theory, Samuel Jabro for Guitar, and Anusha Jabro managing the academy, students are ensured a comprehensive and enriching musical experience. The academy also emphasises unique teaching methods, ensuring quick and easy learning tailored to each student's preferences.
Services Offered:
Piano Lessons: One-on-one lessons for exams (Trinity & ANZCA) and pleasure, including basic theory and easy notation methods.

Guitar Lessons: Acoustic guitar lessons for pleasure and preparation for rock & pop exams, inclusive of playing songs and basic theory.

Singing Lessons: Voice training, breathing exercises, and song selection based on student preference.

Keyboard Lessons: Pleasure playing with easy notation methods for songs of choice and basic theory.

Workshops: Fun-filled workshops during school holidays for students to showcase their talents.

Facility: Individual space, instruments, sheet music, and exam materials provided for lessons.
Phone: 0452 522 761
Website: https://worldofmusicacademy.com/
Victorian Vocal Academy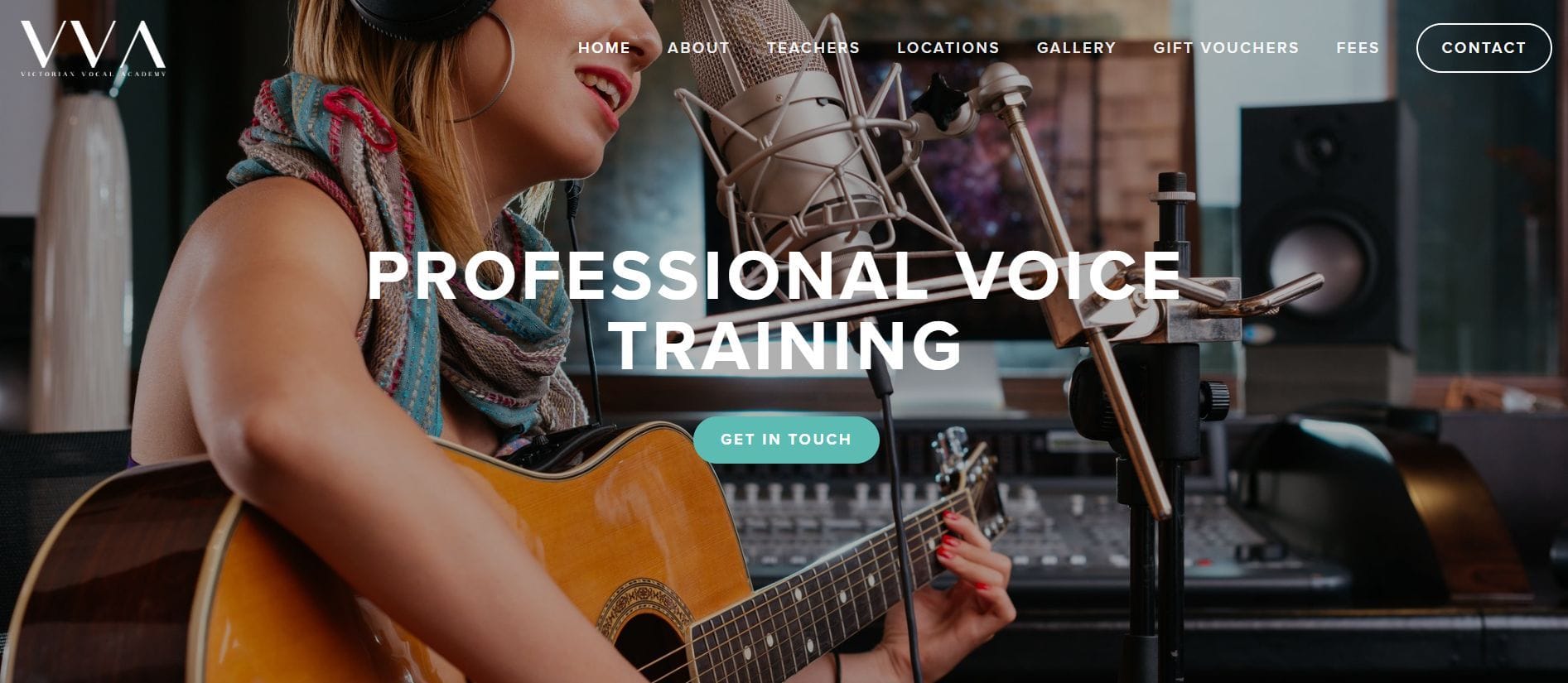 The Victorian Vocal Academy, with studios in Kew, Sassafras, and Kensington, stands as a beacon of excellence in vocal training. Catering to students of all ages and abilities, the academy offers high-quality singing lessons, whether you're a novice singing for leisure or an experienced performer aiming for a professional trajectory. The academy's teachers, renowned in Melbourne, are not only passionate about teaching but also have a proven track record of producing successful students. 
From those who have performed with esteemed companies like Opera Australia and Melbourne Opera to those who have secured music scholarships at prestigious schools, the academy's results are a testament to its commitment and expertise. The academy also offers lessons across various genres, including contemporary, musical theatre, and opera, ensuring a holistic musical experience.
Services Offered:
Private Singing Lessons: Tailored for all age groups, from beginners to professionals.

Classical Singing Lessons: Focus on Bel Canto vocal technique, diction, languages, musicianship, and stagecraft.

Musical Theatre Singing Lessons: Covering vocal techniques from legit to belt, stagecraft, and acting.

Contemporary Singing Lessons: Encompassing genres like jazz, soul, funk, folk, pop, country, and more.

Exam Training: Preparation for VCE music, AMEB, Trinity College, and other music exams.

Audition and Performance Prep: For scholarships, eisteddfods, university programs, performances, and recordings.

Performance Opportunities: Through school concerts, open mic nights, and workshops.

Career Mentorship: Guidance for aspiring professionals.
Phone: 0467 567 566
Email: info@victorianvocalacademy.com.au
Website: https://www.victorianvocalacademy.com.au/
Rising Tones Institute of Music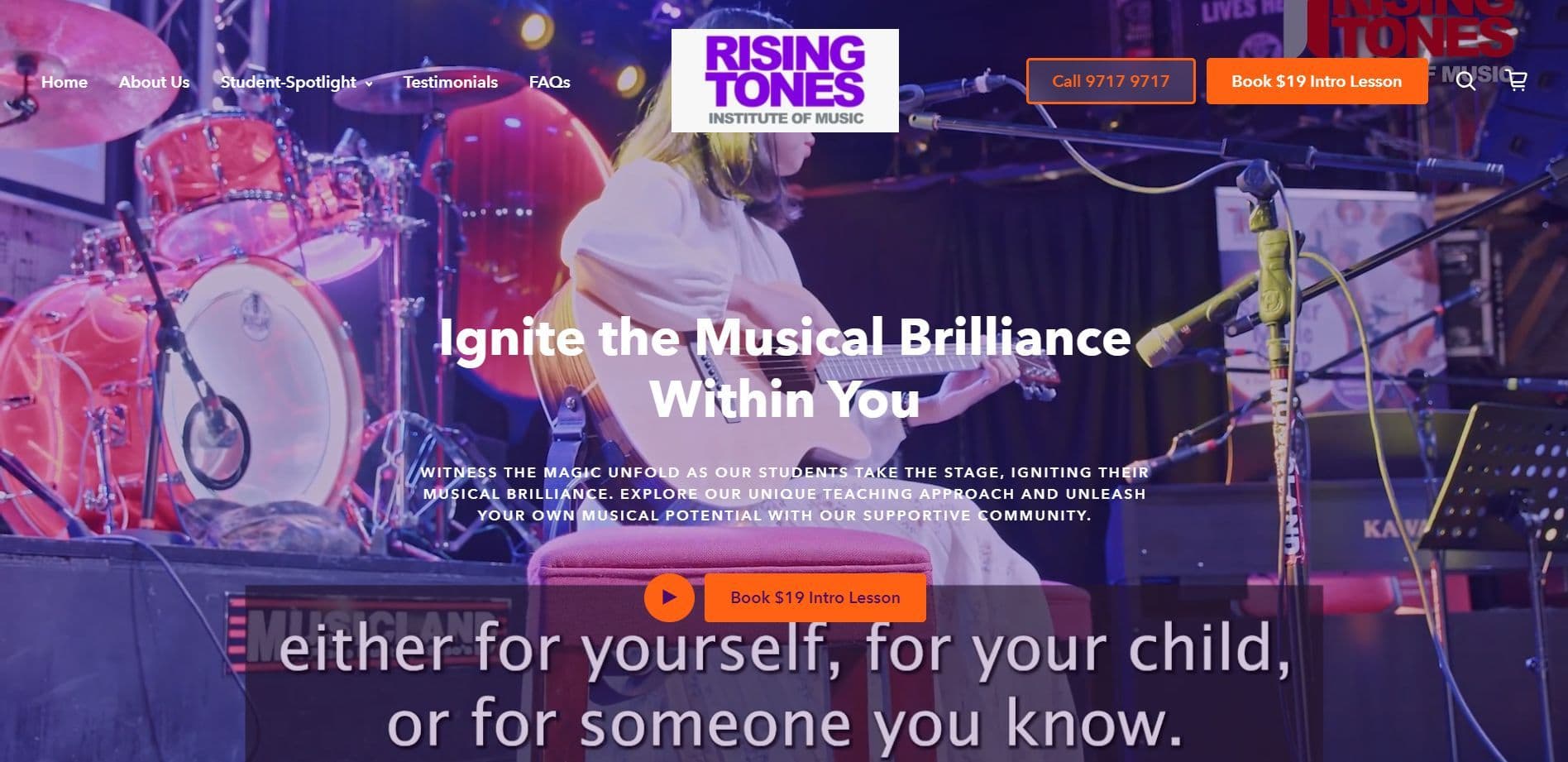 Rising Tones Institute of Music, based in Melbourne, offers a unique, performance-based teaching approach that ensures practical learning for genuine musical growth. The institute specialises in guitar training but also provides lessons in piano, drums, and vocals. With a mission to prepare students for live performances, Rising Tones offers various opportunities, from recitals to concerts, allowing students to boost their confidence and stage presence. 
The academy's teaching goes beyond traditional methods, nurturing creativity, patience, perseverance, teamwork, and the pure joy of self-expression. With a blend of traditional wisdom and modern teaching techniques, students receive a comprehensive, current, and engaging musical education.
Services Offered:
Holistic Development: Nurturing creativity, patience, perseverance, teamwork, methodical thinking, problem-solving, and self-expression

Performance Opportunities: From recitals to concerts, students are given ample opportunities to showcase their talents.

Friendly and Inclusive Environment: A safe and welcoming space for all students, with all teachers holding a "working with children check" card.

Innovative & Modern Teaching: Combining traditional methods with modern teaching techniques and technologies.

Personalised Approach: Tailored lessons based on individual goals and skill levels.

Expert Guidance: Lessons provided by industry professionals or trained teachers passionate about music.
Phone: 9717 9717
Website: https://risingtonesmusic.com/
Lisa-Marie Parker Vocal Studio
Lisa-Marie Parker Vocal Studio is a specialised boutique studio located in North Melbourne, offering tailored voice training services. Under the guidance of Lisa-Marie Parker, a seasoned voice teacher, mentor, and performer, the studio provides a focused environment for music theatre professionals, enthusiasts, actors, and students to hone their vocal skills.
The studio is dedicated to the advancement of vocal technique, audition preparation, performance anxiety management, and career mentorship, ensuring that each individual receives the support and expertise needed to excel in the demanding field of music theatre.
Services Offered:
Specialised voice training for music theatre

Audition preparation for singers and actors

Techniques to manage and overcome performance anxiety

Career mentorship for aspiring professionals

Kids Division for younger students with a passion for performing arts
Email: lisamarie.parker@me.com
Website: https://www.lisamarieparkervocalstudio.com.au/
Metro Music School
Metro Music School, based in Melbourne, is dedicated to providing creative musical education to primary schools through innovative programs that inspire creativity and encourage fun. With over 15 years of teaching experience, the school offers instrumental music programs to students, both at group levels and individually. 
Specialising in a wide range of instruments, including piano, keyboard, guitar, flute, clarinet, saxophone, drums, violin, and vocal training, Metro Music School prides itself on its commitment to traditional teaching methods while also embracing innovative programs that foster creativity and enjoyment. The school's team of teachers is highly qualified and passionate, ensuring a productive and enriching learning environment for every student.
Services Offered:
Instrumental Music Programs: Tailored for primary schools, both at group levels and individually.

Courses: Offerings in keyboard, piano, guitar (all styles), drums, strings (violin, viola, and cello), woodwind (flute, recorder, clarinet, and saxophone), and voice/singing.

After School & Weekend Lessons: Details here.

Programs for Schools: customised music programs for educational institutions.

Dedicated Music Shop: A range of musical instruments and accessories available for purchase.
Phone: 03 9460 4818
Email: admin_mm@metromusic.net.au
Website: https://metromusic.net.au/
Music Valley
Music Valley, located in Melbourne, is a premier music training and production studio that has been empowering artists to reach their full potential for over a decade. Originally established as the Universal School of Music in 2009, the institution underwent a transformation to better cater to the evolving needs of its vibrant community. 
Today, Music Valley not only focuses on education and training but also offers services in recording, music production, artist development, and career management. With a mission to help artists get gigs and produce their best work, the academy has successfully developed thousands of musicians by providing them with the necessary resources to enhance their skills and establish themselves in the music industry.
Services Offered:
Master Your Craft: Comprehensive training in various instruments, focusing on technique and performance.

Record & Release: Collaborative opportunities with artists, songwriters, and producers to create music and grow influence.

Launch Your Career: Transitioning from amateur to professional with coaching, marketing strategies, and artist services.

Mentor Foundations Program: A 10-week immersive program designed for emerging professional musicians looking to start a career in coaching and mentoring.
Phone: 03 9395 0695
Website: https://musicvalley.com.au/
The duration of music degree programs can vary but typically ranges from 2 to 4 years or more, depending on the level and type of degree.
Transfer credit policies vary by school, so contact the specific school you're interested in to inquire about their transfer policies.
Yes, most music schools offer music theory and composition courses as part of their curriculum.
Many music schools have connections with the music industry and offer internship opportunities to students.
Music schools typically provide practice rooms and recording studios for student use for coursework and personal practice.