The good news is that there is no shortage of excellent dental care facilities in Melbourne. Choosing the right clinic might be challenging, as there are many options. For this reason, we have compiled a list of the best dental clinics in Melbourne, rated by many criteria like affordability, accessibility, and quality of service. In other words, whether you're in need of a routine exam or more extensive treatment, these facilities will have you back to flashing that dazzling grin in no time.
Add a header to begin generating the table of contents
Melbourne Dentist Clinic
The Melbourne Dentist Clinic offers both routine and complex dental procedures to keep and fix teeth. The health of your teeth and gums, as well as the prevention of gum disease and the need for invasive and costly dental procedures, can be maintained with regular general dental examinations. The Melbourne Dentist Clinic is conveniently placed in the middle of the city and is open every day of the week. Provides both routine and complex dental services to help you regain your oral health. Patients trust that Dr. Annie H. Cao will provide them with the best dental care possible. At the Melbourne Dentist Clinic, we may prioritise treating dental emergencies. The Australian Dental Association has approved all of the dentists and dental hygienists in the Melbourne area.
Smile Solutions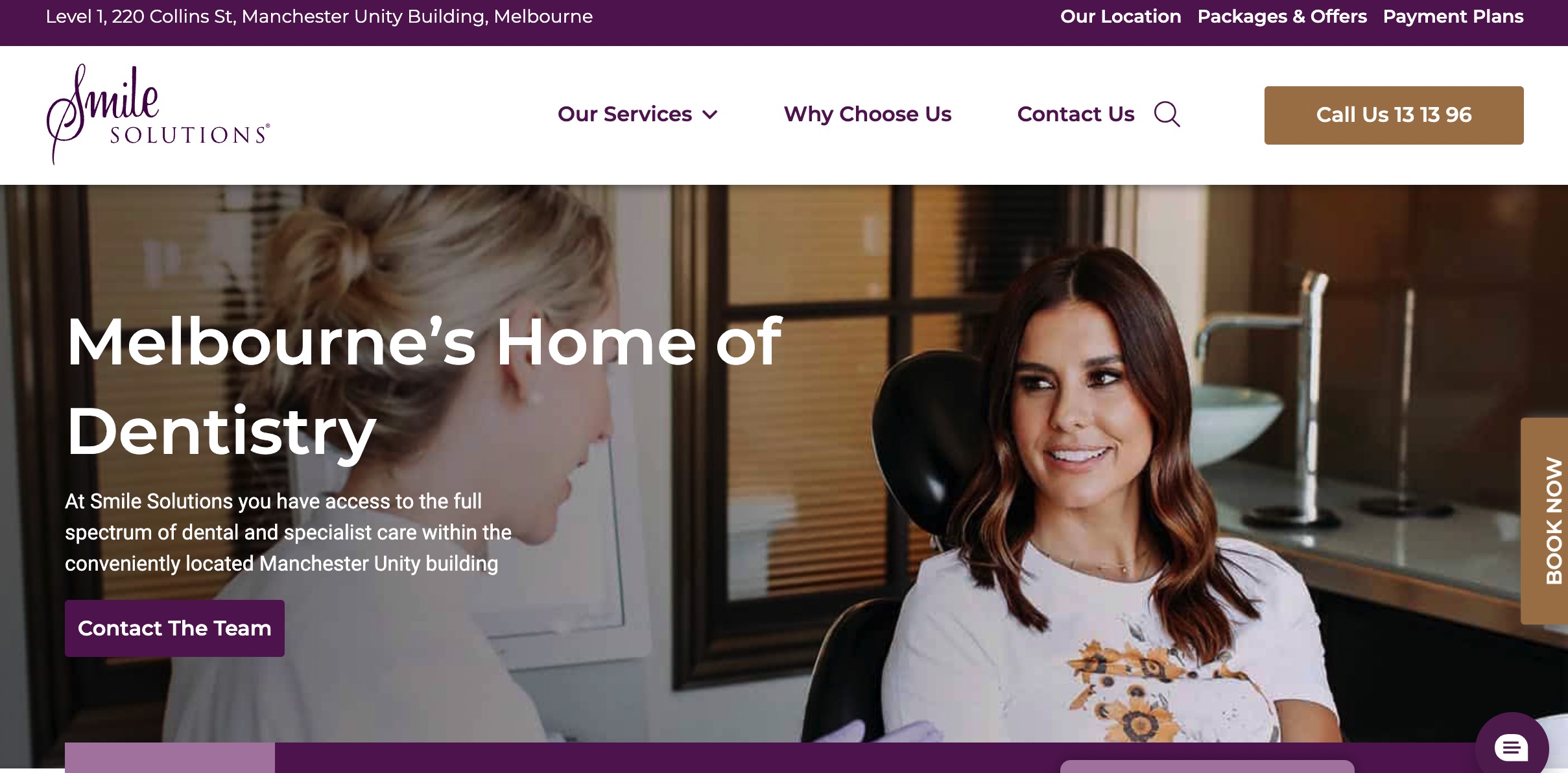 Everything from routine dental care like cleanings and examinations to more extensive procedures like root canals, extraction of impacted teeth, and emergency dental care is available through Smiles Solutions. They are aware of the significance of taking care of one's teeth and practising regular dental hygiene. As they assist you in this endeavour, you can rest assured knowing that their big staff of general dentists has extensive experience and a diverse set of dental talents and interests, all of which they continue to develop through rigors clinical training and education. These efforts at lifelong education are made on top of formal graduate study.
Everything from routine cleanings and exams to more complex procedures like root canal therapy, orthodontics, and emergency dental care are all available at Smile Solutions. The most advanced and specialised dental practises in Australia offer a wide variety of smile-saving services. They have 82 dentists on staff, all of them are qualified and eager to provide you with excellent dental care. You can pay at Smile Solutions with any major debit/credit card, cash, or EFTPOS. In addition, they are inclusive of the majority of insurance policies, which can help with the financial strain of expensive medical expenditures.
Gorgeous Smiles Dentistry
The central business district of Melbourne is home to Gorgeous Smiles Dentistry, an established dental practise. We take great pride in our highly skilled team of dental surgeons, which includes specialists in paediatric, general, and cosmetic dentistry. At our clinic, we prioritise giving each patient individualised care and a wide variety of dental services at reasonable prices. We care deeply about the experiences of everyone who enters through our doors and do everything in our power to cater to their specific requirements.
The Melbourne Central business district is home to Gorgeous Smile Dentistry, which provides a wide range of routine and speciality dental care services. They guarantee low-cost yet comprehensive dental care plans. They partner with highly qualified dental professionals. It is headed by Dr. Minoo, who is well-liked by his patients for his affable demeanour and delicate touch. Her positive demeanour and honesty will win your heart.
Their treatment methods are certain to work because they employ the most cutting-edge tools in the dental industry.
Bay Street Dental Group
Our team at Bay Street Dental is among the most seasoned in the industry. We highly recommend the world-class services offered by Bay Street Dental in Melbourne if you are in search of a dentist to help you achieve your ideal smile. They have a firm commitment to providing first-rate care to their patients. When you first visit their Melbourne dental clinic, they will make an effort to learn about your specific dental needs. After that, a customised treatment plan will be developed to address your specific dental requirements.
Holistic Dental
Holistic dental practise offering comprehensive dental care to the people of Melbourne for over 20 years. They have received extensive training to provide cutting-edge, painless, and productive dental care.
We have assembled a team of highly trained dental professionals that are committed to providing you with the finest dental care Melbourne has to offer. Our Melbourne holistic dentists are committed to being as open and honest as possible while while providing competitively priced dental care. Plus, they're QIP-accredited, which means you can trust that your dental care will be of the highest quality and safety standards.
Care Family Dental
Care Family Dental is a top-notch dental clinic in Melbourne, Victoria. Our dentists in Melbourne are among the most experienced in the business, having a combined 100+ years of expertise between them. We take the time to hear you out and fully comprehend your dental concerns before presenting you with a transparent plan and honest fee. If you feel that's the best course of action, we'll implement it. In Melbourne, we have four locations to serve you better. There is a wide variety of dentists out there, so you may find one who fits your needs and preferences. To further ensure that our Melbourne patients receive the most cutting-edge dental care possible, our dentists often attend self-learning conferences and seminars.
We offer comprehensive dental care, including general and cosmetic procedures, Invisalign and traditional braces, dental implants, wisdom tooth extractions, treatment for sleep apnea and bruxism, and more. When you visit one of our dental offices, you can rest assured knowing that you'll be treated to state-of-the-art facilities and cutting-edge technology. In addition, most of our clinics now provide Netflix to make the kids' visits more enjoyable and stress-free.
3 Best Dentists In Melbourne, Vic
Dr Andrew Tong - Mc Dental
Dr. Andrew Tong has won prestigious awards in Oral Surgery, Medicines and Special Needs from Melbourne University. He received his dental degree from the Melbourne Dental School, where he excelled in both oral surgery and oral medicine, earning him several accolades and honours. Dr. Andrew Tong has earned the prestigious title of "Fellow" from the International Association for Dental Education (FICDE). Since joining MC Dental, he has been particularly passionate about such procedures as single-visit crowns (CEREC), porcelain veneers, and the treatment of dental grinding and tooth wear. The prevention and treatment of tooth gum disease and decay are causes he feels strongly about. He is currently the dentist of Mc Dental. They take great satisfaction in providing dental care to their patients in a professional and caring manner. Mc Dental does its best to schedule urgent care patients with appointments as quickly as possible. Several different health insurance providers are accepted, including Medibank, HCF, CBHS, Bupa, NIB, and Qantas. The clinic's initial consultations, both for orthodontics and implants, are free.
Specialty:
Dentistry (General), Endodontics (Root Canal Therapy), Endodontology (Wisdom Tooth Removal), Restorative Dentistry (White Fillings, Veneers, Crowns, Bridges), Preventative Dentistry (Early Checkups, Teen Invisalign), Implantology (Braces), Odor Control (Invisalign Orthodontics), Sleep (TMJ Disorder, Sleep Apnea, Snoring), and Periodontal Disease (Bleeding Gum
ANNIE H. CAO - MELBOURNE DENTIST CLINIC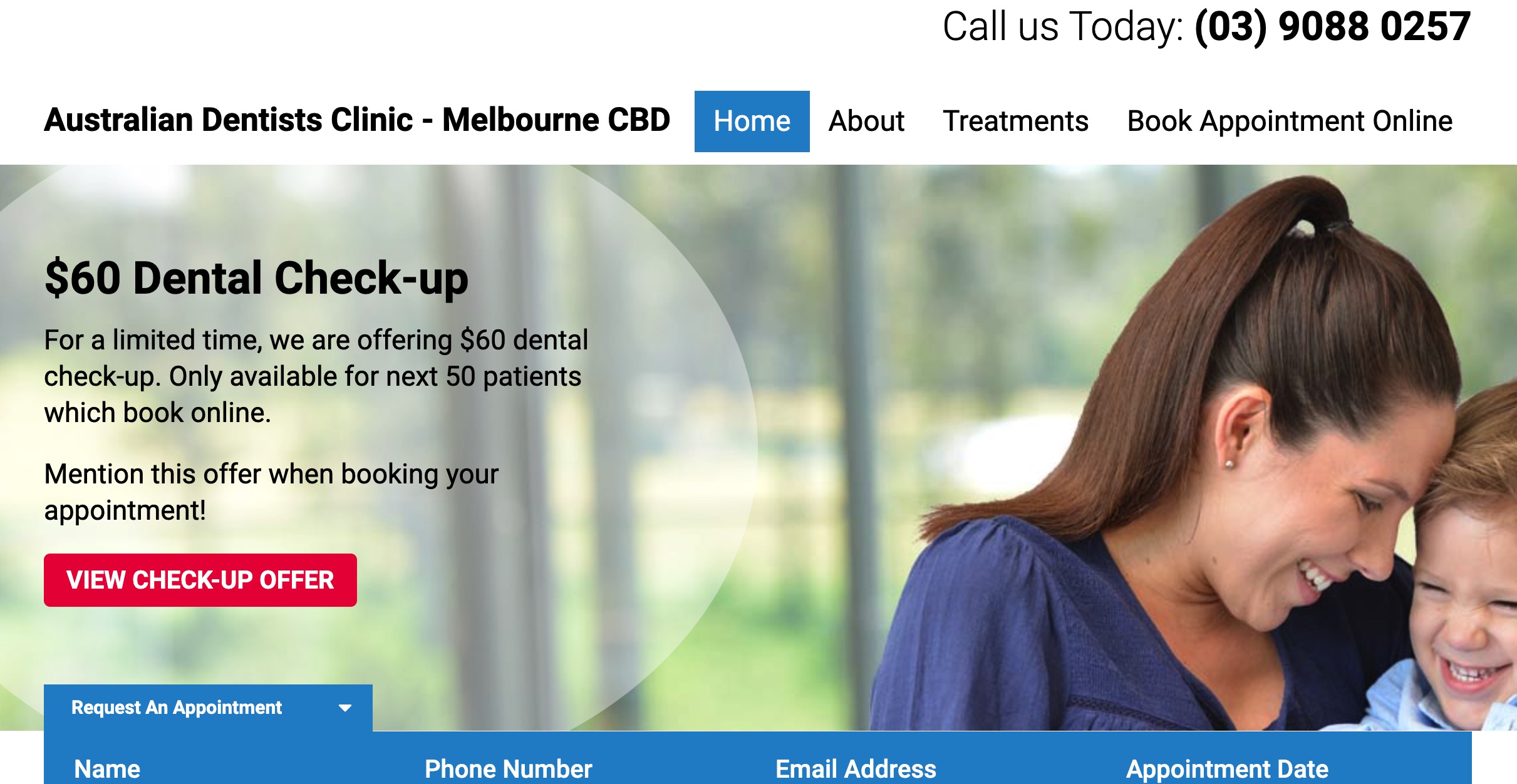 You can trust your teeth to Dr. Annie H. Cao, one of Melbourne's top dentists. There, she performs dental work as the clinic's dentist in Melbourne. Dentistry treatments are provided in a warm, compassionate, and cost-effective environment. All of the services and costs associated with those services are clearly outlined in written, thorough treatment plans. Also, they provide a comprehensive selection of general dentistry services, such as checkups, cleanings, fillings, root canals, extractions, and dentures. At Melbourne Dentist Clinic, our dentists and hygienists are all active participants in the Australian Dental Association. In order to achieve this mission, they work hard to maintain a balance between service quality and affordability. The medical centre is accessible every day of the week.
Specialty:
Exams, Preventative Care, Root Canal Therapy, Laminate Fillings, Extractions, Dentures, Bone Grinding, Crowns, Veneers, Ornaments, Botox, Toothpastes, Gum Disease, Total Oral Health, and Flossing are all part of a comprehensive dental care plan.
Dr Nicholas Hii - High Dental
Dr. Nicholas Hii earned a Bachelor of Dental Surgery (Honours) from Queen Mary University of London and a Postgraduate Diploma in Aesthetic Dentistry from Kings College London. Dr. Nicholas is affiliated with the ADA-Australian Dental Association in addition to the General Dental Council of the United Kingdom. He develops deep connections with each of his patients through his attentive and compassionate care. At High Dental, where he works, he does dental procedures. Those in need of optimal dental health can get it at the clinic, where they'll receive care of the highest calibre from both specialists and general dentists. They will only use the best materials and care for your health so that you can leave with a gleaming smile of self-assurance and pride. The photodynamic method is used in their cutting-edge chair-whitening technology. The TGA-approved products available at High Dental will make your smile shine. The clinic works to make it easy for patients to pay for their services.
Specialty:
Dental cleanings, fillings, crowns, veneers, bridges, invisalign clear aligners, veneers, teeth whitening, root canals, wisdom teeth extractions, dry mouth, mouth guards, oral hygiene, paediatric, and more are all part of a comprehensive dental care plan.
8 Tips For Recovery After Gum Graft Surgery
Recession of the gums can be caused by a number of factors, such as sickness, injury, diet, and advanced age. Gum grafts can help by transplanting healthy gum tissue into spaces where the gum has begun to recede. Common misunderstandings centre on the amount of teeth that need to be treated and the gum grafting technique itself. While the effects of receding gums are more obvious when natural teeth are present, they can nonetheless occur with dental implants or dentures.
Bloor West Smiles is a major dental clinic in Toronto, serving patients from all around the city with a variety of procedures, including gum grafting. Here are eight of our best pieces of advice to customers for taking care of their teeth and gums after gum graft surgery:
Keep Your Lips Zipped.
There will be some soreness in the gums after a gum graft in Toronto. In order to prevent excessive bleeding, your periodontist will advise you to leave the gauze in place for the first 40–50 minutes. I think it would be best if you stayed quiet as well.
Talking is probably best after 2 or 3 days, even if you feel well. This is unless your dentist tells you differently. However, just because you've committed to a three-day silence doesn't mean you can't talk to each other. Until you feel comfortable expressing your emotions verbally, you might want to try writing them down on a whiteboard with a dry erase marker.
Don't Let Your Tongue Wander.
It is normal to want to feel the surgical site with your tongue after oral surgery. Unfortunately, if you poke and prod at your gum graft with your tongue, you may end up dislodging the gauze or breaking your stitches.
Please keep your mouth as relaxed as possible and do as your dentist tells you to do to get the greatest possible outcomes from your gum transplant and to reduce any discomfort you may have.
Use Ice For Swelling.
When the body is injured, it responds by swelling and reddening. Placing an ice pack on your lips and jaw will help reduce swelling. Because ice reduces swelling, it also lessens discomfort. The recommended time spent using ice is between 10 and 20 minutes, after which you should give your mouth a rest. Your periodontist could also suggest that you try some over-the-counter pain relievers, like acetaminophen or ibuprofen, to help ease the discomfort.
Lightly Brush
Unfortunately, until your gums have healed from a gum transplant in Toronto, you won't be able to brush as thoroughly as you should. Brushing gently is still recommended even after healing has occurred. You may find that the gum graft tissue is more delicate and susceptible to injury than the rest of your mouth. Brushing too vigorously risks disturbing the implanted tissue.
In the beginning, when your gums are still healing, it is best to use a soft-bristled brush. Our staff at Bloor West Smiles is here to assist you in finding the ideal toothbrush for your teeth and gums.
Anticipate your hunger and eat ahead of time.
Most Toronto periodontists will not allow you to eat for at least 48 hours after having a gum graft done. This is due to the fact that biting and chewing could damage the stitches and cause the graft to come loose. When you get a chance to eat, give some thought to what you're putting into your body. It's possible you should stick to softer foods and avoid the crunchy ones. This list includes some examples of soft foods:
Banana

Tofu

Yoghourt

Eggs

Jello
Smoothies are also fantastic for post-op eating because they don't require any biting and won't stain your teeth or gums. Avoid foods that need extensive chewing such as salads, which are healthful but demand additional effort from your teeth and gums to break down.
Do not heat or cool food
The temperature of the food you eat after a gum transplant is just as important as picking the proper kinds of food. Pain and discomfort can be caused by consuming meals and beverages that are excessively hot or too cold. Additionally, your nerves will be on edge as you heal.
On the other hand, you may find that your recovering gums have not yet regained sensitivity. Your gums might not immediately show any signs of discomfort if you consume something excessively hot, but you will eventually. Keeping food at a constant temperature is helpful, and so is checking the temperature of hot items to make sure they've cooled before eating.
We suggest you take a nap
Even though a gum transplant was performed in your mouth, the effects will be felt all over your body. This may leave you feeling achy, stressed out, exhausted, and anxious. Getting a good night's sleep will alleviate these signs and have you feeling normal again in no time. Relax and recuperate in the comfort of your own home by skipping work and other obligations if you can. Don't talk on the phone for long periods of time or engage in strenuous exercise while you have sutures in your mouth.
Take Caution Around Animals And Young People
When we adults are sick, our favourite tiny people and furry friends don't always understand. A dog might jump up and hit you in the face if it becomes too excited, for instance. In a similar vein, chasing toddlers around the house might be hard on sutures that haven't fully healed. Even when we're not feeling our best, pets and kids still need a lot of TLC. Arrange for kid care, a pet sitter, or puppy daycare in advance to make sure your loved ones are looked after while you get the rest and recuperation you need. Setting apart a special space of your own might also help you feel more at ease as you recover. Having a friend or family member who can assist out around the house so you can take breaks when you need them can be a huge boon to your recovery time.
Conclusion
The best dental practises in Melbourne provide comprehensive care for teeth and gums. Smile Solutions provides a full range of dental services, from routine exams and cleanings to more advanced operations including root canal therapy, orthodontics, and even emergency dental care. All of the local Melbourne dentists and dental hygienists have been vetted and certified by the Australian Dental Association. Bay Street Dental in Melbourne provides exceptional care, and I strongly advise you to go there if you need dental work done. They are dedicated to giving their patients the best possible service.
They use state-of-the-art equipment, so you know their treatments will help. Furthermore, they have earned QIP accreditation, guaranteeing patients safe and effective dental care. The Melbourne dentists at our practise have more than a century's worth of experience between them, making them among the best qualified in the field. We listen attentively and make sure we understand your dental concerns before providing you with an upfront treatment plan and honest cost estimate. The majority of our facilities now offer Netflix to make the children's appointments more pleasant and less stressful.
Dentist services are delivered in a friendly, caring, and budget-friendly setting at the Melbourne Dentist Clinic. Their state-of-the-art chair-whitening equipment use the photodynamic technique. Dr. Nicholas Hii attended Queen Mary University of London and graduated with a Bachelor of Dental Surgery (Honours). It is recommended that you refrain from eating for at least 48 hours after a gum transplant, as this is the minimum time recommended by most Toronto periodontists. This is because the graft could get loose or the stitches damaged if you chew on it. If you've recently had a gum transplant and are feeling achy, nervous, weary, and anxious, here are some suggestions to help you feel more at ease in the company of loved ones and pets while you heal.
Content Summary
The good news is that Melbourne is home to a plethora of high-quality dentistry clinics.

There are a lot of clinics out there, so picking the correct one could be difficult.

We have therefore prepared a list of the finest dental clinics in Melbourne, ranked according to a variety of factors like cost, convenience, and quality of care.

dental practise in Melbourne The Melbourne Dentist Clinic provides comprehensive dental care, including preventative, restorative, and cosmetic services.

Modern and specialised dental clinics in Australia provide an extensive range of treatments to save patients' teeth and gums.

Dentistry for Stunning Smiles Gorgeous Smiles Dentistry is a well-respected dental clinic in Melbourne's CBD.

Gorgeous Smile Dentistry is located in the heart of Melbourne's commercial sector and offers comprehensive general and cosmetic dental care.

The Dentists of Bay Street We pride ourselves on having one of the most experienced teams in the business here at Bay Street Dental.

When you first visit their dental office in Melbourne, they will enquire as to any special requirements you may have.

Afterward, we'll work with you to create a unique treatment plan that meets your individual needs in terms of dental care.

The Melbourne dentists at our practise have more than a century's worth of experience between them, making them among the best qualified in the field.

We offer four convenient locations in Melbourne to best meet your needs.

You can probably find a dentist who is suitable for your requirements and tastes among the many available.

The dentists at our Melbourne practise regularly participate in continuing education opportunities like conferences and seminars, so that our patients always get the best care possible.

We take great pride in the modernity of our dental clinics, and we promise that you will be impressed by your visit.

Here Are Melbourne's Top 3 Dentists McDental by Dr. Andrew Tong Dr. Andrew Tong has been honoured by Melbourne University with top distinctions in the fields of oral surgery, medicine, and special needs.

Dr. Annie H. Cao is regarded as one of the best dentists in Melbourne.

She is the dentist at the clinic in Melbourne, and she does dental work there.

Dental care is given in a comfortable, friendly, and reasonably priced setting.

All of the dentists and hygienists here at the Melbourne Dentist Clinic are enthusiastic members of the Australian Dental Association.

Both specialists and regular dentists at the clinic are highly trained and committed to providing patients with the best possible dental health outcomes.

A beautiful smile is within reach with High Dental's TGA-approved products.

Patient convenience in paying for services is a priority at this facility.

The number of teeth that need to be repaired and the gum grafting procedure itself are two areas where most people get it wrong.

Patients from all across Toronto come to Bloor West Smiles for services like gum grafting, which are provided by the clinic's highly trained dentists.

In Toronto, a gum graft will cause some discomfort in the gums.

Even though you've agreed to go silent for three days, that doesn't mean you can't communicate with one another.

After oral surgery, it is common to desire to run your tongue over the incision.

If you try to prod your gum graft with your tongue, you run the risk of snapping your stitches or dislodging the gauze.

To receive the best results from your gum transplant and to minimise any discomfort you may feel, please keep your mouth as relaxed as possible and do as your dentist instructs.

You can lessen swelling in your mouth by using an ice pack on your lips and jaw.

Gum graft tissue may be more sensitive and easily damaged than the rest of your mouth.

If you brush too hard, you could damage the implanted tissue.

Use a soft-bristled brush first while your gums are mending.

At Bloor West Smiles, we want to make sure you find the toothbrush that's best for your mouth.

You should try to foresee your hunger and satisfy it beforehand.

There is a 48-hour period after having a gum graft performed during which most Toronto periodontists will not let you eat.

Forget about cooking or chilling the meal. After a gum transplant, it is equally crucial to eat at the right temperature as it is to eat the right foods.

Maintaining a consistent temperature for food is beneficial, as is checking the temperature of hot products to ensure they have cooled down before consumption.

I think you should go take a nap. Your body will feel the effects of the gum transplant, even if it was performed in your mouth.

These symptoms will go after a good night's sleep, and your health will return to normal quickly.

Skip work and other commitments if you can so that you can rest and recover in the privacy of your own home.

While you have sutures in your mouth, you should avoid vigourous exercise and long phone conversations.

Pets and children still require a lot of attention and care even when we're not feeling well.

To ensure that your loved ones are cared for while you receive the rest and rejuvenation you need, plan ahead and hire a babysitter, pet sitter, or enrol your dog in puppy daycare.
Highly recommended by family and friends.

Great patient experience matters.

Straight forward, clear, no-frills advice. 

Updated current dental technology. 

A good dentist is like a teacher. 

Personalised traditional dentist service.
Dental Check-up, Two X-rays and Scale Clean - $159
How much does a Dentist make in Australia? The average dentist salary in Australia is $140,614 per year or $72.11 per hour. Entry-level positions start at $113,658 per year, while most experienced workers earn $185,930.
Fluoride helps prevent tooth decay by making the tooth more resistant to acid attacks from plaque, bacteria and sugars in the mouth. It also reverses early decay.
The cost of dental implants varies from city to city. Procedures in Sydney are expected to cost higher than Adelaide due to a more expensive standard of living there. Overhead costs and salaries per location factor into the overall cost of tooth implants.