Add a header to begin generating the table of contents
Hunters' Roots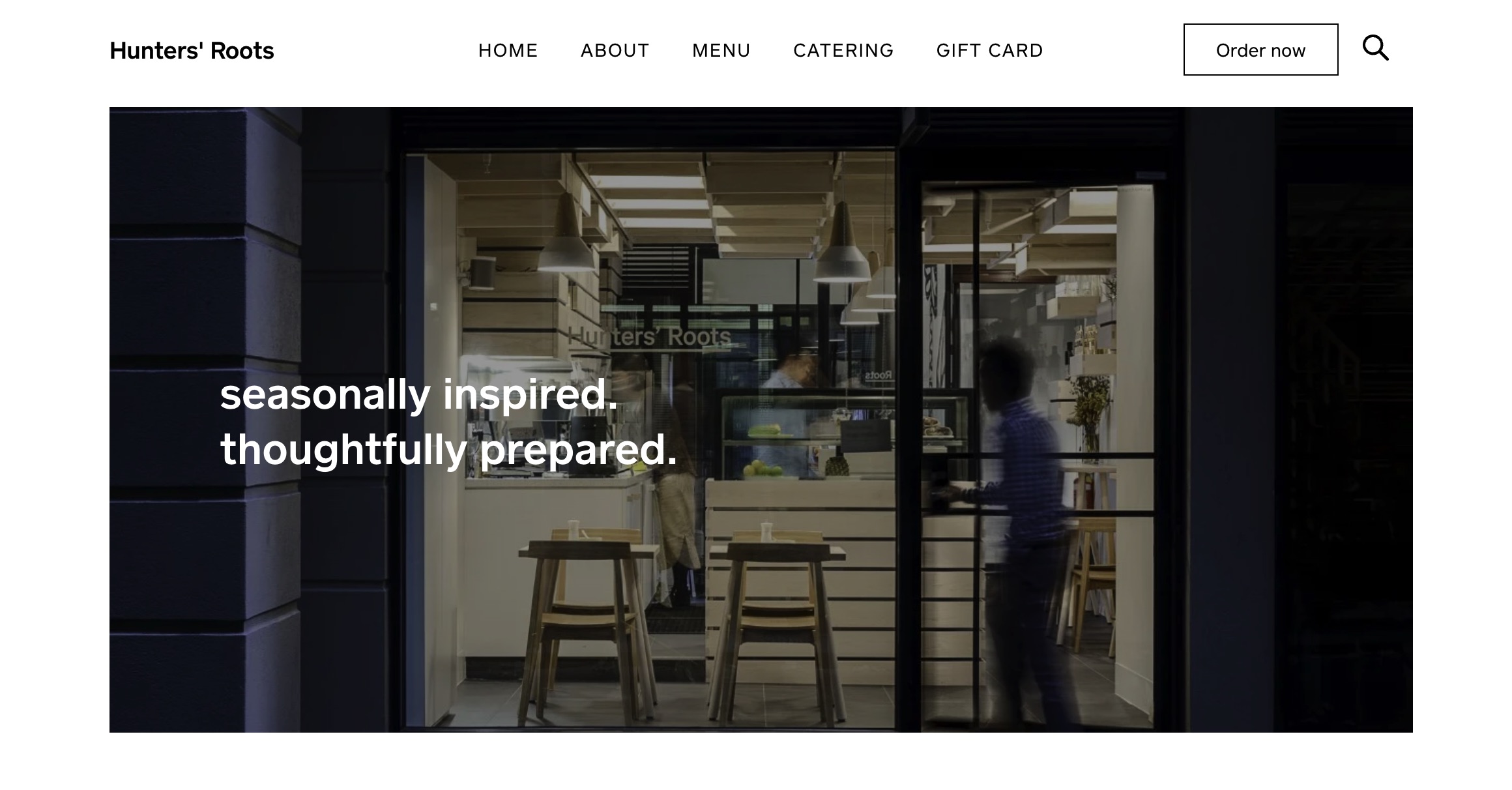 The menu at Hunters' Roots is full with nutritious options that won't leave you feeling deprived. You may rest assured that your meal will be delicious here because of the emphasis placed on using only fresh, local ingredients. There is a variety of healthy options, from smoothies to toasties. Every season brings new menu options, so you'll never get bored. Be careful to stop over during the day, as they only serve breakfast and lunch.
Shoku Iku
SHOKU IKU is the epitome of "Organic and Seasonal." Their extensive menu is designed to facilitate your efforts to improve your diet. The ready-to-eat meals available at SHOKU IKU are nutritional powerhouses. It's all natural, low in sugar, gluten-free, and vegan. You may either pick them up at the shop or have them sent to your house.
Transformer Fitzroy
When you're looking for a high-end, plant-based dining experience in Fitzroy, look no further than Transformer. Enjoy low lighting, locally produced food, and fine seasonal wine at one of Melbourne's top healthy restaurants. Bring a large group and sample items from their "feed me" menu.
Nosh
Feeling spiritually hungry? If you're looking, you can stop right here. Everything at Nosh is crafted with love, full of nutrients, and very inventive, all with the goal of making "bellies grin." You will not be disappointed with any of their trademark bowls like the Wagu-San or Eye of the Tiger (both of which feature tamarind prawns). Meat and fish, usually avoided at health-conscious eateries, take up a sizable portion of the menu here, making it ideal for carnivores seeking nutritious options.
Hochi Mama Cbd
Hochi Mama CBD is trendy and cool; it doesn't look like a place that serves nutritious food. But don't worry; some of Melbourne's healthiest options can be found right here. The entire concept of their Asian-inspired menu is based on the concept of communal dining. Their signature "Me Hungry Now" menu costs $32.50 for lunch and $34.50 for dinner and is well worth the price. A total of two appetisers, two main courses, and one side dish are on the menu (per pair). Their crunchy fried dumplings and caramelised pig belly are must-tries.
Trippy Taco
Anyone for tacos on a Tuesday? If you're looking for the best Mexican street cuisine in Melbourne, look no further than Trippy Taco. This eatery serves exclusively vegetarian Mexican meals and prides itself on using only the freshest ingredients. We highly recommend both their Taquitos and their mixed taco meal. Everything on the menu can be made vegan if you like. Everything on the menu, from the breakfast tortilla to the Nutella melt, is completely healthy.
Seedling Cafe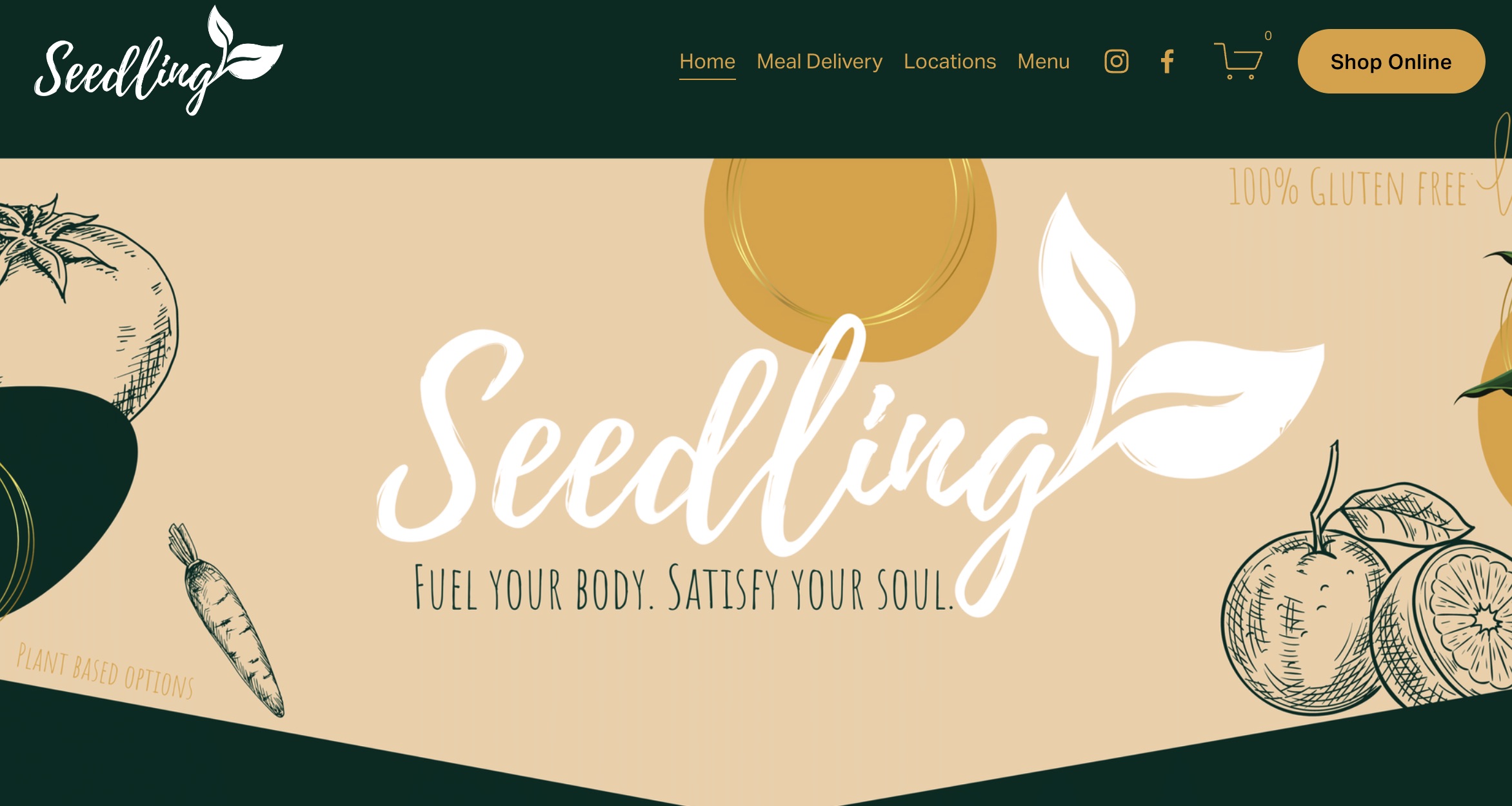 The Seedling Cafe is a popular choice among Melbourne locals looking for a healthy eating option. Absolutely nothing here will make you sick, and it's all wonderful. They, like Hochi Mama, provide high-quality, convenient pre-cooked meals that make eating healthily a breeze. Yorkshire pudding and gluten-free lasagne will become fast favourites. They also sell a variety of fantastic cakes that are certain to be a success at any celebration.
Being a celiac requires a lot of work, from planning ahead by researching menus to dealing with awkward contacts with employees to explain that it is a allergy and not a lifestyle choice. One in every seventy Australians has celiac disease, so Seedling's 100% casein cafe is worth knowing about if you or a brunch companion suffers from the condition. Cakes, smashed avocado, salads, and acai join the ranks of the conventional cafe fare alongside paleo and plant-based options.
Veggie Bar
Fresh smoothies and wholefood bowls are just the beginning of what Veggie Bar has to offer veggie fans. You can get stir-fries, enchiladas, arancini s, burgers, and a lot more at this fusion-style eatery. Their food encourages you to branch out and try new things, including those with unusual flavour profiles. If you're a fan of vegetables, you should definitely check them out right now.
Yong Green Food
When you go inside Yong Green Food, you'll feel as though you've stepped into a different dimension. Their great cuisine should not be overshadowed by the charming decor, which includes dragon walls and floating paper lanterns. The fact that they care so much about being one of the top healthy restaurants in Melbourne is a testament to how seriously they take their craft. There is a wide variety of food options, just like at Veggie Bar. Instead, you may try dishes like Sticky Date Pudding, Lentil Curry, Nachos, and Dumplings all in the same meal. Each diner at the table can find something to their liking, since they provide both vegetarian and vegan alternatives.
The food is reasonably nutritious, and it's a wonderful location to begin your search for healthy restaurants in Melbourne. Yong Green Food, a paradise for vegans, actually has a devoted following among meat eaters. The vibrant dishes on their menu, which range from umami-rich Japanese curry to spicy kimchi gyoza, are so nutritious that they will make you feel like you're radiating health.
Heal.Thy Self Co.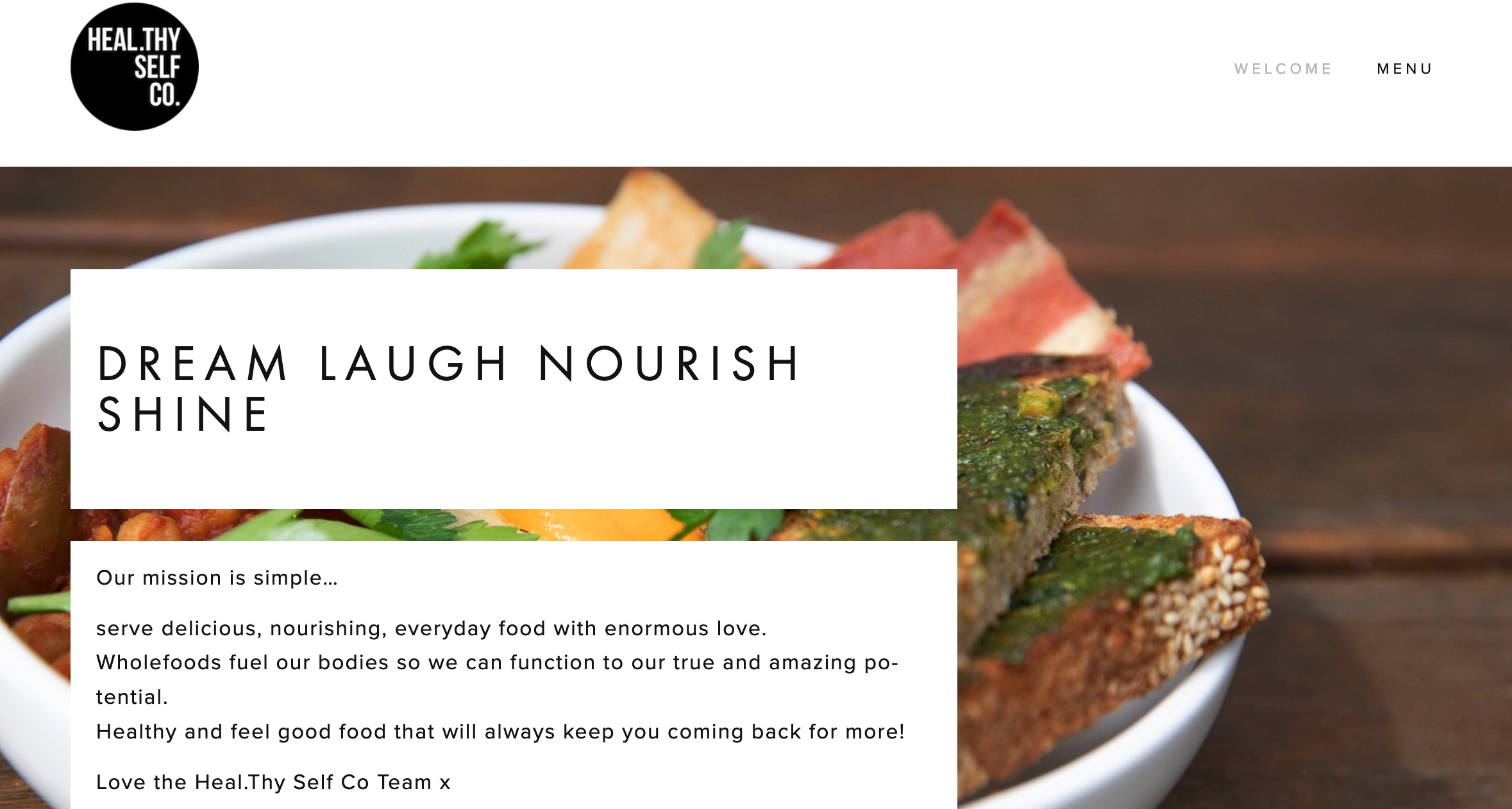 At Heal. Thy Self Co., you won't just find sustainable and ethical food options. They want you to have a healthy Victoria dining experience, thus everything on the menu is plant-based and organic. The use of natural, earthy flavours demonstrates a genuine appreciation for superb cooking. Their Antiox Acai smoothie is great for morning, and their Bootylicious Bowl is great for lunch.
If it's healthy, it probably comes in a basin or jar and is labelled with the word Heal. Both are perfectly executed by Thy Self Co. The best of the local, seasonal products is showcased on a menu that places an emphasis on whole foods. This cosy restaurant in the heart of Yarraville Village make it beyond simple if viewing The Game Changers has inspired you to eat more tree. Who wants a Snickers smoothie?
Moroccan Soup Bar
The goal of the Moroccan Soup Bar is to provide you with an authentic taste of Morocco. You won't just find soups here, though; they also serve lunch and dinner. You can have a variety of rice dishes, hummus, eggplant, dips, and more. Their Harrira Soup, which is vegan and dairy-free, is delicious and ideal for wet Melbourne days. You can also "Pay it forwards" by donating a dinner pack to a person in need.
The veggie-filled stews, soups, tagines, and salads at Moroccan Soup Bar are legendary for being hearty, comforting, and nourishing. Guests are urged to bring their own Tupperware to store the healthy, delicious, and filling leftovers. There will be no temptation to turn to the dark side at this charming restaurant because alcohol is not served here.
Shakahari Too
Shakahari Too, which has been open for almost 50 years, is a mecca for vegetarians and vegans alike. Vegan fare prepared with local, in-season Victoria, Australia, ingredients. Vegetarian options at reasonable prices can be hard to come by, but at Shakahari Too, guests won't go hungry. Their flavours, like as their world-famous satay and lasagne, are out of the ordinary and inventive. Don't be shocked if your sense of taste is completely overwhelmed.
This bustling younger sibling of the popular Shakahari health food place in Melbourne's north is a testament to the curative potential of a flower diet. Fresh and alloying elements were used to open this restaurant in response to great demand, and the resulting flavour profile is sure to convert even the most committed carnivore. Could you really claim that we didn't put you on notice?
Touchwood
Touchwood is one of the top healthy cafes in Melbourne since it serves delicious food that won't break the bank but will restore you. We frequently come here since there's always something delicious to eat. Their Crispy Chicken Baos , Mexican Chicken Salad are delicious, as is their fresh Granola and Brekky Burger. Also, the fact that this cafe exists demonstrates that one need not adhere to a vegetarian or vegan diet in order to have a tasty, nourishing meal.
Combi Elwood
Combi Elwood promotes the philosophy of "follow your joy." This cafe exemplifies the type of quirky, efficient establishment for which Melbourne is famous. They intend to provide you with healthy fare that is yet full of flavour and enjoyment. Naturally, there are many raw options available, such as the Organic Acai Cup and the Blue Moon Smoothie. If you don't have a sweet tooth, they also offer savoury options like their Spicy Pumpkin buttered sandwich.
This Elwood diner began its journey from a Kombi van. Combi has a laid-back, take life as it comes atmosphere, and the people that frequent it are like family, plus the restaurant serves amazing food. Their organic, fairtrade certified coffee beans go wonderfully with their superfood smoothies, Veggie Buddha Bowls, and thick-cut toasties.
Green Man's Arms
Green Man's Arms is a place where you can really feel the love for Australian goods that they have put into the menu and the bar. When it comes to vegetarian dining, their mission is to provide you with only the freshest ingredients and the best beverages. Everything on the menu is vegetarian and changes with the seasons. If you're looking for a lighter option, try the Fried Cauliflower or Smoking Watermelon. Those in need of something heartier should order the Green Man's Green Burger or the Sunday Roast.
Pub food doesn't have to be greasy, right? The Green Mans Arms in green Carlton is one pub where you won't find anyone eating meat. Dishes like polenta cakes, golden beets, and their famed flatbread tacos include unusual flavours that offer a very delightful take on vegetarian meals and are featured on the Israeli-inspired menu that uses most items gathered from the owners' Barossa Valley farm.
Miznon
Miznon has become a phenomenon all over the world, from Tel Aviv via Paris to New York City to Melbourne. They're serious about serving you their unique take on Mediterranean cuisine. You can choose from a wide variety of options, each of which promises a new and exciting experience in terms of flavour. They have the best Ratatouille, the best vegetable dish ever. However, their Personal Wagyu with Roots Stew is a must-have for carnivores. Nature and natural ingredients are celebrated in each and every meal.
Loving Hut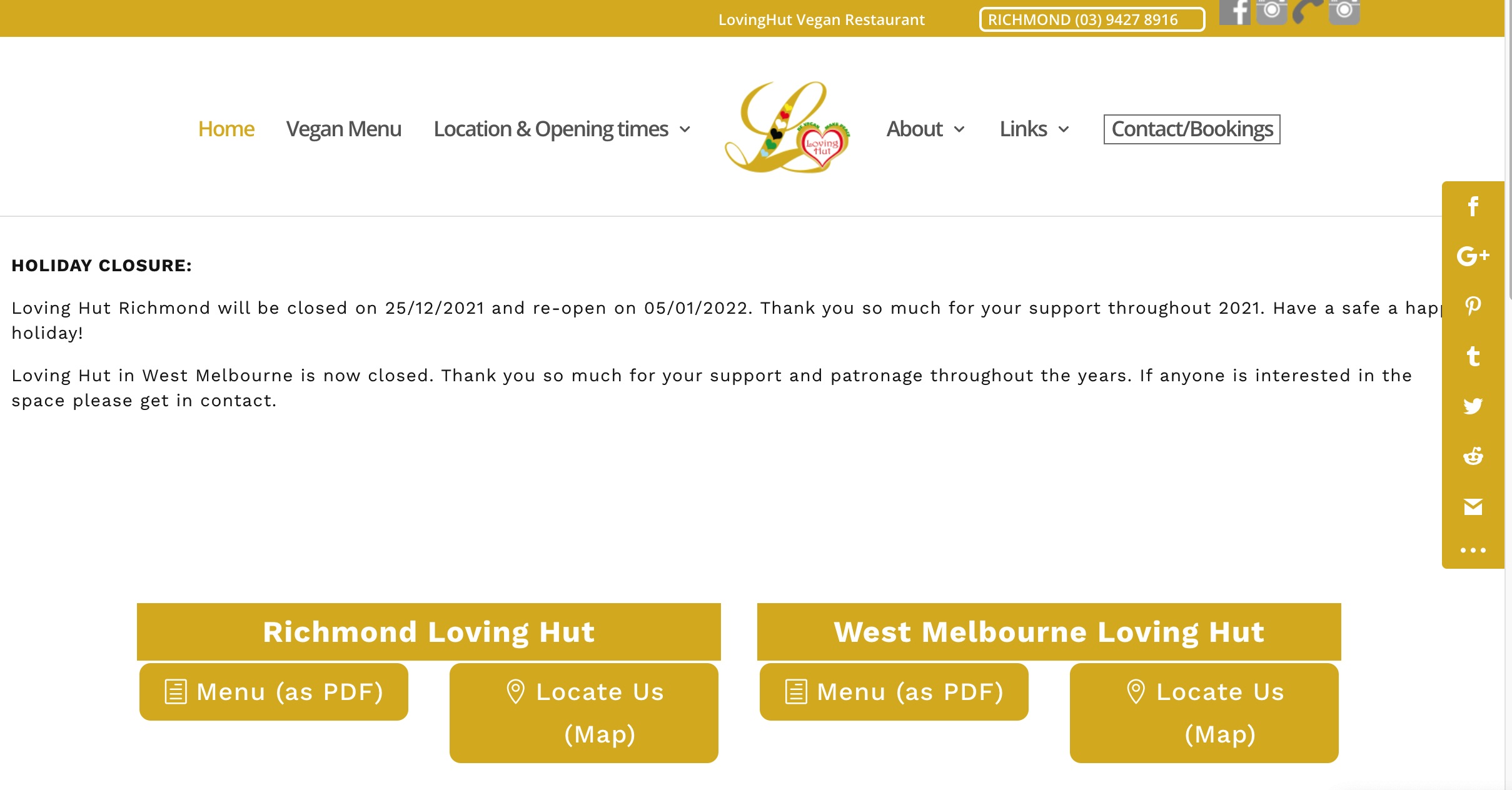 The vegan restaurant Loving Hut has become a worldwide sensation thanks to its high-end menu. Once more, the unwavering commitment to eco-friendly fare is apparent in every single item. A huge selection of dinners, appetisers, and other items may be found on the restaurant's extensive menu. Their comprehensive Thai menu features classics like Green Curry and Pad Thai. There are also a few raw vegan options for your consumption.
Alimentari
Alimentari, one of Melbourne's greatest healthy eateries, has been feeding the city's residents for over 22 years. They offer a shop where you can buy cheese, sausages, and even fresh bread in addition to the great meals they provide. You can simply stroll in and order a breakfast sandwich or a salad for lunch without making a reservation.
We guarantee that you will not find better salads anywhere else. The roasted spiced cauliflower with chickpeas and the farro, feta, and nut salad with pesto are what have made this deli the go-to in Fitzroy for those craving Mediterranean cuisine. The holy grail of healthy dining in Melbourne, their dishes are a perfect blend of fresh ingredients and flavour.
Smoothie
Smooth Me is not like any other cafe out there. It provides doorstep delivery of breakfast smoothie packs and snack packs. They also sell picnic baskets, which are great for intimate get-togethers or celebratory outings with friends. In need of a sweets buffet? They've got your back. The cakes, biscuits, and fruit in their Sweet Dreams package will help them relax and fall asleep. Acai bowls are available separately if you're just looking for a quick breakfast pick-me-up.
Raw Trader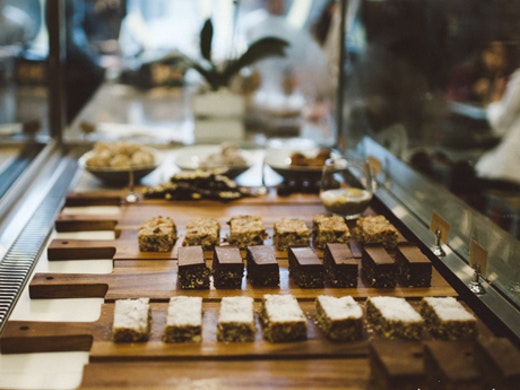 Claiming to provide customers' indulgence without the guilt', Pure Trader dishes up organically, raw, vegan, kosher, gluten-free, milk and sugar-free desserts. It's reasonable to think that a restaurant with so many forbidden items would also be flavourless. Try again. From chocolate beetroot drilling mud to vegan and coconut-based donuts and winner granola – it's time to rethink sweet delicacies.
Transformer
The transformer has a huge health advantage because it only consumes vegetarian food. There are several reasons why you should go to the spacious, open-air location. It's gorgeous, it's quiet enough to carry on a conversation, and most significantly, the food is as good as the hype. Fittingly, the dishes at Transformer are served family-style, so that everyone can try as many as they can. The food is robust, nourishing, and genuinely healthy. Crispy chickpea Panisse in truffle salt and parmesan, or native spiced beetroots served with pistachio cream, thumb limes, saltbush, and samphire. And if you're dining with a large party, the Eat Me chef's pick is an excellent opportunity to sample the restaurant's finest offerings without having to split the check.
Mama's
When you're trying to eat healthy but still have a hankering for meat, Vietnamese food is a terrific option. If you're looking for a quick and healthy Viet meal, head over to Mama's Buoi in the downtown. Lean meats and seafood are frequently featured in dishes to provide a healthy source of protein.
Mama's Buoi has all the usual suspects on the menu and a lively, fun vibe (without being too noisy). Bowls of pho with broth simmered for six hours, fresh rolls of rice paper, and a variety of vermicelli salads. You may want to pace yourself if your eyes tend to also be greater than your stomach, because the portions are very large. Try a banh cuon if you're looking for something different. The pork meatballs and traditional sirloin steak in the slick rice pancake make it a protein-rich option that pairs well with a side salad or other vegetable dish for a balanced meal.
Conclusion
In Fitzroy, Transformer is your best bet for a sophisticated vegetarian meal. SHOKU IKU's pre-packaged dinners are healthy and delicious since they are made with just natural ingredients and have no added sugar, gluten, or animal products. The idea behind Nosh is similar to that of a shared dinner. Vegetarian Mexican food is what Trippy Taco specialises in, and they take great care in only using the freshest ingredients. Seedling's 100% casein cafe is worth knowing about if you or your brunch buddy have celiac disease; it affects 1 in 70 Australians.
Vegetarians who enjoy a blend of cuisines should check out Veggie Bar. Meat eaters have become ardent patrons of Yong Green Food despite its reputation as a vegan paradise. At Thy Self Co., you can expect nothing but organic, plant-based fare. I highly recommend their Harrira Soup, which is both vegan and dairy-free. The vegetarian food at Morocco's Soup Bar is rich, satisfying, and comforting.
Touchwood is a great pick among healthy cafés in Melbourne due to its affordable and nourishing fare. Combi Elwood is a great example of the sort of eccentric yet functional business for which Melbourne is known. Fried cauliflower and smoked watermelon are lighter alternatives. You won't find any carnivores at The Green Mans Arms. From Tel Aviv to New York City, Miznon has become a phenomenon.
Their dishes are the pinnacle of healthy dining in Melbourne, boasting an ideal balance of flavorful, locally sourced ingredients. Since Transformer never eats anything with meat in it, it enjoys a major health advantage. In addition to being organic, raw, vegan, kosher, gluten-free, milk-free, and sugar-free, desserts at Pure Trader are also gluten-free and soy-free. Powerful, sustaining, and genuinely healthful, Transformer's fare is a must-try. Protein-rich lean meats and shellfish are regularly featured in meals. Everything you'd expect to find on a restaurant menu can be found at Mama's Buoi, and the atmosphere is always joyful and exciting (without being too noisy).
Content Summary
Origins of Hunters At Hunters' Roots, you may choose from a variety of healthy dishes that won't make you feel starved.

From nutritious smoothies to wholesome toasties, you're not going to go hungry here.

SHOKU IKU's ready-to-eat meals pack a nutritional punch.

Look no further than Transformer if you're searching for a fantastic vegan restaurant in Fitzroy.

One of Melbourne's best healthy restaurants with low lighting, meals made from local ingredients, and wine made from the season.

Nosh's mission is to make people happy by providing them with delicious food, therefore everything is made with care, is packed with nutrition, and features plenty of creative flair.

Hochi Mama CBD is hip and happening, but it doesn't give off the vibe that it provides healthy fare.

Trippy Taco is the place to go in Melbourne for authentic Mexican street food.

This restaurant has earned a reputation for serving delicious vegetarian Mexican food made with only the highest quality ingredients.

Locals in Melbourne who are looking for a nutritious restaurant alternative often choose the Seedling Cafe.

Seedling's 100% casein cafe is worth knowing about if you or your brunch buddy have celiac disease; it affects 1 in 70 Australians.

Along with paleo and vegan alternatives, traditional café fare now includes cakes, smashed avocado, salads, and acai.

Veggie Bar features a lot more than simply fresh smoothies and wholefood bowls for vegetarians and vegans.

The interior of Yong Green Food is so otherworldly that it will make you question whether you're still in our universe.

They clearly take pride in their work, as evidenced by their dedication to becoming known as one of Melbourne's best healthy dining options.

Like Veggie Bar, there is an abundance of menu items to choose from.

It's a great place to start looking for healthy restaurants in Melbourne, and the food is quite nutritional.

Meat eaters have become ardent patrons of Yong Green Food despite its reputation as a vegan paradise.

Everything on the menu is plant-based and organic because they care about you having a healthy Victoria eating experience.

Moroccan Soup Bar is well-known for its warm, comforting, and healthy vegetable stews, soups, tagines, and salads.

Vegans and vegetarians both flock to Shakahari Too, a vegetarian restaurant that has been running for nearly half a century.

Vegetarian dishes cooked with Victoria, Australia produce at its peak.

Though inexpensive vegetarian restaurants can be hard to come by, diners need not worry at Shakahari Too.

This thriving offshoot of Melbourne's well-known Shakahari health food store is living proof that a flower-based diet can help you feel better.

Combi Elwood advocates the "follow your joy" concept.

They also provide savoury dishes for those who prefer them, such as the Spicy Pumpkin buttered sandwich.

At Green Man's Arms, the food and the bar are thoughtfully curated to highlight the best of Australian produce and products.

Vegetarian fare that adapts to the changing seasons.

The Green Man's Green Burger and the Sunday Roast are the go-to options for those looking for something heartier.

In green Carlton, at least one bar, the Green Man's Arms, does not serve meat.

You can trust that their distinctive spin on Mediterranean cuisine will be prepared with care.

With its gourmet vegan fare, Loving Hut has become a global phenomenon.

Additionally, you can choose from a few raw vegan dishes.

One of Melbourne's best healthy restaurants, Alimentari, has been serving the locals for over 22 years.

The salads here are the best you'll find anywhere, we promise.

This deli has become famous in Fitzroy for its Mediterranean dishes, including as the roasted spiced cauliflower with chickpeas and the farro, feta, and nut salad with pesto.

Their dishes are the pinnacle of healthy dining in Melbourne, boasting an ideal balance of flavorful, locally sourced ingredients.

Unlike other coffee shops, Smooth Me is completely unique.

Packages of breakfast smoothies and other snacks can be delivered right to your door.

If you need a quick breakfast boost, you can buy an acai bowl on its own.

Pure Trader serves desserts that are organic, raw, vegan, kosher, gluten-free, milk- and sugar-free, and claim to deliver "pleasure without the guilt."

An establishment with so many taboo things often serves bland food.

It's time to reevaluate our conception of sugary treats, and that means trying everything from chocolate beetroot drilling mud to vegan and coconut-based doughnuts and winning granola.

The transformer's superior health is mostly attributable to the fact that it avoids all meat and dairy products.

There are a number of advantages to visiting the large, outdoor venue.

Consequently, Transformer's meals are provided in a communal setting, where everyone may sample as many different cuisines as possible.

The fare is hearty, satiating, and genuinely wholesome.

Moreover, the Eat Me chef's pick is a great way to try the restaurant's best dishes without having to divide the bill among a large group.

Vietnamese cuisine is a great choice if you're attempting to eat healthily but still have a meat craving.

Mama's Buoi, located in the heart of the city, serves quick and healthful Viet dishes.
FAQs About Healthy Restaurant
It would help if you balanced a good Chinese meal with the right combination of protein, vegetables, carbohydrates, and good fat. This fundamental principle puts Chinese cuisine among the most healthy in the world.
That topped the list of Google searches in Sydney and Melbourne, followed by Chinese, Japanese and Italian. Indian, Greek and Mexican cuisine also featured in the top 10 cuisines. Vietnamese ranked highly in Australia's two largest cities, but not nationally.
It's Smith Street, Collingwood. It may be news to some, but with its vast range of food and dining options, funky bars, artisan outlets and vintage shops, it's easy to see why this once 'working class' area has become the number one must-see street on Time Out magazine's world hotlist.
The ingredients and cooking methods of the traditional Korean diet it's generally considered healthy.
Researchers say eating at restaurants is generally bad for our overall health. They note that 50 per cent of full-service restaurant meals and 70 per cent of fast-food meals are of poor dietary quality.