It is baked, boiled, schmeared. What's not to love about these dense, chewy hoops that can carry you through the entire day? So whether you like a classic New York-style bagel with salmon and cream cheese, or the sweeter wood-fired version from Montreal, here's where to get your fix.
The bagel is near and dear to many hearts—an ideal option for both breakfast and lunch. The brilliance of the spherical bread-type is in its versatility—allowing almost anything, sweet or savoury, to be sandwiched in between. Across Melbourne, we're lucky enough to have some real primo outlets, dishing up tasty bagels daily across both south and north of the river.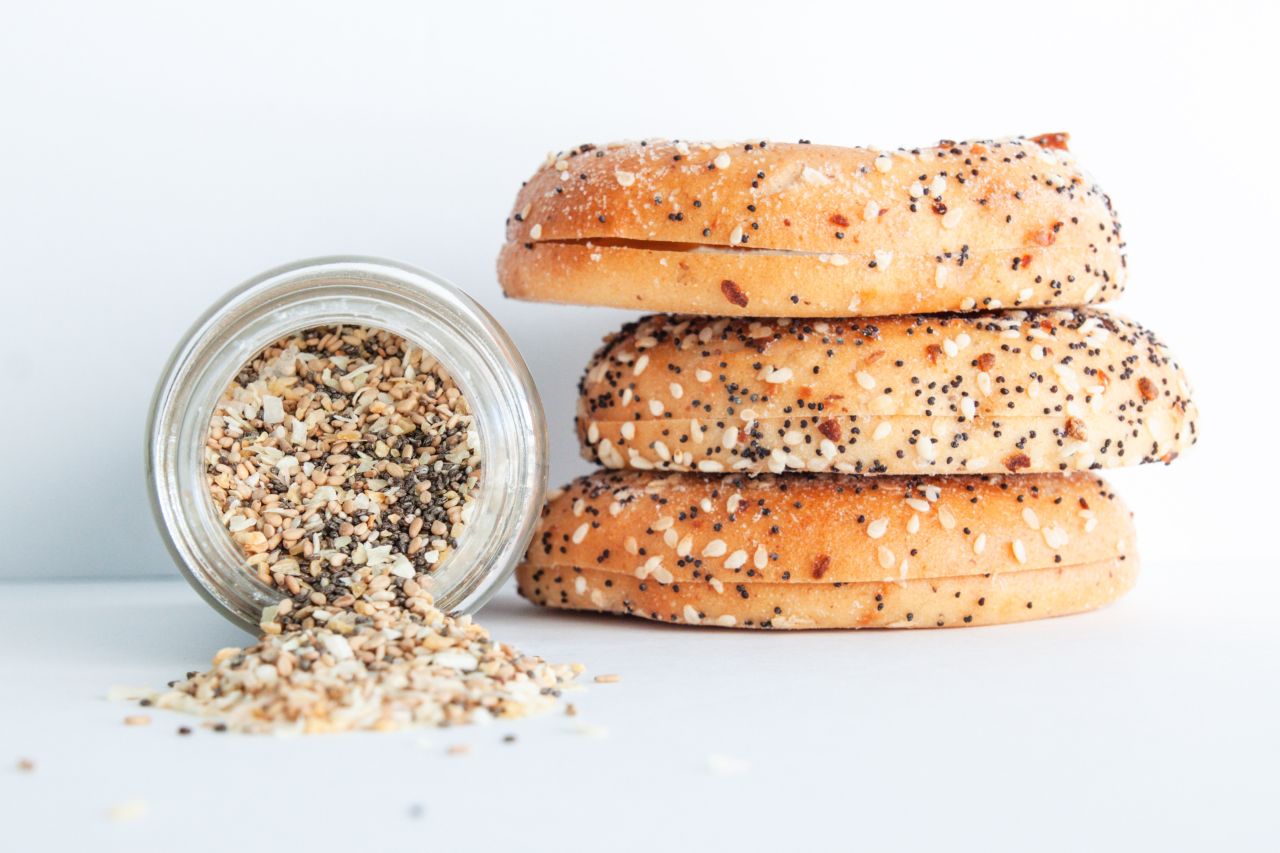 Top Bagels In Melbourne Food Experience
Bagels are just boiled, doughnut-shaped bread, but somehow they taste so good. So we're looking for Melbourne's best bagels, and we would be grateful if you could help us find them. They can be filled with a whole manner of meat, enjoyed plain, or just eaten with a spread of cream cheese. So let us know where you get your bagel filled.
Australian bagels weren't cutting it for Zev Forman. The New Jersey native grew up with the good stuff, so the local interpretations left something desired. So the now proudly Melburnian chef began baking his own and selling them at Flemington and Coburg Farmers' Market markets. It turns out people liked them.
5 & Dime is a dedicated bakery and a snappy, deco-style cafe that stays far away from Yankee cliché, fitted out by Brand Works and Beyond the PixelTrue to its American origins, though, 5 & Dime serves batch-brewed filter coffee – though it's made to Australian standards. The coffee's taken care of by Collingwood's Promised Land, offering single rotating origins. 
There's no customer-wait time because it's immediately available to serve.
But really, 5 & Dime is all about the bagels. It serves plain, onion, rye, poppyseed, sesame, cinnamon, raisin, dill, or salt varieties. Forman also smokes his salmon, cures his gravlax and uses Goldfields Farmhouse's real cultured cream cheese.
Bissel B. 
If the lines out front of Bissel B. are any indication, these may be the best bagels in Melbourne. Perched up the top end of Bridge Road, Bissel B serve up a range of spanking New York-style bagel combinations, which are all named after landmarks and streets of the city—including the 'Wall Street', with a fried egg, bacon, sausage patty, house-made hashbrown and melted American cheese. 
Mile End Bagels
Mile End's wood-fired bagels aren't radically different to the usual New York-style found in Melbourne. But the subtly denser, sweeter rings comfortably hold their own against older bakeries such as Glick's. Owners (ex-owner at Carte Crêpes) and Michael Fee started their bagel journey in 2014. After visiting Montreal's top-two bagel shops, St-Viateur and Fairmount (both in the Mile End neighbourhood), they buzzed around the US, working wood-fired bagel ovens for the experience.
In Fitzroy, they're up at 4 am each day stoking their green- and orange-tiled unit. Then, the guys roll out dough rings and boil them in honey water for that sweet finish. The whole process is on show in the open-plan shop. The finished bagels are caked in sesame seeds, poppy seeds, or "everything" – sesame, poppy, black sesame, fennel, garlic and onion. There's also a piquant cinnamon-raison version.
Gloopy PB&J is available for the inside, but cream cheese is the smear of choice like any self-respecting bagel shop. Get it plain or spiked with dill, spring onion, or vegemite. You can also 
grab it by the tub. More substantial fillings include smoked salmon, thin-sliced beef, beetroot, and avocado.
If you're eating in, be prepared to share the space. There's just one huge table and a handful of two-seaters. Customers sip Seven Seeds Coffee and eat from speckled enamel plates from Crow Canyon. Mile End Bagels is a laid-back nook providing wood-fired bagels & made-to-order sandwiches, plus custom cream cheese. 
Established in Fitzroy in 2016, Mile End Bagels is Australia's first wood-fired bagel shop. Inspired by the bagel shops of Montreal and NYC, they are dedicated to creating fresh bagels and super tasty made-to-order sandwiches.
 Mile End Bagels specialises in offering the complete bagel experience, super delicious sandwiches and speciality coffee. In Fitzroy, they're up at 4 am every day stoking their green and orange-tiled unit. The staff at Mile End Bagels roll out dough rings and boil them in honey water for that sweet finish.
Glick's Bakery
Glick's Bakery produces some of the best bagels in Melbourne, hands down, full-stop. Operating for over 40 years, their five locations (and persistent lines) are a testament to Melbourne's love for the glorious baked goods. 
Prices will barely make a dent in your purse, but if you're too lazy to gather bagel supplies, head to Five Points Cafe in the CBD for Glick's Bakery bagels with ingredients like pulled pork, Asian slaw and tangy BBQ sauce.
Schmucks Bagels
Some people pay homage to their grandparents by giving their kids a middle name. Jeremy Marmur opened a bagel shop instead, with help from hospitality trio Ben Avramides, Tommy McIntosh and chef Simon Winfield, the people behind the catering group Tommy Collins and since-sold cafes Hawk & Hunter, The Little Ox and Little Collins.
Schmucks (Yiddish for "fool") is in memory of Marmur's grandfather. Despite surviving the Holocaust, he always saw humour in life. He also loved bagels – Marmur has many fond memories of them sharing the chewy rings.
Before opening Schmucks at the tail end of 2015, Marmur travelled to New York to discover what makes a great bagel. One of the most important things he learned is steaming bagels rather than boiling them. It makes for a lighter texture but maintains the flavour.
But while Schmucks' seeded grain, dark rye and sesame bagels may lean traditional, the fillings sure don't. Take the Hippie Slicker – a seedy bagel with grilled cauliflower, hummus and lemon-dressed watercress. Then, there's the Schmoozer with hickory-smoked beef brisket, chimichurri and iceberg lettuce for the meat-eaters. There's even a bagel with swirls of Vegemite baked inside it.
If you're starting early, grab an Allpress coffee with your breakfast bagel to go. Despite America's borderline obsession with bagels, these circular baked goods are widely considered to have origins from a Jewish community in 17th century Poland. For traditional Polski bagels, head to Schmucks Bagels. The menu reads like a classic Melbourne cafe—with the addition of bagels (of course). Take the Avo Our Way, with smashed avo, lemon, pickled red onion, capers and herbs. 
Migrant Coffee
With the western suburbs' bagel and coffee pride and joy, Migrant Coffee fuse the timeless pairing with their refreshing spin. 
The menu is stacked with a range of NYC-style bagels, but with signature flares like the classic pastrami bagel with swiss cheese, mustard, cream cheese and Atsara (a pickled relish made from green papaya), giving it a distinctive lift. You can also choose from a range of bagels, including blueberry, dill, and rainbow. 
Glick's Bakery
With locations across the city, a Glick's bakery is never too far away when you need a bagel fix. The family-run bakery chain has been a favourite of Melbourne's Jewish community and bagel lovers alike for nearly 40 years, offering affordable kosher baked goods, dips and salads for breakfast, lunch and dinner.
The famous boiled bagels come in sweet and savoury varieties and can be accompanied by different toppings and spreads. The 'Everything' bagel, with smoked salmon, cream cheese and capers, is sumptuous and more-ish and a steal at under $10.
On Fridays, join the queue and grab challah – a sweet brioche-like bread that Jewish families eat with Sabbath dinners. But any excuse will do to abandon the anti-carb rhetoric and embrace the simple and filling food that has made Glick's a Melbourne institution.
Poppy and Seed Bagelry
The owners of a cafe in Tokyo named Frankie Melbourne Espresso. Closer to home, they were the pair behind Little Ramen Bar in Melbourne's CBD. Poppy and Seed moves away from anything Japanese, following the couple's trip to Canada and the US, where there seemed to be bagel shops on every block.
Here, 18-hour boiled bagels come in eight different varieties: plain, sesame seed, poppy seed, all seeds, dark rye, blueberry, cinnamon raisin and gluten-free. You can go for something simple – cream cheese or avocado filling or a housemade spread – or one of the more substantial "sandwich fillings".
The Nota Reuben is a crowd favourite, loaded with corned beef, American mustard, melted cheese and gherkins. Another go-to is the Tuna Melt, filled with skipjack tuna, mayo, beetroot, melted cheddar cheese and greens. 
The Veggie Patch comes with beetroot, tomato, cream cheese and caramelised onion relish. All sandwich-filled bagels also come with a pickle and pretzels. There's more to Poppy and Seed than bagels – you'll also find Doughboys Doughnuts, smoothies, juices and coffee by Allpress.
Sable 
Bagels aren't typically the food group you'd associate with both 100% plant-based and gluten-free options, but that's exactly what you'll find at Sable. This vegan bagel paradise has a menu of stacked bagels on offer. From breakfast options like the 1800 Avocado with smashed avo, cream cheese, feta and chilli jam—to the southern-style Big Kev's fried chicken with slaw, cheese, and bbq sauce.
Sable is tucked away in Cremorne, just a few steps away from Swan Street; it's a long shop front that looks out onto the railway and is easily missed unless you know where to find it. Sable sets a new standard for vegan cafes in Melbourne with a completely plant-based menu, specialising in the core food groups of bagels, cookies, and cake. 
There's something refined and raw about this place. Expect to wrap your hands around bagels stacked with fillings and dripping with cheesy, saucy goodness. 
The menu offers a range of breakfast and lunch options—from your early morning '1800 Avocado' bagel with smashed avo, cream cheese, beetroot relish, feta, and chilli jam to your lunchtime naughties with Big Kev's fried chicken with slaw, cream cheese, and bbq sauce (with gluten-free option versions available). 
Alongside the top-notch bagels, Sable excels in the sweets department with a daily range of insta-worthy baked goods. The inside glass cabinet is stacked with some of Melbourne's best cookies—from the vegan loaded Nutella to a crumbly cookie pie covered in house-made caramel sauce and a rotating array of inventive and sugary specials. 
The friendly team behind Sable are building a community around the possibilities of plant-based dining, proving you can still make ultra-rich and deliciously decadent goods using non-animal products. The small shop is a must-try, with Proud Mary pouring from the coffee machine and a whole stack of tasty things inside to try. 
 Huff Bagelry
There are no airs or graces at the family-run Huff Bagelry. In Carnegie and Mentone, the two cafes offer a fast, convenient place to grab a quality bagel with an Allpress coffee. So it's no surprise New York's simple bagel shops inspired them. At both sites, you're greeted by a heaving atmosphere and a bagel-making process of military efficiency.
The show's star is the garlic salt and rosemary bagel with smoked salmon, cream cheese and capers. But with just under a dozen flavours to choose from – including chocolate, blueberry and cinnamon and raisin – you can decorate your bagel with everything from Nutella to kefalograviera cheese.
The Carnegie store has a more traditional feel, featuring timber cladding throughout. Mentone was designed by studio four. It's more spacious, with a central planter box and a mural by a local artist. Huff Bagelry is one of the leading bagel shops in Melbourne, VIC. Huff Bagelry has sweet and savoury bagels served in a bustling cafe with stylish wood cladding and a takeaway window. 
They have a fast, convenient place to grab a high-quality bagel with an Allpress coffee. Customers will love their garlic salt and rosemary bagel with smoked salmon, cream cheese and capers. Huff Bagelry also has a dozen flavours to choose from chocolate, blueberry, cinnamon, and raisin. 
Customers can decorate their bagel with everything from Nutella to kefalograviera cheese. Just be sure to add extra travel time if you're taking these bagels to-go; they also have an open area where they take coffee and bagel orders from outside. So if you're craving a good bagel worth the price, Huff Bagelry is the place to go.
Aviv Cakes And Bagels 
The Elsternwick institution has been kneading and baking bagels for decades. Their range of perfectly dense and chewy bagels are right up there with the best bagels in Melbourne. The tiny little store offers a staple range of plain, poppy, and sesame seed topped bagels. Sometimes simplicity is bliss. 
Union St Brewers
Union St Brewers is built for sunny days. So when the weather is good, the glass folding doors are pushed open, the sun streams in, and the diners inside enjoy a breezy view onto the terrace houses and native trees surrounding Jewell Station.
The menu tends to change but has consistent American leanings with a French finesse throughout – dishes may come with slivers of asparagus or caramelised onion, with generous lashings of hollandaise, or even brûléed. A main-stayer is the dense, slightly sour Montreal-style bagel (served in a set of two) with rotating toppings: maybe mustard and pastrami or a smear of cream cheese with chives.
Owned (who also has Prospect Espresso and Drugstore Espresso) Union St Brewers ticks off elements of the Melbourne-cafe zeitgeist: white tiles, hanging plants, cold drip on display. There are some interesting variations, though. The wall lined with single-sized, round tables is a nice touch – a good spot for solo coffee drinkers who want to sit for a minute while waiting for the train. A rotating list of pressed juices is also a nice wake-up alternative to a morning coffee.
Five Points
There's nothing too ambitious about this small bagel shop. But that's its greatest strength: if you're after a quick bagel and a decent coffee, this is the place to be (or alternately, 5&Dime).
Like many other cafes, Five Points gets its dough rings from Glick's, but it manages to stand out thanks to a range of adventurous fillings. 
Alongside classics such as smoked salmon or Reuben, there's an excellent rendition of Peking duck, as well as pulled pork, avocado and feta; Nutella; and more.
Add in well-made coffee from Redstar Roasters, the particularly friendly staff and a great outdoor seating area, and you've got quite the package. But, again, five Points shows how enticing simple things can be, provided they're done well.
Stan's Deli and Sandwiches
Stan's is a sandwich spot inspired by the old-world delis and diners of New York. It's from a well-rounded team of Melbourne hospo folk: Guy Bentley (Leonardo's Pizza Palace, Leonard's House of Love), Todd Vanneste (Frankie's Tortas and Tacos), Alex Gavioli (former manager of Moby and Lenny) and Aaron Trotman (behind zero-alcohol wine alternative Non). The idea was born during Melbourne's second Covid-19 lockdown in 2020 when searching for somewhere to eat or drink within their five-kilometre radius that was simple and takeaway-friendly. They often came up short, so they resolved to open Stan's.
Vanneste's Weekdays Design Studio designed a stylish white-and-green-painted diner. It has wooden benches and outdoor picnic tables for those looking to settle in with a strong brew by North Melbourne's Small Batch.
To eat, there are 5 & Dime bagels with whipped ricotta, lemon and dill; pork-and-fennel-sausage muffins with curried egg and cheese; and mortadella sandwiches with artichoke, olives and provolone. There's also a big, saucy eggplant-parma number.
The deli is also stocked with top-notch take-home products, including Nice Pickles, Birdsnake chocolate and Chappy's potato chips, as well as Strangelove sodas and Non.
Bowery to Williamsburg
This homage to New York's Bowery subway station is set up to transport you to an all-American destination, combining the industrial feel of a subway, the efficiency of an American canteen and the level of sophistication that Melbourne food enthusiasts have come to expect from their cafe experience.
It's so popular that a second location opened in 2015. Bowery offers lunch sets to eat in or takeaway, including a sandwich of your choice, plus a side, pretzels and a pickle. Sweet tooths can enjoy housemade New York-style cheesecake or gluten-free brownies.
With two Slayer coffee machines operating side-by-side, Bowery's baristas can pump out espressos to match the busiest rush, or you can get a French press coffee brewed using Brunswick's own Padre beans.
The venue can seat 50, with a large communal table inside and undercover cafeteria-style tables outside. In addition, there is a designated takeaway coffee area and room on the stairs for casual coffee-sipping or for quickly scoffing a 5 & Dime bagel before rushing off to your next destination.
If you require a hump day morning boost, make a beeline for Bowery To Williamsburg. Home to the inaugural breakfast Reuben with pastrami beef brisket, swiss cheese, sauerkraut, Russian dressing, and a fried egg, no one can have a bad day when it starts this delicious. DIY bagels like pumpernickel and the "everything" bagel are also available, with widespread schmear options.
Brown Bagels
This small cafe has just two communal tables, but patrons don't seem to mind come lunch hour. With lines stretching onto the pavement, Brown Bagels keeps their menu short 'n sweet to focus on takeaway. From the never-fail smoked salmon and chive cream cheese to a classic BLT bagel, Brown Bagels is some hole-y takeaway.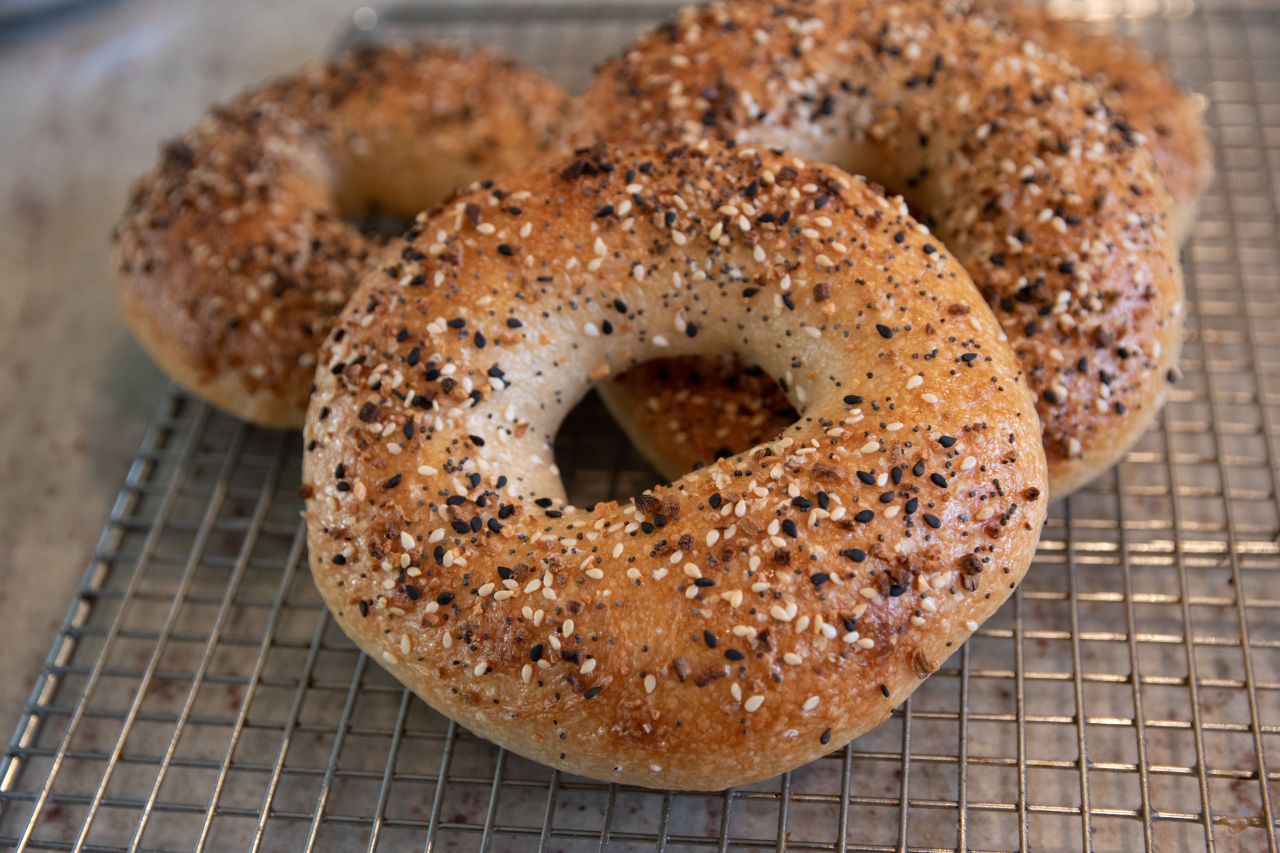 Dan's Deli 
Dan's Deli opened just last month, a relative newcomer to Melbourne's bagel race, but its bagel prowess is right up there with the best of them—sourcing them from long-time producers Savion Cakes & Bagels in Balaclava. Stepping into the small hole-in-the-wall operation on Toorak Road, you'll find a range of New York-style bagels— from a classic smoked salmon or pastrami bagel to peanut butter and mixed berry jam. 
Exciting the Toorak area, Dan's Deli has recently opened and brings locals together to celebrate good, tasty sangas. Inspired by New York-style eateries— Dan's Deli is focused on creating an environment that provides the highest quality sandwiches and a sense of community. 
The owner explains. After working as a chef for over a decade, Dan emphasises the love that goes into every sanga. Crafting their sauces and slow-cooking meat 24-hours round the clock—the sandwiches may look simple, but the high-quality flavours are thanks to their dedication to flavour. 
Their signature Pastrami Bagel is a must-try with swiss cheese, pickles, sauerkraut, and spicy horseradish mayo with a big focus on using premium quality ingredients. Or for some golden-crispy goodness, try the DFC— Dan's Fried Chicken, inspired by the love of fried chicken. There's also a range of veggie options, including a banging grilled halloumi bagel. 
To elevate your sandwich to the next level, pair it with one of their baristas perfected Inglewood coffees alongside something from their sweets cabinet—which is full of baked goods from Portuguese tarts to their hearty cinnamon scrolls.
Hoping to sell their house-made pickles and other goodies eventually, the little deli is poised to be the local destination for a coffee, sanga, and a brunch-time yarn. 
FAQs About Bagels In Melbourne
Their bagels are boiled in honey water and then baked in wood-fire to achieve the perfect bagel – a little crunchy, a little chewy with a hint of sweetness – like no bagel you've had before in Melbourne. It began with two friends determined to bring the perfect bagel experience.
Most bagel recipes call for strong bread flour; the US Cook's Illustrated New Best Recipe book explains that the higher protein content will prompt more gluten formation in the dough – and also helps give the bagel its characteristic chewy texture.
The Malvern deli-sanga favourite also has some of the best bagels in Melbourne. The neighbourhood friendly cafe on Glenferrie Road has a range of bagels on the menu they source from 5 & Dime. However, you cannot go past the star of the show—the whipped ricotta on a toasted poppy and sesame seed bagel.