Add a header to begin generating the table of contents
The Melbourne nightlife scene rivals that of any major metropolis. The many "hidden bars" that have sprung up in the city's slender streets and back alleyways are a major boon, though. As such, even the simple act of finding a speakeasy in Melbourne is an exciting experience, as it gives the impression that you are privy to information known only to residents of Bleak City.
Below is a list of the very best hidden bars in the city of Melbourne, yet you shouldn't let on to too many people or they won't be secret anymore.
The Melbourne CBD is a labyrinth for hidden bars, whether on the second floor, in the basement, or down a side alley. However, we have done the sleuthing for you, so you don't need to be Watson Holmes to figure things out. We've searched high and low to uncover some of the most well-hidden bars Melbourne has to offer. Getting admission is as simple as showing up.
FAQs Hidden Bars In Melbourne
The hidden bar is appropriately called Fall From Grace and has one of the best secret entrances in Melbourne. You'll see a bookcase on the ground level, and if you pull the right book, it will slide open to reveal a stairway. Head down, and you'll find yourself in Fall From Grace.
Melbourne has dozens of hidden bars, ranging from fully secret bars and concealed behind something to bars that are simply a bit tougher to locate from the street. So yes, Melbourne does have a secret behind-a-bookshelf bar, and this hidden gem is as cool as it sounds!
You could go to an above-ground bar like a schmuck, or you could find yourself uncovering a hidden bar. For example, Melbourne has a bar located down a cramped laneway, one behind a fridge door, one behind a bookshelf, and a bar closet that barely fits eight people.
The entrance to Curious is located on Market Street between Flinders Lane and Collins Street
A speakeasy, also called a blind pig or blind tiger, is an illicit establishment that sells alcoholic beverages, or a retro style bar that replicates aspects of historical speakeasies.
Hidden Bars In Melbourne
Getting admission is as simple as showing up.
Melbourne has a bar located down a cramped laneway, three, if you count the one hidden behind the fridge, the one behind the bookshelves, and the one in the bar's tiny little closet that seats only eight. You might think of this as a treasure quest for the best hidden bars in Melbourne, so you can visit them again soon.
Bar Americano is the epitome of a concealed bar in Melbourne, fitting the bill to a tee with its location in a narrow alleyway and capacity for no more than ten patrons at a time. Excellent cocktails (for over $20 a pop), dim lighting, and smooth jazz guarantee a one-of-a-kind evening every time.
Bar Americano is 'Melbourne' in a nutshell.
This little bar has no seating and can only accommodate ten people standing; it's located in a back alley where there is almost no foot traffic.
It is a local artists' bar that celebrates the "Golden Age of Alcohol, the Era of the American Bar." Imagine drinks like the Negroni, Manhattan, and Old Fashioned.
You can access it by going into Howey Place and thereafter down Presgrave Place until you reach the end.
Above Board
Award-winning bartender who formerly worked at Bar Americano. Since his new place is practically as small as his old one, he must have become used to living in close quarters during his time at Presgrave Place. With only a few seats facing Lambert at his bar, who serves drinks that put the art back into artisanal, he is the command centre of a little room. Lambert has spent years perfecting his lame dad jokes, dry wit, and old guy grump, so it's only fitting that the menu boasts that he serves up cocktails and awful talk. Above Board's offering is not just personalised, but personal, so this enhances rather than diminishes your experience.
Talking to Lambert not only helps you choose between a classic and a signature cocktail (both of which cost $21), but you also get to hear a bit of his personal story with each sip. The Empire Strikes Bax, named for his former boss at the tavern where he once caused a stir. Among these is "Erin's Delight," an obviously romantic tribute to his wife.
Despite its reputation as a "nightcap," the HSL Special is actually quite refreshing. The amaro plus absinthe in your glass are like the clear highs and deep lows of a musical score; they're there and audible without being overwhelming. When served over a huge block of ice bearing the bar's emblem, they are most harmonious when shaken combined lime and blackberry.
Lambert's talents have previously been recognised, but Above Board's success as a bar that is totally Lambert's vision and is supported by the ability to accomplish such an ambitious task is why it was named Time Out's Best Cocktail Bar for 2018.
The Boom Boom Room At Mr Brownie
It's likely that you've been to Mr. Brownie, the "Indian-fish" curry pub, but did you know that behind a number of beer fridges lies a velvet-licked saloon more lovingly known as Both the Boom? The Boom Chamber. When you go there, gesture at the bartender to indicate that you'd like to see the secret cocktail menu, and the crew could just offer you a hint about where it is.
Goldilocks Bar
Goldilocks is an unassuming cottage in the heart of Melbourne's Chinatown bar in Melbourne It is easy to miss until you know to look for it; however, you must first know exactly where it is. To get the entire experience, especially at sunset, ride the elevator to the fourth floor, where you'll discover the quaint cottage, and then head up to the rooftop deck.
The Attic At Black Pearl
As its name suggests, The Attic is a hidden bar above Melbourne's popular Club Black Pearl. It's a great place to go when you want to get away from the hustle and bustle of the popular Richmond bar below in a seductive and sophisticated setting.
Beneath Driver Lane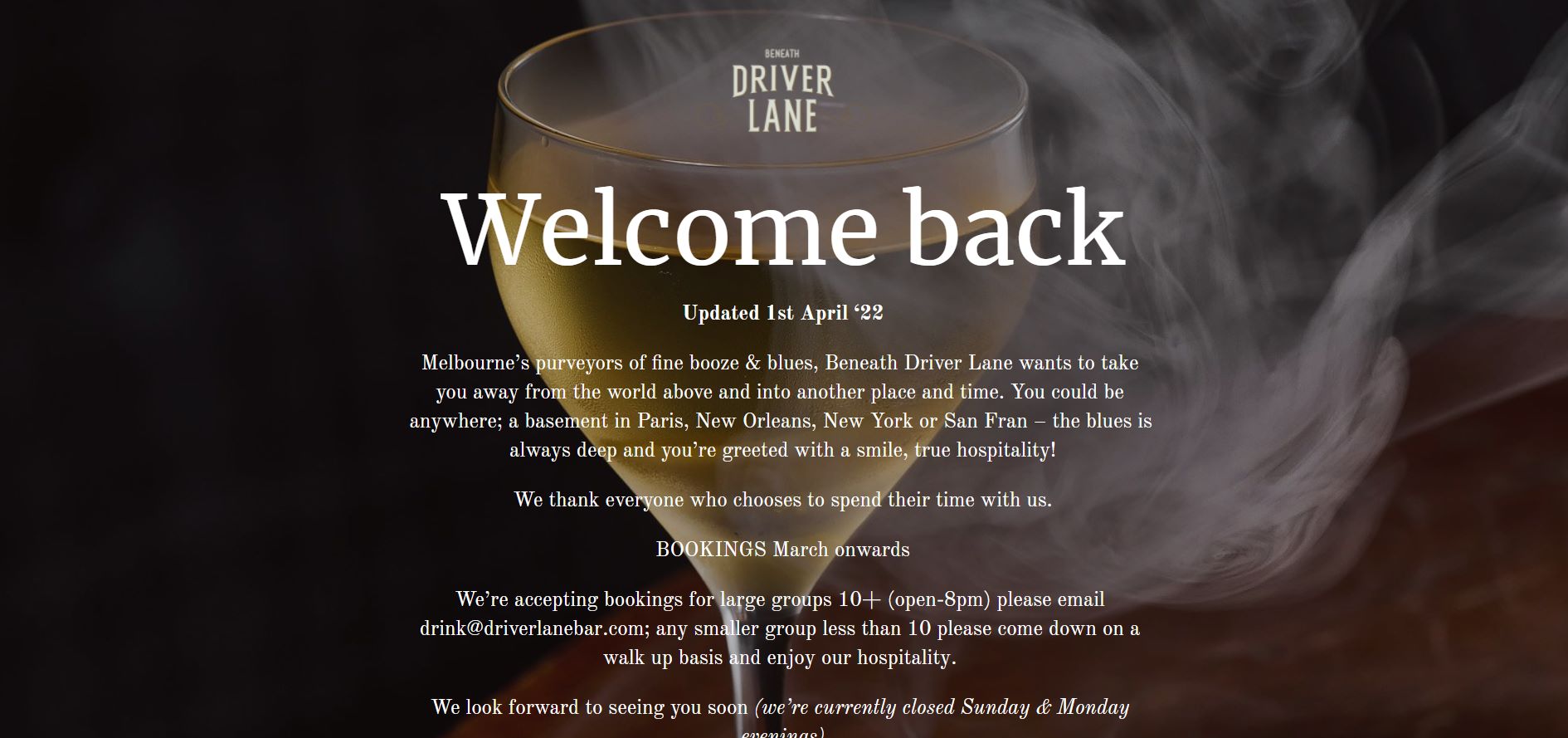 Beneath Driver Lane is the ideal basement if you enjoy cocktails, whisky, blues, decent service, and late-night Reuben sandwiches. This pub, located in a converted safe deposit box in the Central Business District, has a Harry Potter vibe that is unusual in a city with so many underutilised underground places. The area has a familiar feel to those who remember the Nant Whisky Bar when it was open, but the new decor gives it a more homey vibe. The curved brick booths, the black and white images on the walls, and the soft light from candle and low-hanging lamps create an atmosphere that is more welcoming and satisfying than anything Nant could have created.
He spits a total of twelve bar over the airwaves, which, along with the slick decor and speedy service, makes for an unforgettable experience place a feeling that's equal parts Melbourne, Chicago and Diagon Alley.
The fun is in the details, like the classic chrome serving trays holding water bottles and the thick leather coasters under the drinks.
The staff tending bar are kind, well-informed, and dressed to impress in sleek black chef jackets. The acuity of their concoctions is impressive. Create an impressive impression by having your Martini served in a wine glass cooled with liquid nitrogen. Or, for something more tropical, try the sweet and subtle Storm Master, which is led by guava but finishes pleasantly sour.
Without the acid or considerable bitterness, the floral beauty of a pear and jasmine Old Fashioned can become cloying. The richness of the whiskies in this stirred-down rye drink is unfortunately ruined by the addition of acid where there was none is needed. However, you shouldn't let a few hiccups in an otherwise impressive list deter you from getting engaged, because the cedar glass adds a delightful whiff of rustic vanilla and licorice. Whiskeys such as Hangar 18 and Pappy Van Winkle, both considered to be one-of-a-kind rarities, are among the more than a hundred bottles stocked at the enormous, fully circular rear bar.
Although the vintage bars of Melbourne serves some of the best plates in the city, Mixed drinks and liquor the bar's cuisine is usually an afterthought. This is not the case. One of the best parts is the bar food, which keeps coming even after 2 in the morning. To wit, the roasted heirloom beets served with a purée of raisins, capers, and dill and a toss of black lentils; bar food has never tasted so wholesome.
Alternatively, the morcilla sausage buns aren't suitable for the faint of stomach. The flaky crust and creamy blood pudding sit atop a relish that is so heavily spiced with dried chillies that it conjures up images of Guadalajara. By 11 o'clock, the place is packed, and the music has picked up the pace to match, but it's still not too rowdy.
It's great that there are establishments like this that urge us to drink more without passing judgement, and despite the classic decor, the bartenders here won't condescend, joyfully catering to requests from a drinking still fighting against it's own harmful and juvenile nature. Under Driver Lane, you'll find an adult drinking establishment that nevertheless manages to provide just just fun and imagination to appease your inner child.
State Of Grace
The state of Grace is three venues in one - part restaurant, part rooftop bar
and hidden underground drinking den. Perhaps one of the best secret doors in Melbourne, this bar is aptly named Fall From Grace.
On the first floor, you'll find a bookshelf that, when manipulated properly, slides open to unveil a set of stairs. Those who choose to descend into Fall From Grace will find it.
Curious Cocktail Bar
Curious Cocktail Bar lives up to the hype as one of Birmingham's newest and most talked-about speakeasies. Walk up the spiral staircase to enter the posh club inside the brand new W Hotel. In all right ways, the atmosphere is dark and brooding, and the food is fun. To put it simply, Curious is having a party for everyone things Melbourne, In addition to our well-known coffee culture, we also have a thriving art and fashion scene; in particular, beeswax is used to seal the Curious Espresso roast cocktail, which consists of an espresso martini infused with nutmeg smoke. Curious? To learn more, please proceed up the stairs.
Bar Margaux
No one needs to be told twice that the cocktails in Bar Margaux are excellent. Including the award-winning cocktail saloon Everleigh and the dive bar analogue Heartbreaker in its family tree, the CBD basements bar has superb genetics. In other words, the quality of the alcohol matches the level of late-night excess. The cocktails as such third restaurant are only one element of a very smart solution that, in typical Melbourne fashion, successfully and totally blurs the boundary dividing bar and restaurant.
Bar Margaux, Melbourne's take on New York's Parisian cafe, has a checkerboard floor, dazzling white subway tiles, couches, wired glass separators, and golden back bar lighting, all of which are expertly assembled to avoid cliché and make the space feel like it belongs there. Working in New York bars for a while clearly paid off, since he has a deep understanding of the layout requirements of a place like this.
The menu is likewise the product of extensive planning. The cuisine, like the decor, is a who's who of classics, featuring the traditional fare of a French bistro. One might not anticipate such high-quality French onion soup, steak fries, or a deliciously decadent lobster Croque monsieur at a bar that serves food till 3 in the morning.
But it's not all about the late night.
Golden Hour deals, such as discounted burgundy and burgers or champagne and oysters, help maintain a buzzing atmosphere reminiscent of the Mad Men period while while bringing in a steady stream of customers.
In this Madrusan bar, cocktails are prepared with the usual exactness. Margaux has embraced the growing trend of small cocktails by offering "snack-sized" three-gulp cocktails that are ideal for when you're trying to act sober in front of your coworkers.
Mary's
It took seven years for this Sydney bar to open in Melbourne,
and for that we are eternally grateful. Mary's has excellent burgers and a large selection of bourbons, all served with a 'we don't care' attitude.
A red light and maybe some red marker scribbles on the door are the only hints that this energetic class is located in a tight urban alley. But if you're in the mood to let loose and have some fun, Mary's is right where you should be.
Arlechin
Arlechin is a cosy tavern managed by Florentino's that serves beverages and pasta at odd hours. The slogan for this place is "where food, alcohol, and mischief meet," which to us sounds like a great time.
Hidden behind a glass door off Exhibition Street, the pub has the vibe of a dive in the New York or London subways. Thanks to chefs like Guy Grossi, the cocktail menu is broad, and also the food is delicious.
House Of Correction
House of Punishment is one of Melbourne's best-hidden bars, and it can be found directly underneath the Bears Bar in the city's Chinatown. Instead, it's straightforward and effective, much like the unobtrusive wall markings in a hospital.
Jungle Boy
For the uninformed, ripping open the refrigerator door of a little sandwich store is an incredibly unpleasant gesture, but it is the only way to gain access to the hidden rum cocktail bar in the rear. For a similar experience, head to Jungle Boy  for a glass and it'll seem like you've entered a portal from the hustle and bustle of Windsor straight into a secluded corner of the tropics.
A Rocky Spritz, the lengthy, chilly offspring of grapefruit as well as maraschino Daiquiri, and Italy's favourite afternoon refresher, can be enjoyed here from a bar stool. You may also try the B Bizzle Swizzle, a refreshing mixture of rum, lime, falernum, and nutmeg that is bolstered by a mountain of ice.
Snacks like sandwiches and poutine don't really fit to the theme, but chips, gravy, and cheese are always a good idea. The people here will do everything for a good time.
Lock And Key
One of Melbourne's best secret pubs, Loch and Key, can be found behind Melbourne's oldest pub, The Skipper Melville Bar. Located up a long, rickety staircase and hidden behind a bookshelf, this hidden watering hole is perfect for a night of discreet elegance. If you'd like to enjoy the evening air from the balcony, you can do so from the second story.
In the oldest bar in town, they keep something hidden. Lock and Key is up a narrow flight of stairs, tucked up behind some bookshelves in the dive's back room. There are wonderful rich timbers, carved deer heads, and a wide deck with reclaimed coffee tables, a damaged peacock-blue sofa, and wide wooden banquettes.
The seasonal special is written on a blackboard menu, and it can be a smokey and zesty mix of mezcal, Solerno, and blood cranberry juice. If none of those seem appealing, you can always trust the knowledgeable bartenders to serve you a tasty beverage, whether you're in the mood for an Espresso coffee or a craft brew.
Although Lock and Key is more commonly associated with after-hours clubbing when the couch-filled maze of rooms comes to life, the bar also has a distinct charm in the early evening when the sun begins to seep onto the balconies and the electronic music gives way to '70s funk.
Glamp
Despite its central location, this East African Safari–themed cocktail bar is small and difficult to find, earning it a spot on the list of Melbourne's best-hidden watering holes. In spite of the tent's Safari theme, the drinks are top-notch.
Manchuria
Many opium dens operated out of Chinatown in early Melbourne, but that changed after the drug was declared illegal in 1905. They are long gone, but in Manchuria their belongings continue to be used.
There is almost no way to accidentally find this hidden cocktail bar in the heart of Chinatown.
Proceed halfway down Waratah Place and you'll come across a shady set of stairs.
Up the stairs, on the left side, you'll find a massive wooden door that leads into Manchuria.
There are numerous seats, couches, and hidden spots to relax in indoors. Inciting a wild night out, their signature "Zombie" cocktail is famed for its strength and intensity.
Trinket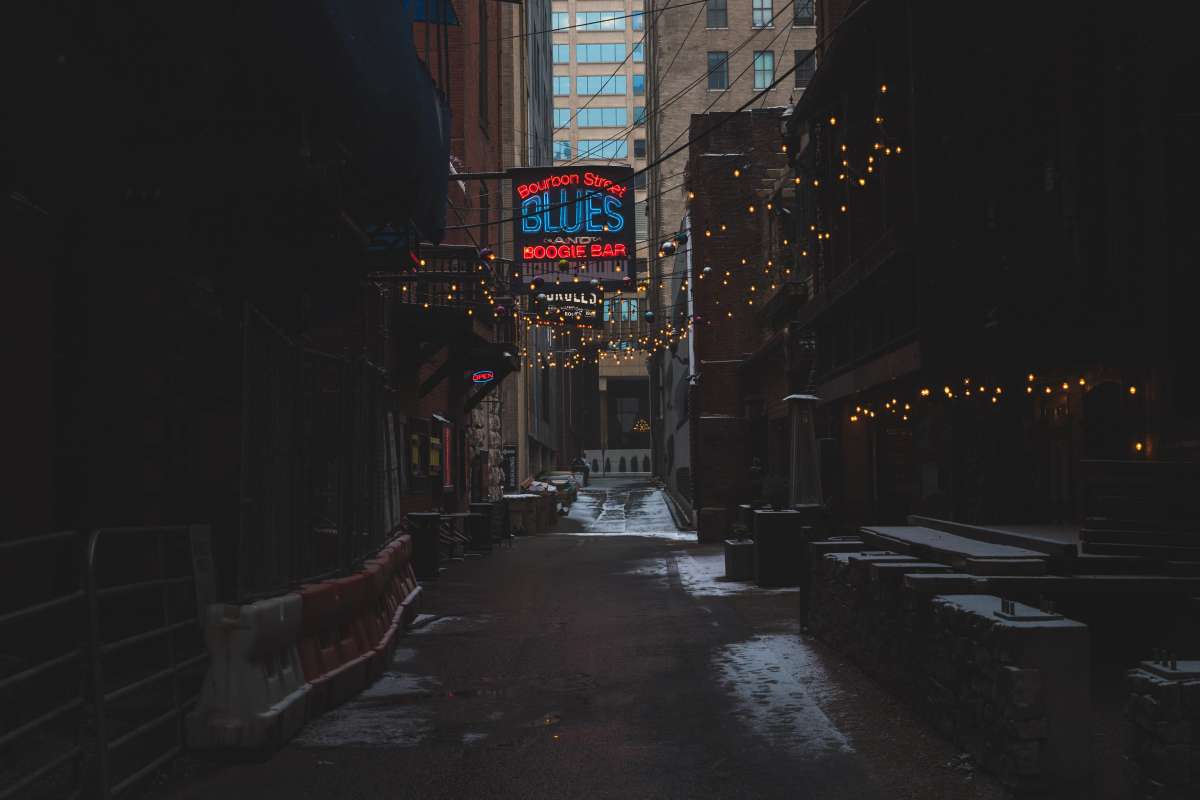 In this day and age of social media check-ins, geotags, and midnight 'grammes, there is no longer such such thing as a hidden bar. It doesn't stop bars from maintaining their image, though; they just move upstairs, down the alley, underground, or behind the fridge.
Even by today's more relaxed standards, Trinket, a newcomer to the Central Business District that bills itself as a "secret speakeasy with a subterranean cellar," is incredibly audacious due to its great Flinders Lane façade, 250-person capacity, its backing from pub business Australian Venue Co.
One employee is in charge of telling customers how to turn a large key that unlocks the main bar, while another counts how many people have descended into the underground bar via a closet.
The twist is that Trinket is actually just a delightful, high-priced cocktail club that relieves you from having to visit yet another typical business bar in the city, hiding behind the overdone premise.
Start off with some refreshing summer drinks like an Espolon Jack daniels shaken with lemon, passionfruit, and rhubarb-infused sake for a hint of herbiness and a pic shade of younger pink, and then move on to a game of crisp, dry Fino versus dark, sticky Pedro Ximénez, with the muskiness of both boosted by pineapple, lemon, and almond syrup. Even though the drinks are crisp and refreshing, you should expect to spend more than $20 on a mixology session.
One of the numerous luxurious extras paid for by the large hospo group is a hearth that looks like it was taken straight out of an Aspen lodge. The main bar features an Art Deco fit-out, with dark woods and aquamarine velvet illuminated by extravagant chandeliers and hefty pendant lighting. Once again, the designer have succeeded in creating an atmosphere of lavish antiquity.
Even though they are severely understaffed on a massively busy Saturday night, the service team is smiling and full of energy. Minor chaos could break out if even one cocktail goes wrong amid the growing crush for drinks, but instead, every sprig of rosemary is set on fire, and every question is met with an offer of a taste. Trinket's substance more often than matches its aesthetic, provided you can bear the humiliation of being told to wind up a gimmick music box in order to enter and aren't put off by the well-dressed city workers speaking fluent marcomms.
Pizza Pizza Pizza
It's not easy to find New York-style pizza in Melbourne, but if you ask to check the secret menu, you might be able to obtain entrance to the bar concealed behind the curtains, where you can enjoy a wide selection of cocktails and a throwback atmosphere. It's one of the top martini and pizza spots in the city.
Pizza Pizza Pizza is a Manhattan pizzeria located at Meyer's Place. Slices of gigantic pizza may be had at this unassuming restaurant. The secret it conceals is enormous, although it looks like nothing.
Muster your nerve, ignore the "staff only" sign, and enter through the unlit door. If you're determined enough, you'll find a way into a hidden speakeasy. The fact that this watering hole is officially unnamed doesn't bother us in the least. Everything we need for a fun evening is on their imaginative cocktail menu.
Conclusion
The nightlife in Melbourne is on par with that of any global metropolis. Narrow passageways and back alleys have become home to the city's many "secret bars." Bar Americano exemplifies the hidden bar because of its position in a tiny side street. For 2018, Above Board was recognised by Time Out as the best cocktail bar in the city. Chris Lambert, the bartender, has spent years honing his dry wit and cheesy dad jokes.
The bar he once stirred up trouble in, The Empire Strikes Bax, is now named after his ex-boss. Located in the centre of Melbourne's Chinatown is a small bungalow known as "Goldilocks." In a city with so many abandoned tunnels, the atmosphere beneath Driver Lane is remarkably reminiscent of the Harry Potter books and films. Relax in peace in The Attic, far from the noise of the downstairs bar at this Richmond establishment. Restaurant, rooftop bar, and speakeasy—The State of Grace has it all.
More than a hundred bottles of whisky, including Hangar 18 and Pappy Van Winkle, are available at the massive, totally round back bar. The buzz surrounding one of Birmingham's newest and most talked-about speakeasies, Curious Cocktail Bar, is well-deserved. Bar Margaux is decked out with a checkerboard floor, gleaming white subway tiles, couches, wired glass separators, and golden back bar lighting. Just like the Parisian cafes of New York, this one can be found in Manhattan's illustrious sister city, Melbourne. The tavern, which can be found behind a glass door off of Exhibition Street, evokes the atmosphere of a seedy bar in the New York or London subways.
Florentino's manages the cosy bar Arlechin, where you may get drinks and pasta at strange hours. One of the best secret bars in Melbourne is House of Punishment. Located just outside The Skipper Melville Bar is one of Melbourne's finest watering holes known as the Loch and Key. Lock and Key can be found in the dive's rear room, hidden among the bookcases. This cocktail bar with an East African Safari theme is hidden in plain sight.
The "hidden speakeasy with a subterranean cellar" in Trinket advertises itself as such. Trinket is a charming, high-priced cocktail club, but that's not the twist. Expect to pay more than $20, despite the drinks' pleasant lightness. One of Melbourne's best martini and pizza bars is called Trinket. The main bar has been decorated in an Art Deco style, with dark timbers, aquamarine velvet, and opulent chandeliers. The bar hidden behind the curtains may be accessible if you ask to see the secret menu.
Content Summary
We've compiled a list of Melbourne's top secret pubs, but don't spread the word lest they lose their anonymity.

Whether on the second floor, in the basement, or down a back alley, there is always a secret pub to be found in Melbourne's central business district.

Named after his previous employer at the bar where he sparked a commotion, The Empire Strikes Bax is a dark and stormy night indeed.

Lambert's abilities have been acknowledged before, but Above Board was selected Time Out's Best Cocktail Bar for 2018 because it is Lambert's vision realised with the resources necessary to pull off such a massive undertaking.

You've probably heard of Mr. Brownie, the "Indian-fish" curry bar, but did you know that hidden behind a row of beer coolers is a velvet-licked saloon called Both the Boom?

Melbourne's Chinatown is home to the modest Goldilocks Cottage, a popular watering hole. It's easy to overlook until you know what you're looking for, which means you need to know just where to look.

The Attic, as its name implies, is a speakeasy located in the rafters of Melbourne's renowned Club Black Pearl.

The huge, totally round bar in the back stocks more than a hundred bottles of whisky, including rare varieties like Hangar 18 and Pappy Van Winkle.

The food at Melbourne's vintage bars is excellent, but the focus is usually on the bar's extensive cocktail and booze menus.

Despite being one of Birmingham's newest and most talked-about speakeasies, Curious Cocktail Bar stands up to the hype.

Bar Margaux, Melbourne's version of a Parisian cafe like those in New York, features a checkerboard floor, sparkling white subway tiles, couches, wired glass separators, and golden back bar lighting, all of which have been carefully arranged to avoid cliché and make the place feel at home.

The Loch and Key is one of Melbourne's best hidden bars, and it's hidden beneath Melbourne's oldest bar, The Skipper Melville Bar.

This cocktail bar with an East African Safari motif is conveniently located in the heart of Melbourne, but it is so small and obscure that it is often overlooked.

Trinket, a newcomer to the CBD that touts itself as a "hidden speakeasy with a subterranean cellar," is very daring due to its grand Flinders Lane façade, 250-person capacity, and support from pub operator Australian Venue Co.

While one worker counts how many customers have down into the basement bar through a closet, another explains how to turn a giant key that unlocks the main bar.

Despite its clichéd premise, Trinket is basically just a nice, high-priced cocktail club that saves you the trouble of going to yet another standard business pub in the city.

You should expect to pay more than $20 on a mixology session, despite the drinks being light and refreshing.

Art Deco furnishings adorn the main bar, which is decorated with dark woods and aquamarine velvet and lit by opulent chandeliers and heavy pendant lights.

Infinite repetition of the word "pizza"

New York-style pizza can be difficult to come by in Melbourne, but if you ask to see the secret menu, you may be able to gain access to the bar hidden behind the curtains, where you can indulge in a broad variety of cocktails in a retro setting.